Amber Heard Was Just Name-Dropped In Latest 90 Day Fiance Scandal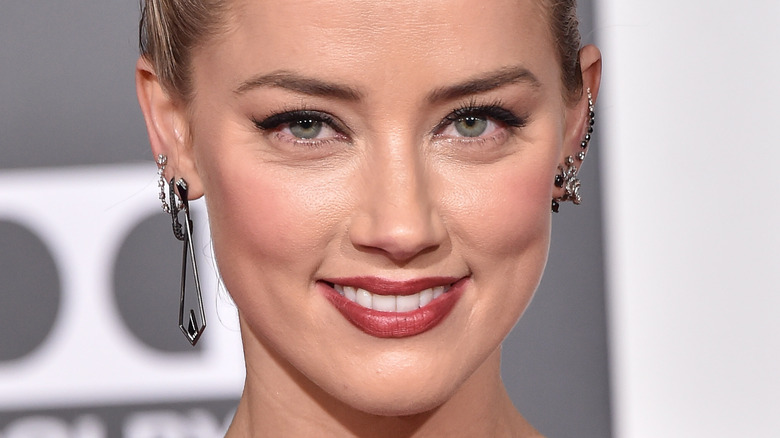 DFree/Shutterstock
Yvette "Yve" Arellano's relationship with "90 Day Fiance" star Mohamed Abdelhamed is getting a lot of attention. After the Season 9 tell-all episode was released, Abdelhamed admitted to cheating on his now ex-wife, per In Touch. In a series of text messages that were revealed on the episode, Abdelhamed was flirting with multiple women while he was still married to the acupuncturist. The reality television star claimed that he didn't want it to go any further, but Arellano discovered the messages before he could say anything.
After the episode aired, the ex-wife took to Instagram to reveal her feelings. "Thank you ladies for sharing your stories of infidelity, heartaches & pain," she wrote on her Instagram Story (via Entertainment Tonight). "Obviously we are not alone. There's lots of healing that needs to happen in this world on so many levels." She also mentioned that people should communicate in a relationship if one person doesn't want to be exclusive.
But recent police reports have shown that the drama the "90 Day Fiance" couple is facing is far from over. Arellano was reportedly charged with battery, as the Egyptian-born ex-husband claimed that he was attacked during an argument, per Us Weekly. The massage therapist allegedly got physical as she was trying to get a phone away from her ex-husband. Now, the altercation has turned into a legal battle.
Mohamed Abdelhamed was called 'The Amber Heard of Immigrants'
Although the reports were released recently, Mohamed Abdelhamed filed it on August 15. After the reports went public, Yvette "Yve" Arellano's representatives denied the claims saying, "The domestic abuse allegations have been falsified by Mohammed," per People. The rep mentioned that the massage therapist was not arrested, and the whole story was made up so the "90 Day Fiance" star could stay in the states.
Arellano's attorney, Kathleen Martinez, agrees that the allegations against her client are false. In her TikTok video, the attorney says she believes this is a case of immigration fraud. To back up her claims, Martinez mentioned that she found a discussion Abdelhamed had with a Facebook user, helping him falsely accuse her client for domestic battery just to get his U-Visa.
Martinez called Abdelhamed "The Amber Heard of Immigrants" in the text accompanying her video. Amber Heard famously published an op-ed to The Washington Post, saying that she was a victim of domestic violence. Her ex-husband, Johnny Depp, sued her for defamation, as he believed she was the abuser instead. As fans likely already know, Depp was victorious in their recent legal battle and Heard has filed for an appeal.
If you or someone you know is dealing with domestic abuse, you can call the National Domestic Violence Hotline at 1−800−799−7233. You can also find more information, resources, and support at their website.