Cheryl Burke Seemingly Spills Jaw-Dropping Details About Matthew Lawrence Split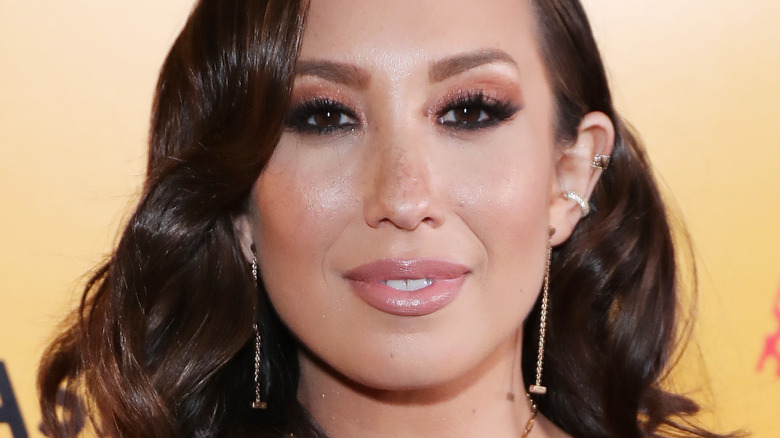 Leon Bennett/Getty Images
Recently, "Boy Meets World" star Matthew Lawrence, who's in the middle of a divorce with "Dancing With the Stars" alum Cheryl Burke, popped up in Hawaii with Chili (whose real name is Rozanda Thomas) from the girl group TLC. According to the photos submitted to TMZ, the pair looked friendly as they waded in the ocean and enjoyed a conversation on the beach. And, while fans of the 90s stars wondered if these photos were the signs of a brooding romance, insiders close to the pair shared that Thomas and Lawrence are just friends who met up because TLC's tour passed through the state.
So far, Lawrence hasn't made any official statements confirming or denying rumors of a romantic relationship. In fact, Lawrence has largely shied away from public appearances since word of his divorce to Burke hit the news cycle. Meanwhile, Burke has been rather vocal about her state of mind, post-filing. Burke shared on her podcast, "Burke In The Game," that post-divorce life was kind of lonely. The dancer said, "At the end of the day, you know, when I close my eyes and go to bed, it is kind of lonely. She added, "I wouldn't mind having a text relationship with someone or even just someone to flirt with." However, Burke's recent TikTok has raised some questions about her relationship status and whether or not Lawrence's outing has anything to do with it.
Cheryl Burke says 'goodbye forever' to an ex
Cheryl Burke is fed up with her romantic prospects. Or, at least that's what her recent TikTok would lead you to believe. During the brief clip, the professional dancer stares blankly the camera as text dominates the screen. "When he said he would never talk to her again yet I found text messages, viagra, and a necklace hidden in a pair of his shoes," Burke wrote. She captioned the video, "The last time is absolutely right! Goodbye forever."
Burke hasn't explicitly named just who she was referring to, but she did hashtag the video #exessuck." And as Today reports, Burke filed for divorce from Matthew Lawrence in February. Previously, Burke appeared on "The Tamron Hall Show" and shared that she and Lawrence had tried marriage counseling, to no avail. "I'm a huge advocate for therapy," Burke shared. "I truly believe in it. Matt and I, we definitely, we were in couple's therapy, even before our marriage. I think people associate therapy with like, 'Oh my god, there's a problem." She continued, "But really I think it's very healthy to have that third person there that's not biased and that can give you ways and tools on how to communicate." 
The timing of Burke's video, just weeks after Lawrence was spotted looking cozy with Chili, has some fans wondering if Burke and Lawrence tried to work on their marriage, but ultimately could not get past their differences. Only time will tell.