How Savannah Guthrie Ended Her Friendship With Matt Lauer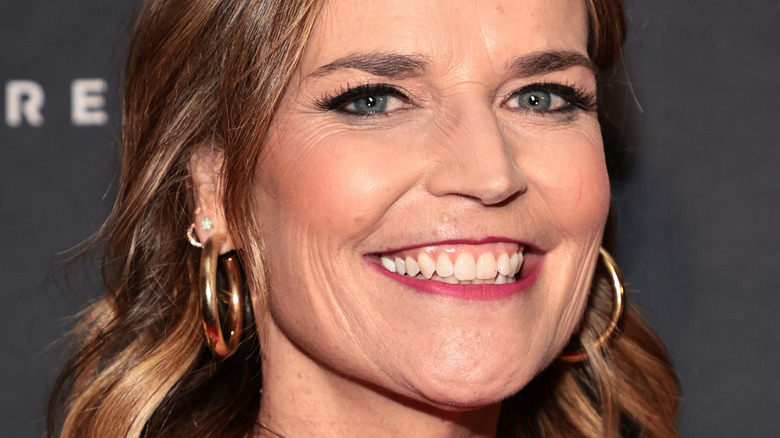 Jamie Mccarthy/Getty Images
Long before the Hoda Kotb and Savannah Guthrie co-hosting dynamic on "Today," Guthrie used to sit next to Matt Lauer to report the morning news. According to Decider, Lauer and Guthrie served as co-hosts of the popular morning show from 2012 (when Guthrie joined the team) to 2017, when Lauer's scandal rocked the country. Before hosting with Guthrie, Katie Couric and Lauer served as co-anchors for nine years.
In 2017, NBC axed Lauer after a female colleague reported him for "inappropriate sexual behavior in the workplace." Guthrie read a statement on-air from NBC News Chairman Andrew Lack that detailed the allegations and the network's conclusion to fire the star. "We've decided to terminate his employment. While it is the first complaint about his behavior in the over twenty years he's been at NBC News, we were also presented with reason to believe this may not have been an isolated incident," the statement read. Lack also noted that he was "saddened" by the events and also made sure to state that the network always strives to provide a safe place for its employees.
Not too long after the allegations were made public, Lauer apologized for his actions in a statement (via CNN), writing that, "There are no words to express my sorrow and regret for the pain I have caused others by words and actions." The star also apologized "to the people," including colleagues at NBC. So, where does he stand with Guthrie after all this?
Savannah Guthrie wants nothing to do with Matt Lauer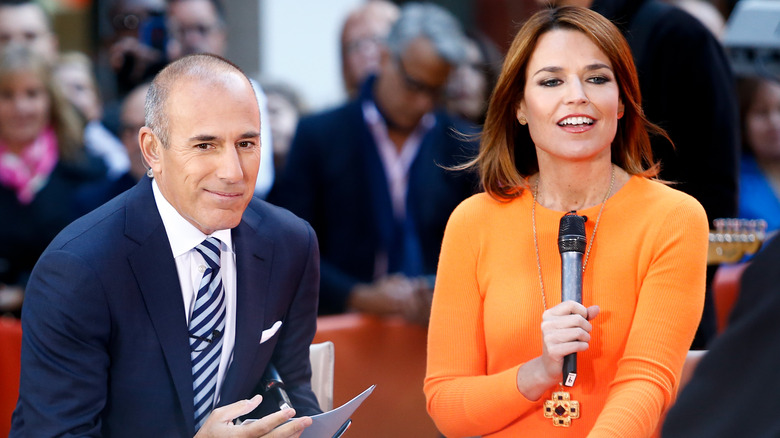 Debby Wong/Shutterstock
Since the sexual assault allegations against Matt Lauer came to light, Savannah Guthrie wants nothing to do with her former co-anchor. According to Us Weekly, the former friends and co-workers did not end things on a good note, and Lauer feels like he's been the most betrayed by Guthrie. Why? At the time, Guthrie called the sexual assault allegations "shocking and appalling" live on "Today." But things go much deeper than that. According to an insider, Guthrie has no interest in making nice with Lauer.
"She refused then and still does to this very day to listen to what Matt's got to say. From the second the story came out, he feels Savannah jumped on the opportunity to bury him," the source explained. "It's a betrayal in Matt's eyes." The same insider added that "now neither can talk with mutual friends without bringing up the other's name" (and we're guessing when they bring up one another's name, it's not to lavish each other with praise). The insider added that things have "gotten pretty bad."
But, after all the drama in 2017, Lauer is reportedly poised for a comeback. A source close to the disgraced star told Us Weekly in July that he's "still clamoring for a comeback" and he "no longer feels" ashamed of the scandal that rocked his career. It will be interesting to see where things go, but there's one person who probably won't be cheering him on — Guthrie.
Is Savannah Guthrie on the outs with her current co-anchor, Hoda Kotb?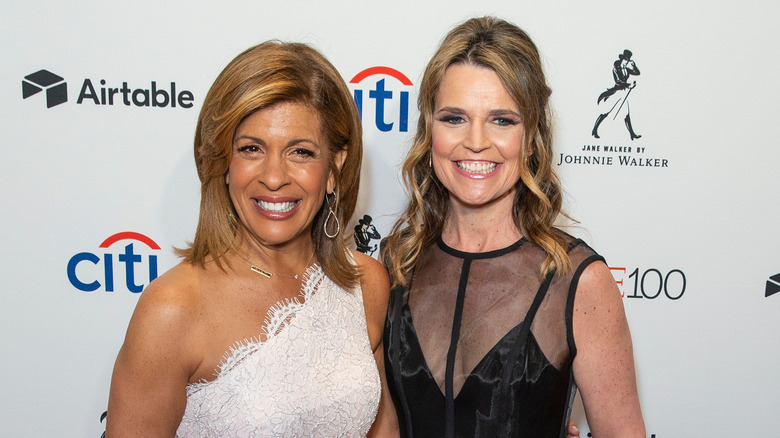 lev radin/Shutterstock
While Savannah Guthrie and Matt Lauer are not (and probably never will be) friends again, Guthrie now has a whole new wave of drama that she's been dealing with. While she and her current co-anchor, Hoda Kotb, seemed to be BFFs at first, much news has been circulating about the famous pair's falling out. In 2018, NBC named Kotb co-anchor with Guthrie (via NPR), making them a powerhouse female duo. Initially, the two would regularly praise one another on social media and on the show, but perhaps the honeymoon phase is over? According to The U.S. Sun, the two ladies have allegedly been feuding for quite some time. A source told the outlet that the two women "can't stand each other" off-camera. Ouch! Some fans also noticed the tension between Kotb and Guthrie on-air, and many have taken to social media to share their thoughts. 
But rumors may be just, well... rumors. In August, a source close to Guthrie and Kotb denied any feuds between the pair. "It's unfortunate to see and hear rumors that are not based in reality," the insider told Good Housekeeping. "However, it's not bothersome because we have the truth on our side. Savannah and Hoda have blazed a trail by supporting one another and other women." Hopefully, this is, in fact, the case because we do not think our hearts could handle another shakeup on "Today" — at least not quite so soon, anyway.