Here's What Hilaria Baldwin Really Looks Like Without Makeup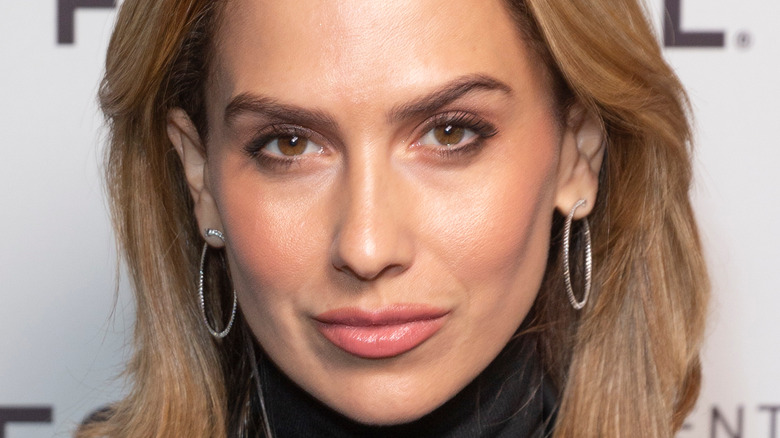 Lev Radin/Shutterstock
The Baldwins have had a tough year, but Hilaria Baldwin is still finding ways to celebrate life's simple joys. Her husband, Alec Baldwin, is in the midst of a lawsuit. In 2021, tragedy struck on the set of his movie, "Rust," when he fatally shot a cinematographer with a prop gun. According to Deadline, the script supervisor Mamie Mitchell has now filed claims of extensive negligence on the part of the actor.
Throughout the devastation, Hilaria has stuck by her husband's side. In an interview with CNN, Alec largely credited her with helping him survive the fall-out. "If I didn't have my wife, I don't know where I would be right now," he said.
As Insider recapped, the couple first met in 2011, and now share seven children together. In an August Instagram post, Hilaria sat with two of her young children and penned the caption, "Puts it all in perspective. Grateful." This isn't the first time Hilaria and her kids have kept things real online, with the star having shared a bare-faced picture back in October 2021.
Hilaria Baldwin posted a sweet picture with her kids
Less than a week before the accidental killing on the "Rust" set, Hilaria Baldwin took to Instagram to get real with her kids. In the sweet family portrait, Baldwin sits in a field of grass, surrounded by her six children, and smiles softly at the camera. "Grateful for these little humans who I feel lucky to call me 'mama,'" she wrote. She acknowledged the journey motherhood has been for her — which involved heartbreaking miscarriages and IVF treatments. "I originally wrote: I 'wouldn't change a thing' then deleted it because I'm learning about toxic positivity ... learning to honor ALL the emotions."
Baldwin's joy and beauty while sitting with her children might make it hard to realize something: She's completely makeup free. She points out the choice at the end of her caption, thanking her photographer for "capturing a no makeup, no hair zhuzh, moment—just as we are."
Fans appreciated her authentic portrayal of motherhood and its challenges, praising her in the comments. This isn't the first time Baldwin has let her true beauty shine, participating in People's "Not a Drop of Photoshop" spread in 2020. However, she has been accused of faking something else in the past.
Hilaria Baldwin has previously been accused of inauthenticity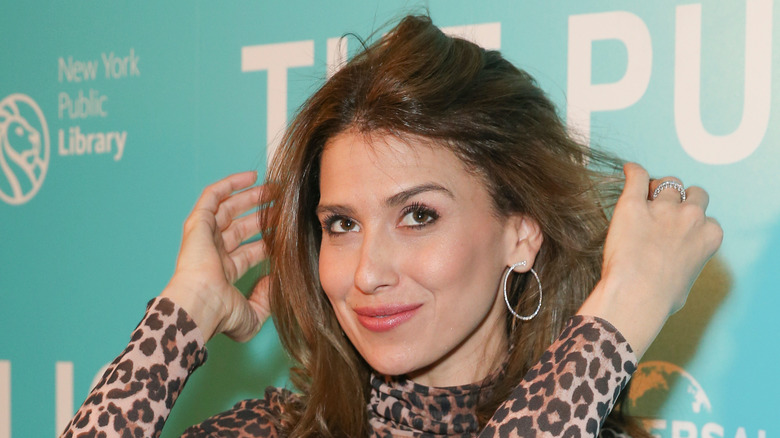 Lev Radin/Shutterstock
In 2020, Hilaria Baldwin was famously accused of faking her Spanish heritage. In a viral tweet (via Vox), a user wrote, "You have to admire Hilaria Baldwin's commitment to her decade long grift where she impersonates a Spanish person." The tweet, which included a video of Baldwin allegedly pretending to forget the English word for cucumber, sparked a large controversy.
Hilaria defended herself to The New York Times, explaining that — though she was born in Boston — her family lives in Spain and she grew up spending a lot of time there. Page Six, however, filled in some of the missing details ... like the fact that her family didn't move to Spain until Baldwin was 27.
The drama eventually exited the news cycle, but not before many YouTube compilations of her accent slip-ups popped up. True to their habits of supporting each other through crises, Alec Baldwin created a video of his own. In an eight-minute Instagram defense, the actor encouraged skeptics to "consider the source."