What Former Bachelorette Michelle Young Really Does For A Living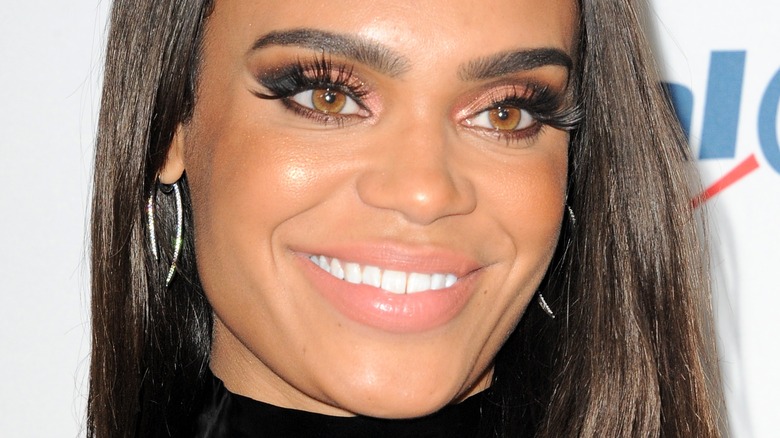 Tinseltown/Shutterstock
When "Bachelor" producers were selecting the leads for Seasons 17 and 18 of "The Bachelorette," they took two very different routes. Katie Thurston (Season 17) was a dark horse contender, having left Matt James' season early on, per Variety. Unlike Thurston, Michelle Young (Season 18) was a more traditional pick for the franchise, finishing as the runner-up to Rachael Kirkconnell.
As only the third Black woman to headline "The Bachelorette," Young endeared herself to audiences by opening up about her experiences as a Black woman in America. "Being able to tell my story and see how it has impacted or inspired others is why I wanted to tell my story," Young told Glamour. She also made history as the first Bachelorette to select Black and biracial men as her final two picks, according to TVLine. Despite giving her final rose to Nayte Olukoya over runner-up Brandon Jones, Young and Olukoya broke up in June. After dodging breakup rumors when she was spotted without her engagement ring, Young finally confirmed the split on her Instagram Stories, attributing it to the difficulties of having her "relationship in the public eye" (via Us Weekly).
Coincidentally, the former Bachelorette made another big life decision in tandem with her breakup: to step back from her job, according to Us Weekly. The pressure may have gotten to be too much, but it was clear Young was intent on prioritizing her mental health and well-being. That said, she does plan to return to her career ... eventually.
Michelle Young is taking a break from teaching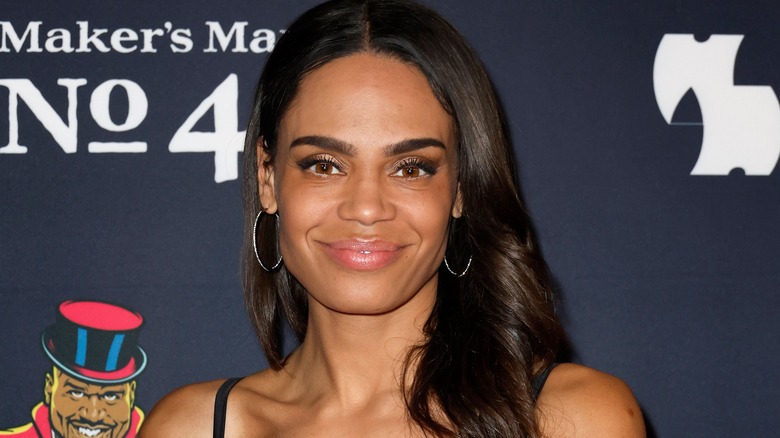 Frazer Harrison/Getty Images
Michelle Young, who was known for being a teacher when she appeared on "The Bachelor," announced her decision to take a break from the profession on the "Bachelor Happy Hour" podcast in May. "I really feel that ... as I move into this next year, I have decided to step out of the classroom," she revealed. "Bear with me here. This is going to be emotional."
Explaining that things had been challenging ever since the pandemic, Young said that the burnout she was feeling helped her realize she needed to reevaluate her career. "I've been in this survival mode [for] two years, where I have just been flying by the seat of my pants ... going through these crazy but awesome changes [with] the show, with getting a fiance. There is just so much going on," she added.
In 2021, Young spoke out on another episode of "Bachelor Happy Hour" about the challenges of balancing reality show fame with teaching priorities. "Lesson planning in the hair and makeup chair on your way to the premiere brunch — it's this total double life I feel like I'm living right now," she said. "It's busy, it's hectic, I'm definitely tired but I will say that being back in the classroom has made me feel so much like myself." Young's "Bachelor" experience might be unique, but her feelings of stress and confusion aren't. As of February, NBC News reported 55% of educators were experiencing pandemic-related burnout.
What are Michelle Young's future plans?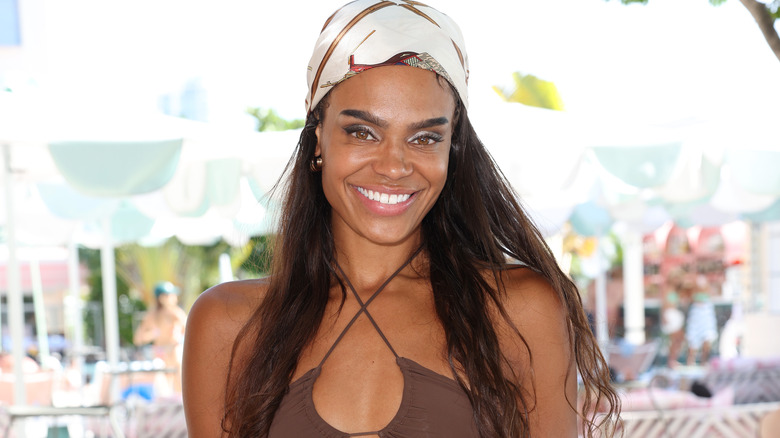 Alexander Tamargo/Getty Images
Michelle Young might be stepping out of the classroom, but she still has plans to stay in the education space. Per the "Bachelor Happy Hour" podcast, these plans involve working outside the classroom to drive change by giving back and raising awareness for educators' mental health. "It's me stepping away for a year to truly capitalize and push forward and put all my energy and efforts into my passion in a different way and really truly try to push for that change. Because staying in the classroom and seeing and feeling that weight just shows me that something has to be done," Young said.
The reality star also hopped on an Instagram Q+A (via Bachelor Nation) to address her future while she's on teaching hiatus. Noting that "professions built on passions [like teaching]" can be "incredibly taxing on mental health," Young is taking the time to recharge and put her own needs first. This means hanging out in sunny Los Angeles with her "Bachelor Happy Hour" podcast co-host, Becca Kufrin.
Young's decision to deviate from her chosen career path in the wake of her "Bachelor" fame is by no means unique. Tayshia Adams quit her job as a phlebotomist to pursue a career in real-estate development and interior design, according to Vulture. "The Bachelorette" Season 12 lead Joelle "JoJo" Fletcher also started out as a real-estate developer, and she began starring in her own home renovation show, "Cash Pad," in 2019.