Former Disney Star Adam Hicks Opens Up About His Troubled Past In First Post-Prison Interview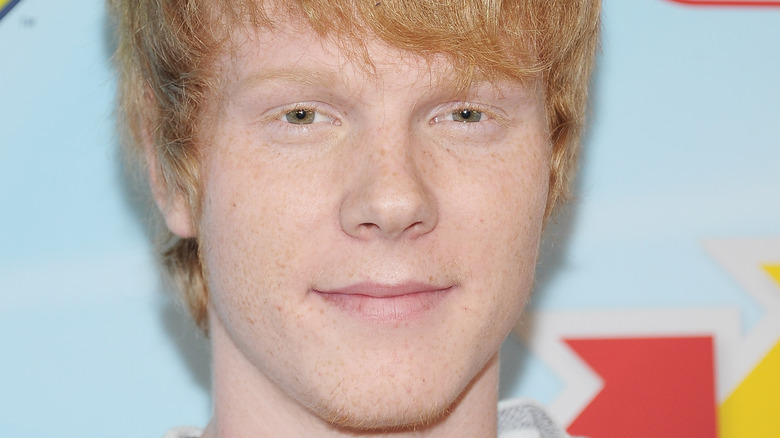 Michael Loccisano/Getty Images
Adam Hicks, a former Disney Channel star, went down a troubled path after his time on the popular television network. Hicks was known for his role in the Disney Channel original movie, "Lemonade Mouth," as well as Disney XD's "Zeke and Luther," per IMDb. However, things took a terrible turn after his most recent major role in the Hulu show "Freakish," which he last appeared on in 2017.
Hicks was arrested twice in 2017, according to Daily Mail, and had a disturbingly violent history, which included attacking his own girlfriend and allegedly shooting himself in the leg. He committed several armed robberies around Burbank, California, with his girlfriend in 2018, according to USA Today, before being caught and arrested. Hicks was eventually sentenced to five years in prison in July 2021 for robbery charges, per The U.S. Sun. The sentencing came three years after he was charged with felony second-degree robbery and attempted second-degree robbery. Although he was sentenced to five years, the former actor was released on parole in July after serving over 1,000 days in jail while awaiting his sentencing, per TMZ.
His arrests and behavior came as a surprise to many fans. One even tweeted, "I'm watching lemonade mouth and all i can think abt is the fact that adam hicks became an armed robber like did the disney channel money run out ??" Now, Hicks is finally opening up about his arrests and concerning past behavior.
Adam Hicks is finally breaking his silence on his past arrests
Michael Tullberg/Getty Images
Adam Hicks was originally sentenced to five years in prison after being charged with armed robbery, but was ultimately released in July after spending years behind bars as he waited to be sentenced, per TMZ. In a new interview, Hicks revealed that he was attempting to cope with his anxiety and stress by self-medicating with both alcohol and Xanax as a teen. He explained that his mother passed away and brother serving time in prison took a major toll on his mental health.
"During this time, I started to heavily use Xanax, [and] heavily drink and slowly deteriorate into this insanity ... I was having delusional episodes," Hicks said. After he was arrested for armed robbery, he was allegedly interviewed by psychiatrists who deemed him incompetent to stand trial. He was later put on court-ordered medication and apparently ended up realizing what he had done after getting sober.
When asked why he committed the crimes, he responded, "Honestly, I don't have a reason and that's the worst reason of all. There's a lot of things in the media. The things that happened that are true, I take full responsibility for, especially to the victims." He admitted that he let a lot of people down, including society and his family, and apologized for his actions. He concluded his statement by saying, "I was just not in my right state of mind, but I do take full responsibility and I deserve what happened to me."
If you or anyone you know is struggling with addiction issues, help is available. Visit the Substance Abuse and Mental Health Services Administration website or contact SAMHSA's National Helpline at 1-800-662-HELP (4357).