Dennis Rodman Backs Out Of Russia Trip To Help Brittney Griner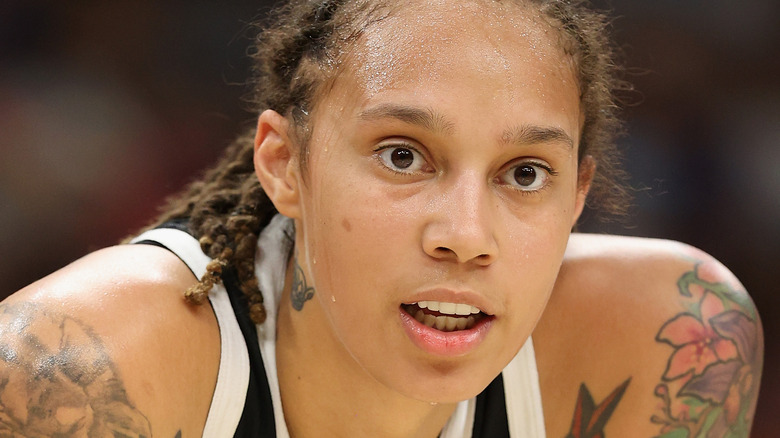 Christian Petersen/Getty Images
Brittney Griner can't seem to catch a break. The WNBA player has been detained in Russia since February 17 after she was stopped at Sheremetyevo International Airport in Khimki for having vape cartridges that contained hashish oil in her luggage, according to ABC News. Griner — who plays for the Phoenix Mercury WNBA team — was competing overseas with the Russian team UMMC Ekaterinburg during her team's off-season. 
The trial began on July 1, and after much consideration, Griner decided to plead guilty to her drug charges in a Russian court. "I would like to plead guilty on the charges against me," the two-time U.S. Olympic basketball gold medalist said (per NPR). "I had no intention on breaking any Russian law. I was in a rush packing and the cartridges accidentally ended up in my bags." Although she tried to plead her case that it was an accident gone wrong, a judge sentenced Griner to nine years in prison after being found guilty of drug possession and smuggling, ESPN reported. She was also fined 1 million rubles — about $16,700. "Russia is wrongfully detaining Brittney," President Joe Biden said in a statement. "It's unacceptable, and I call on Russia to release her immediately."
While the efforts to bring Griner back home to America have now become confidential, one former NBA star with an odd history of diplomacy was willing to fly to Russia to advocate for her release. 
The US government advised against Dennis Rodman's efforts to go to Russia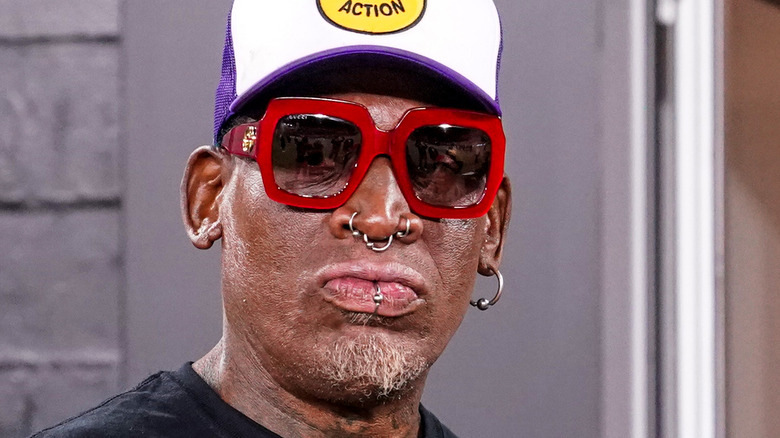 Tony Quinn/isi Photos/Getty Images
Dennis Rodman made national headlines after he revealed to NBC News that he was organizing a trip to Russia to assist with the release of Brittney Griner. "I got permission to go to Russia to help that girl," he told the outlet. "I'm trying to go this week." 
While the incentive was heart-warming, Ned Price, a State Department spokesperson, made it clear to ABC News that the former NBA champion "would not be traveling on behalf of the U.S. government" and that it would actually get in the way of their current negotiations with Russia. "We believe that anything other than negotiating further through the established channel is likely to complicate and hinder those release efforts," Price said. After pushback from the government, Rodman axed his trip to Russia and told ABC News that he now has no plans to go out there. 
While the former Chicago Bull, among other teams, sounds like an unusual spokesperson, he's actually not new to foreign affairs. According to Rolling Stone, Rodman has developed a strange friendship with Kim Jong-Un and has been spotted visiting him in North Korea on several occasions. "If you sit down and talk to him with lunch and then shoot the s*** with him, I think you'll say, 'Well, this guy's cool and pretty nice,'" Rodman told Insider. Given their good relationship, Rodman actually got involved in the 2014 release of Kenneth Bae, a Korean-American Evangelical leader who was detained in North Korea. 
A prisoner swap for Brittney Griner could be underway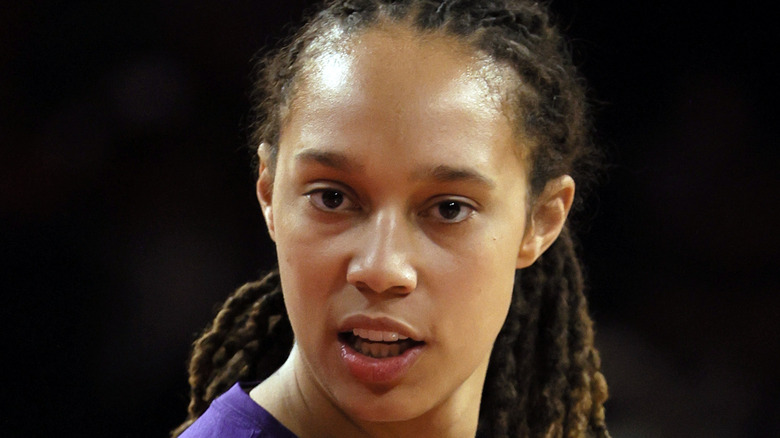 Ethan Miller/Getty Images
Back in 2013, Dennis Rodman played a vital role in getting Kenneth Bae, a Korean-American missionary, released after he asked Kim Jong-Un on Twitter to "do him a solid" and free Bae. According to The Washington Post, Bae was accused of trying overthrow the North Korean government and sentenced to 15 years of hard labor. However, thanks to Rodman's rant and his alleged desire to "bridge a gap with Americans and North Korea," Bae was released.
And, while the former basketball player has proven to have some experience with prisoner releases overseas, it may not be enough compared to what the U.S. government already has planned. According to CNN, a prisoner swap is possibly underway after the Biden administration offered to give up Russian arms trafficker Viktor Bout in exchange for Griner. The exchange would also include Russia handing over Paul Whelan, a former marine and U.S. citizen who has been imprisoned since June 2020.
Secretary of State Antony Blinken reportedly had a call with Russian Foreign Minister Sergey Lavrov, urging him to accept the deal. However, Lavrov made it clear that they would be open to the idea only as long as the U.S. government keeps their dealings confidential, per ABC News. "The Americans often have trouble observing agreements on calm and professional work," Lavrov said. Perhaps this is why the U.S. government urged Dennis Rodman not to get involved. Meanwhile, President Joe Biden remans "hopeful" he will bring Griner back home. "We're working hard," he said at a press conference.