How Ashley Benson And Lucy Hale Connected Before Pretty Little Liars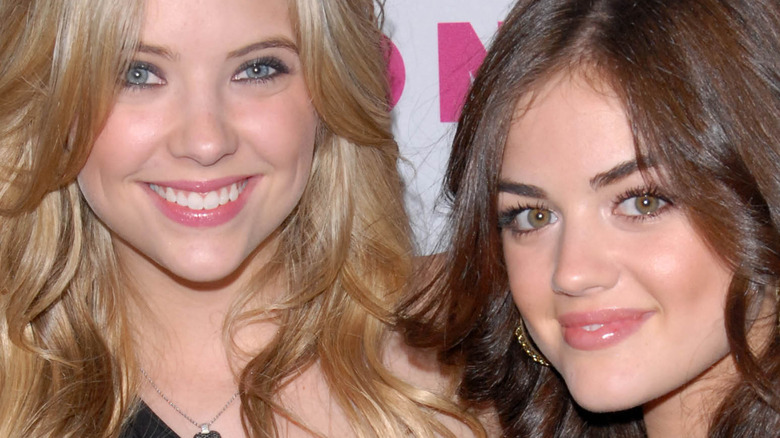 s_bukley/Shutterstock
When Ashley Benson originally landed her role in "Pretty Little Liars," she had no idea the impact the show would have on her life both professionally, and personally. At the time, Benson just found out her series "Eastwick" was coming to an end. "I was a bit bummed that my show got cancelled," she recalled to Cosmopolitan UK in 2021. Although she did have high hopes for her new gig. "I thought it would be a successful show, but you never know. So for it to become what it was was crazy!" she added.
Of course, "PLL" became a runaway juggernaut that aired for seven seasons. Over that time, Benson formed a bond with the other "Little Liars" who played major roles in the series: Lucy Hale, Shay Mitchell, and Troian Bellisario. "They're like my family ... I've seen them more than I've seen my own family in the last seven years," the "Spring Breakers" star told People in 2016 as "PLL" came to a close. "I'll always try to make an effort to see them because they're literally my family."
As filming came to an end, Hale shared similar familial sentiments about her "PLL" co-stars. "Wishing my sisters love and light on the paths where life takes them," she wrote on Instagram in 2016 alongside a snap of her castmates. Long before working together, Hale and Benson struck up a friendship.
Lucy Hale met Ashley Benson on MySpace
Lucy Hale and Ashley Benson first met each other online, long before "Pretty Little Liars," when they were both teenagers. Not only did their friendship predate the hit show, but it happened on a near-forgotten social media platform. "We met actually on MySpace. I was 15," Hale said during an interview with Wired in 2020. Although it was not a chance encounter. "We had mutual friends in common, I didn't like randomly find her," the "Katy Keene" actor added. Apparently, Kendall Schmidt — who worked on Nickelodeon's "Big Time Rush" — played a matchmaker of sorts and put the two in contact.
After hitting it off online, Hale and Benson decided to meet in real life. "But we became like MySpace friends, and then our first hangoug was at Disneyland," Hale told Wired. This led to the two actors becoming good friends for a time. "We were like super super tight when we were teenagers, and then kind of lost touch," the "Ragdoll" actor added while mentioning how "PLL" reconnected them.
Following the success of the show, Hale and Benson were hired to work on a campaign for the fashion brand Bongo together, which brought them even closer. "Lucy and I have a great time together, and the shoots are always really fun," Benson said in a 2012 interview for Bongo via Teen Vogue. When "PLL" was coming to an end, the actors decided to commemorate their experience in a meaningful way.
Ashley Benson stayed close with other castmates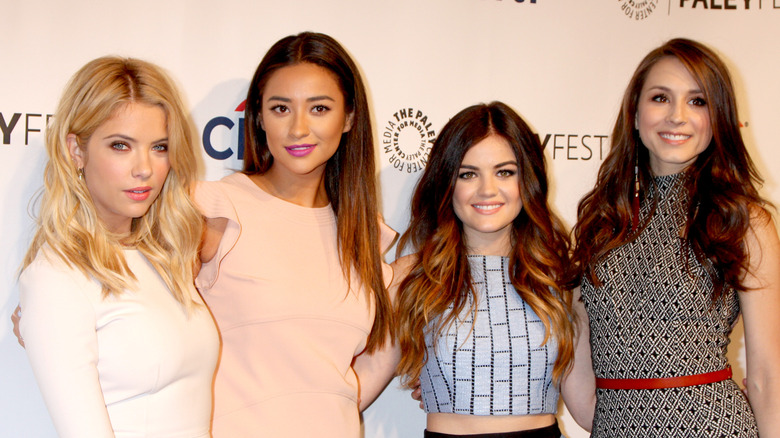 Kathy Hutchins/Shutterstock
As "Pretty Little Liars" wrapped up filming the final season, the cast wanted a way to remember their time together, and decided to get matching tattoos. They each had the first initial of their "PLL" character tatted on their fingers. "[C]ouldn't not get tattoos to commemorate the show ... obviously on our 'Shh' finger,'" Lucy Hale shared in an Instagram Story at the time, per Cosmopolitan. Later, the "Wizards of Waverly Place" alum said why it was actually a difficult tattoo. "It's one of my favorite ones! It actually hurt the most because it's right on the bone," she told Wired in 2020.
Years after "PLL" had ended, Ashley Benson excited fans when she posted a mini-reunion photo to Instagram with Shay Mitchell and Troian Bellisario in 2020. Many were thrilled to see the three reunited, but several followers pointed out that Hale was noticeably absent.
Long after working together, Benson, Mitchell and Bellisario had become a tight trio. "I see that as my college years," the "Private Property" actor told Cosmopolitan UK in 2021 about her time working on "PLL." The three remained close as friends and in proximity. "We all live by each other ... Minutes away," Benson added. Although there was no mention of whether or not she stayed in touch with Hale.