Joaquin Phoenix's Infamous David Letterman Interview That Really Caused A Stir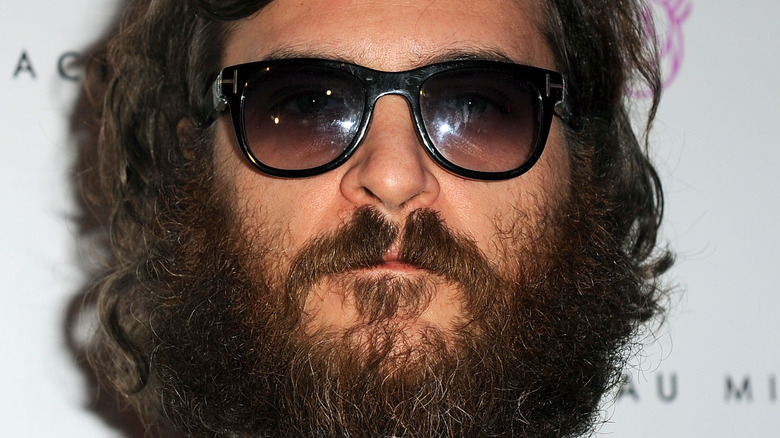 Gustavo Caballero/Getty Images
Oscar-winning actor Joaquin Phoenix is known for giving devastating and utterly immersive performances in movies like "Walk the Line," "The Joker," "The Master," and "Gladiator." And sometimes, he takes his dedication to his roles a bit too far in real life — specifically when he's invited on late night TV talk shows. Phoenix is known for his controversial TV appearances, where he either acts out, misbehaves, or tells outright lies. Case in point: In 2019 during an appearance on "Jimmy Kimmel Live!" Kimmel confronted him with a behind-the-scenes outtake from the set of "The Joker" where Phoenix appears to cuss out a cinematographer just out of frame, with a cavalcade of F bombs. While Kimmel giggled, Phoenix admitted he was embarrassed by the unearthed clip and offered an apology to Larry, the crew member. But Phoenix's PR person later confirmed to Entertainment Weekly that the clip was just a joke filmed specifically for Kimmel.
Many viewers and fans were also bewildered in 2009 when Phoenix appeared on "The Late Show with David Letterman" to promote his film "Two Lovers," sporting a new look — and disposition — that seemed way out of character. His strange demeanor even had Letterman scratching his head.
Joaquin Phoenix was playing a character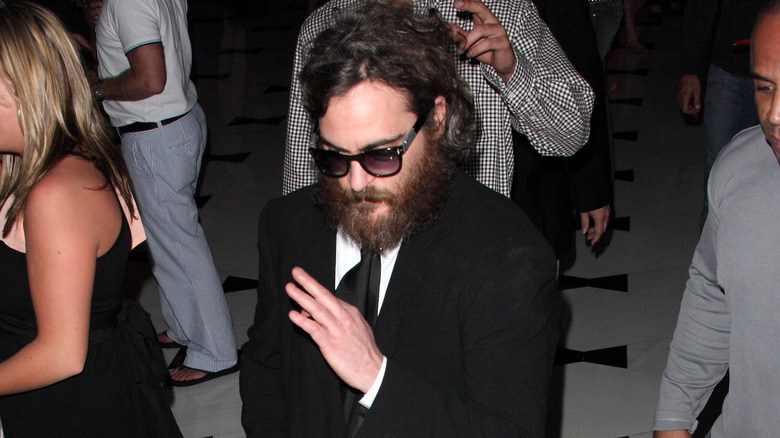 Alexander Tamargo/Getty Images
In 2009, Joaquin Phoenix was filming a mockumentary about the perils of celebrity with actor-director buddy Casey Affleck called "I'm Still Here," and the two decided Phoenix should show up to his scheduled appearance on "The Late Show with David Letterman" in his oddball character. Sporting an untamed beard and sunglasses while chewing gum and being generally aloof, Phoenix's appearance had everyone befuddled, not least of whom Letterman himself. Letterman at one point even scolded Phoenix for chewing gum, to which Phoenix spat out the wad and stuck it under the desk. Letterman asked the actor about his time "with the Unabomber" and then roasted him, saying, "Joaquin, I'm sorry you couldn't be here tonight." Dang!
While no one at the time was sure if his appearance was real or a hoax, Phoenix did break character at the very end of the interview when he removed his sunglasses, something that he revealed upset director Affleck the following year when he returned to "The Late Show." 
"Casey was very angry with me when I did that," he admitted to the host, who in turn said he felt like Phoenix had slipped and hit his head in the tub. "I apologize. I hope I didn't offend you in any way," Phoenix said. Affleck did eventually admit that the whole appearance was a hoax, per BBC News, and Phoenix told Playboy (via USA Today) that Letterman was definitely not in on the joke.
Joaquin Phoenix and Casey Affleck had a falling out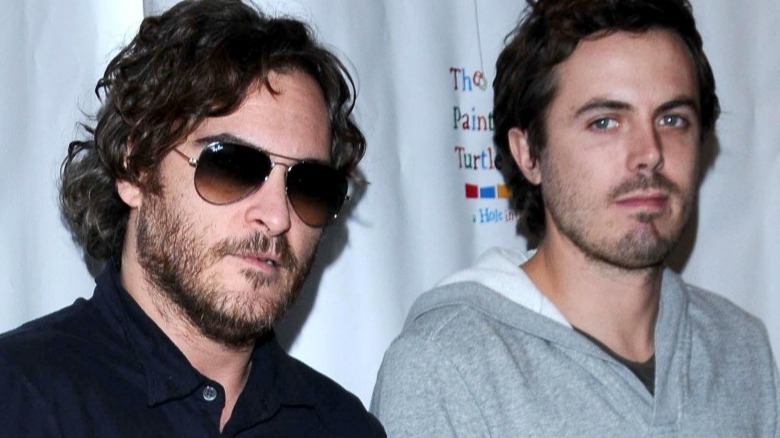 s_bukley/Shutterstock
In 2020, Joaquin Phoenix went on to win a best actor Oscar for his role in "The Joker," but for a while, his career suffered due to his 2009 appearance on "The Late Show with David Letterman." He even admitted in 2010 when he apologized to Letterman that the mockumentary that started it all, "I'm Still Here," hadn't turned a profit. "We've made 75 cents on this movie," he lamented.
His personal relationships also took a hit, namely with former friend and director of "I'm Still Here," Casey Affleck. The movie was plagued with sexual misconduct allegations, with two women who worked on the movie, a cinematographer and producer, suing the "Manchester By the Sea" star for creating a hostile work environment for women, per The Guardian. Affleck settled out of court, but according to Phoenix, that put a strain on their relationship — mostly because Affleck was married to Phoenix's sister Summer at the time of the allegations. Their friendship subsequently crumbled.
"My sister and him divorced," Phoenix told Vanity Fair in 2019. "And I haven't spoken directly to him or indirectly in a long time. Three or four years."