Jennifer Lawrence Admitted To Having A Crush On A Famous Late Night Host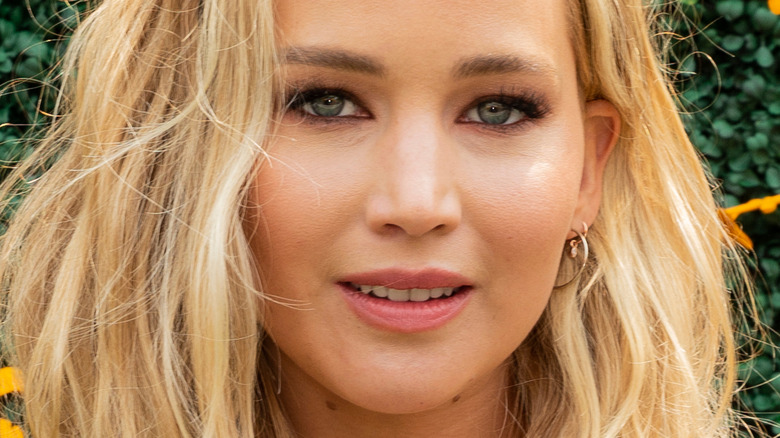 lev radin/Shutterstock
Jennifer Lawrence has won the adoration of millions of fans in the years since she burst onto the acting scene as star of "The Hunger Games" in 2012. At the same time, she has captured the hearts of several big names in Hollywood, including pop superstars Justin Bieber and Harry Styles, who have gushed about her in interviews. "Oh yeah, [she's] bae for sure," Bieber said of Lawrence in a 2015 chat with Capital FM. "One hundred percent. She's so sexy. She's unbelievable."
The former One Directioner, for his part, admitted to InStyle U.K. to checking out Lawrence and thinking she has a "cool" fashion sense (via Fox News). He said, "I like her at all those big awards things." Even female celebrities admitted to nursing a crush on Lawrence, such as her "American Hustle" co-star Amy Adams and Israeli model Bar Refaeli. "She's been my girl crush for a while," Adams said in an interview with HipHollywood. "Since 'Winter's Bone,' she became my girl crush." Refaeli, meanwhile, said of Lawrence: "She's what a woman should look like. She's natural, she's down to earth. I think she's all that."
Well, Lawrence herself knows exactly what it's like to harbor a crush on a fellow celebrity — she has a list of them, after all. And one of the lucky guys whom she used to have her eyes on? Writer, comedian, and late night host Seth Meyers! 
J-Law wanted to ask Seth Meyers out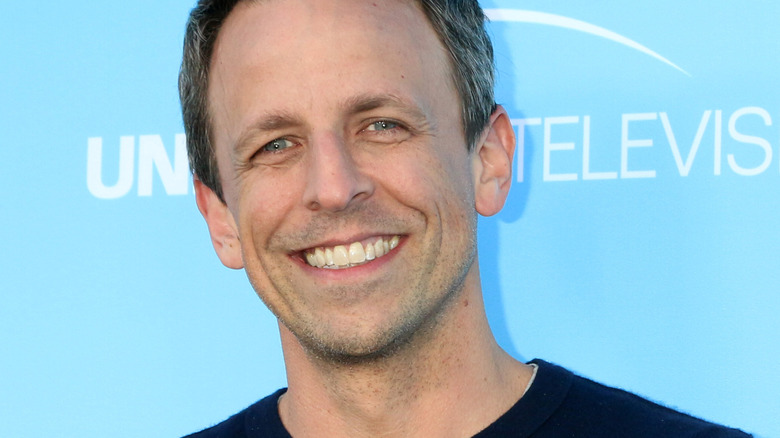 Kathy Hutchins/Shutterstock
Jennifer Lawrence said her infatuation with Seth Meyers started when she hosted "Saturday Night Live" in 2013, where Meyers was an alum. "You were working, I didn't know what you did, [but] I had a really big crush on you," confessed Lawrence on "Late Night with Seth Meyers" in 2015. (Per Variety, Meyers was the head writer of "SNL" for over 12 years before he left the show in 2014 to host "Late Night.") 
The "Hunger Games" actor said she planned to make the first move on Meyers and ask him out on a date. "Because I created this romance in my head because I'm delusional," she explained. "And so, I was like, you know what, I'm doing it!" But to her surprise, she found out from one of the show's crew that Meyers was already engaged to his girlfriend at the time, Alexi Ashe. "She was like, 'Honey, he's engaged,'" she said. "I was like, 'Cool. Good talk.'"
Reacting to Lawrence's confession, Meyers assured her that it was cool as things worked out for him in the end. "I married that lady, so it worked out," he said. After getting engaged in July 2013, Meyers and Ashe, a human rights attorney, married in a private ceremony in Massachusetts two months later, per People. They have since welcomed three children together: their oldest son Ashe Olsen, middle son Axel Strahl, and the youngest Adelaide Ruth, who was born just last year. 
Jennifer Lawrence tends to crush on older men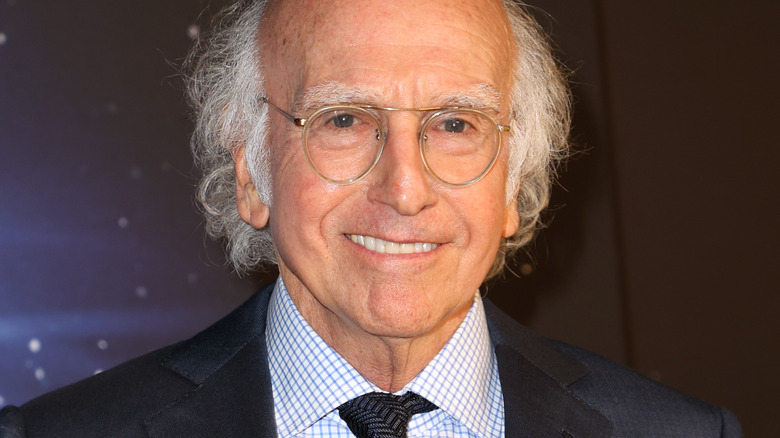 Kevin Winter/Getty Images
It would seem Jennifer Lawrence tends to have an attraction to men who are either already taken or much older than herself (well, with the exception of her "Just Look Up" co-star Timothée Chalamet). Aside from Seth Meyers, Lawrence also admitted to having a crush on another "SNL" alum — "Seinfeld" creator and "Curb Your Enthusiasm" star Larry David. "I gave Larry David my number and he never called me," Lawrence said in a Glamour cover story in 2016. "Which makes him even more attractive. I love that he didn't call me. It makes him so much hotter." In a separate interview with Vanity Fair, Lawrence said of David, "I'm in love with him, and I have been for a really long time."
Speaking with The New Yorker in 2014, David pointed out the 40-year age difference between him and Lawrence. "On the one hand, it's very flattering," he said. "On the other hand, it's kind of a shame." When Lawrence's two celebrity crushes came face-to-face in 2017, David made it abundantly clear to Meyers that he doesn't want to share the honor with him or anyone else — not even with Hollywood heartthrob George Clooney. "It would've been better if it was just me," he said. "I wanted me, just me ... I want the big crush."
Despite Lawrence's famous crushes, she seems to have found her happily ever after with husband Cooke Maroney, who she welcomed a child with in February.