Plastic Surgeon Weighs In On Jennifer Lopez's Botox Denial Controversy - Exclusive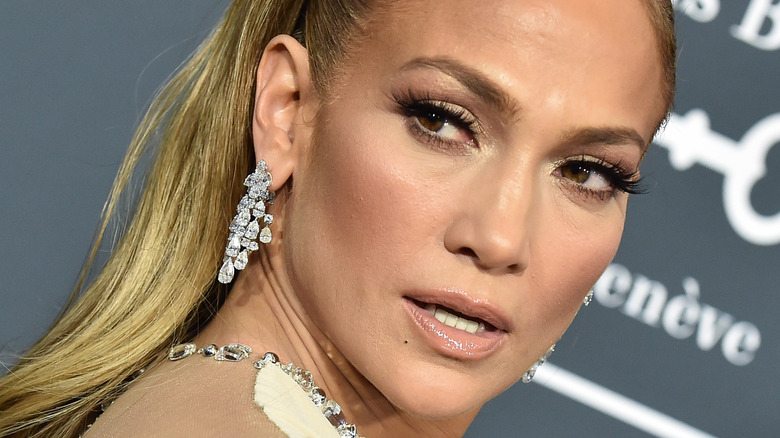 DFree/Shutterstock
Jennifer Lopez's strikingly beautiful appearance has seemingly captivated fans for some time. However, Lopez recently found herself under fire after posting a clip to her Instagram account promoting her skincare line, JLO Beauty. In response to the video, a fan suggested that Lopez had "tons" of Botox on her face (via BuzzFeed). Unhappy with the fan's insinuation, Lopez provided a lengthy response to the accusation.
"For the 500 millionth time, I have never done Botox or any injectables or surgery," Lopez replied. She then went on to suggest that being "more positive" and "kind" was the key to maintaining her youthful appearance. This isn't the first time Lopez has shared her beauty secrets, though. During a 2016 interview with People, the "Marry Me" actor revealed that, in addition to her skincare routine, she also drinks water and exercises regularly.
Now, a plastic surgeon's weighing in on the conspiracy surrounding Lopez's timeless appearance — and his commentary might be shocking to some.
It's impossible to tell if Jennifer Lopez has Botox
Dr. Carl Truesdale of Truesdale Facial Plastic Surgery in Beverly Hills reviewed a recent clip of Jennifer Lopez on ABC's "Nightline," and determined that it was "impossible" to tell if Lopez had Botox, or if she just has good genes. "It's difficult to say if she had botox or just doesn't animate with a lot of movement," Dr. Truesdale said. "The goal of a good botox treatment is not to completely paralyze the muscle. Either way she is aging well and it's impossible to tell if she has a good botox treatment or just natural limited facial excursion/motion." 
Dr. Truesdale further explained that, while it does appear that Lopez has limited movement in the areas on her forehead and eyebrows, this does not prove she has undergone any cosmetic procedures. However, the Los Angeles-based surgeon also noted that the number of younger patients seeking preventive treatment plans continues to rise. "We term this prejuvenation, the concept of preventing signs of aging with certain techniques, treatments and procedures." 
Dr. Truesdale's sentiments come on the heels of a recent announcement by Joe Jonas, who revealed that he recently started using injectables. The DNCE frontman is currently starring in a campaign for injectable brand Xeomin, and has made no secret of his skincare routine. "I liked that it relieved the area a little bit and I was like, 'Okay, this is great,' without it being too much for my liking," Jonas told People.