What Jacob Elordi And Sydney Sweeney's Relationship Is Like In Real Life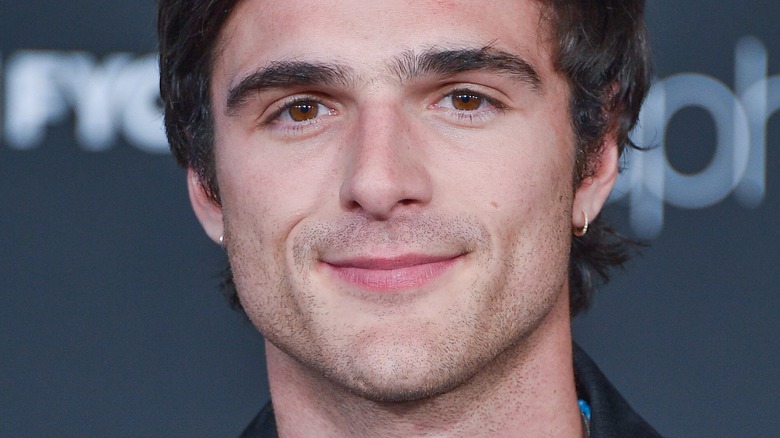 DFree/Shutterstock
On the set of HBO's "Euphoria," Jacob Elordi and Sydney Sweeney play toxic couple Nate Jacobs and Cassie Howard, respectively. The pair shocked audiences by hooking up in the Season 2 opener despite the fact that Cassie is best friends with Nate's recent ex, Maddy Perez. (Girl code, anyone?) In a behind-the-scenes feature, Sweeney recalled her skepticism when she first learned of the new storyline, asking creator Sam Levinson, "But, what about Maddy?" Likewise, Elordi admitted that he "didn't understand" Nate and Cassie's relationship. "I was worried that it was just the high school trope of different people sleeping with different people," he said. Unfortunately, for any (Nassie? Cate?) shippers, the couple didn't last long. By Episode 7, they were officially on the outs, with Nate telling Cassie — in typically dramatic fashion — to get out of his house.
Nate and Cassie's volatile relationship has led many viewers to question the nature of Elordi and Sweeney's relationship IRL. But art and real life are pretty far removed for these two. As of March, People confirmed Sweeney's engagement to her longtime boyfriend, Jonathan Davino, after she was spotted rocking a diamond ring on that finger. Per Us Weekly, Elordi has been linked to everyone from his "Euphoria" co-star Zendaya (aka Rue), to model Kaia Gerber, and he ended his brief romance with Olivia Jade Giannulli in August. While Elordi and Sweeney's interactions appear to be strictly platonic, here's what we know about this duo's friendship.
Sydney Sweeney and Jacob Elordi gushed about working together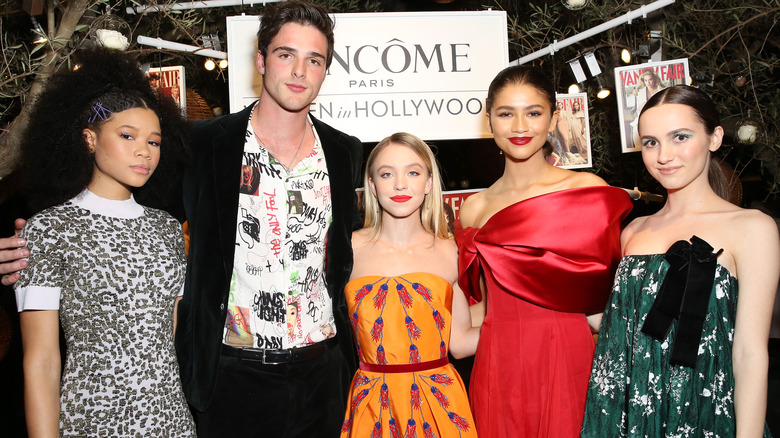 Rachel Murray/Getty Images
Sydney Sweeney may have been surprised by Cassie Howard's character arc in Season 2, but she told Entertainment Weekly how much she appreciated having the opportunity to work with Australian actor Jacob Elordi. "He gives so much and he also listens a lot which is amazing," Sweeney explained. "Sometimes, when you're working with different actors, you don't truly feel like they're listening to you, and he does. And so we're able to truly live in these moments and continue to live in them because our characters are really communicating with each other." Elordi has been just as complimentary of his co-star, calling her "so good at what she does," per Entertainment Weekly. "[Sydney] brings it every single take, every single scene. And they're always intense scenes with her as well, but we had so much fun," he added.
In an interview with Grazia, Elordi further explained how he viewed the differences between filming with Alexa Demie (Maddy Perez) and Sweeney's Cassie. "I tried to treat it almost like I was making a romance film because I needed to have something different in my eyes in the way I looked up at her," he shared, speaking of Sweeney's character. Not to imply these that two have anything romantic going on off-screen, but fans certainly do ship them! Just check out this cute BTS montage (featuring Elordi) that Sweeney posted to her Instagram after Season 2 wrapped.
Jacob Elordi and Sydney Sweeney push each other as actors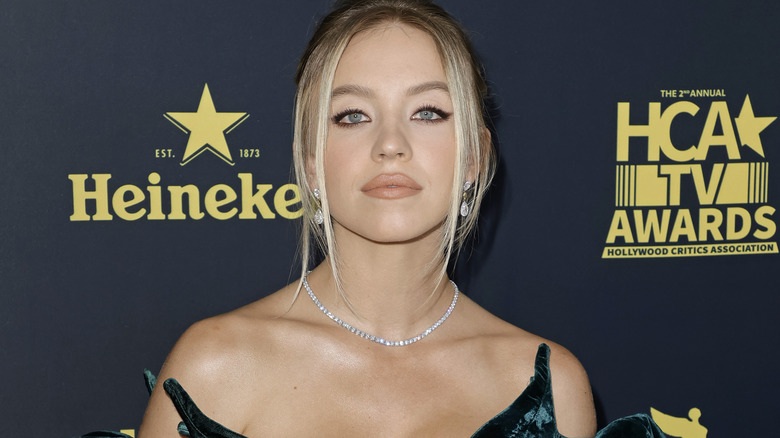 Kevin Winter/Getty Images
At its core, the relationship between Sydney Sweeney and Jacob Elordi is one of mutual respect. That has empowered the actors to push boundaries and flesh out the relationship between their "Euphoria" characters in new ways. Reflecting on an explosive fight between Cassie and Nate in Episode 4, Sweeney told The Cut, "Jacob and I did the scene as it was written, and we were like, 'There is so much more here that we could do that's pent up. Let's build it.'" The change made for an emotionally-charged scene that many deemed one of the episode's "most shocking moments." "I let any judgment of myself go. I'm very proud of the meltdown Cassie had this season," Sweeney added. Elordi seems to be proud of her, too, as he told Entertainment Weekly that the pair of them are like a modern-day "Bonnie and Clyde."
It's a good thing the actors get along, because filming for "Euphoria" is time-consuming and complex. "What everyone's seeing on television, the shots that people are talking about, the feelings that they get, the conversation that's around the show, that's because certain shots take 30-something takes," Elordi told GQ UK. In another interview with the Daily Beast, the actor explained that such an emotionally demanding show requires lots of time and commitment. "It's kind of like the labor and the love of the work. You can't do that stuff in a short amount of time," he said.