Who Is Tatiana Maslany's Husband, Brendan Hines?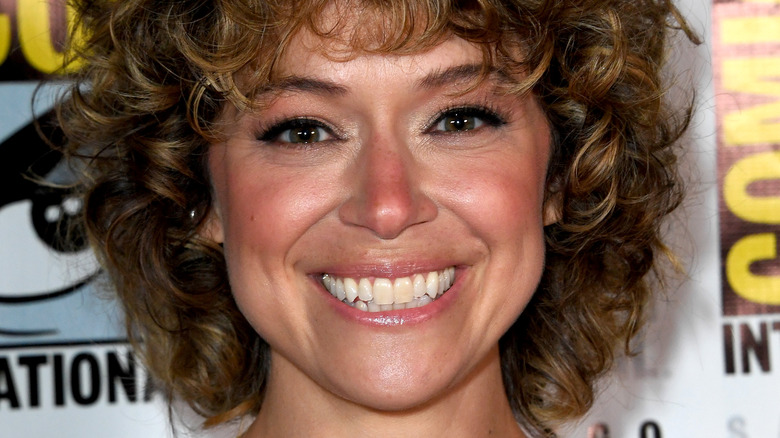 Albert L. Ortega/Getty Images
In 2022, "Orphan Black" star Tatiana Maslany had something big to celebrate besides joining the MCU in the Disney+ series "She-Hulk: Attorney at Law." During an appearance on "The Late Show with Stephen Colbert," Maslany announced that she had secretly married Brendan Hines.
"There are certain things you kind of want to keep private," Maslany said of their low-key nuptials. She further explained that she and Hines decided to have an intimate wedding ceremony with few guests due to COVID. "It was a very chill day," she recalled. However, Maslany did reveal that one member of the couple's wedding party, their dog Earl, caused a bit of a panic. Her and Hines' wedding rings had been tied around the mischievous ringbearer's neck, but the soon-to-be newlyweds noticed that the jewelry was missing while the canine was posing for wedding photos with them. Hines discovered the rings in a field full of sheep droppings, but thankfully, they escaped unscathed.
According to Entertainment Tonight Canada, rumors about Maslany and Hines' coupling up began circulating in late 2020; however, the pair did not start making public appearances together until early 2022. Maslany didn't tell "Late Show" host Stephen Colbert how she and her husband first met, but Hines did work with one of her "She-Hulk" co-stars a few years before he got to act alongside the future Duchess of Sussex.
Why Meghan Markle didn't enjoy playing Brendan Hines' love interest
Just like Tatiana Maslany, Brendan Hines been acting since the early aughts. The Baltimore native notably played a character who believes that brutal honesty is the best policy in the crime procedural "Lie to Me" from 2009 to 2011. One of his co-stars was actor Tim Roth, who was cast alongside Maslany in "She-Hulk: Attorney at Law" in late 2020, per Deadline. According to Entertainment Tonight Canada, Maslany, Roth, and Hines were spied hanging out together in 2021.
Hines has appeared in a number of dramas, including "Locke & Key," "Secrets & Lies," and "Scandal." In "Suits," Hines' multi-episode story arc called for him to lock lips with future Duchess of Sussex, Meghan Markle, who played Rachel on the show. Their moment of passion led to the breakdown of Rachel's relationship with her on-screen boyfriend. "I hated that storyline," Markle told Digital Spy. "I found out there are emojis that I didn't even know existed, because everyone was sending me guns and skulls and daggers!"
Like Maslany, Hines has starred in a humorous superhero series — in the second live-action adaptation of "The Tick," he played the ancient alien Superian. He told ScreenRant that he was a huge fan of the comedic tone of the '90s animated series, saying, "The comedy drew me to the role." Hines also appeared alongside Maslany in the 2022 fiction podcast "Power Trip," which is about a woman who gains a superhuman ability.
Brendan Hines sings and designed one of Tatiana Maslany's tattoos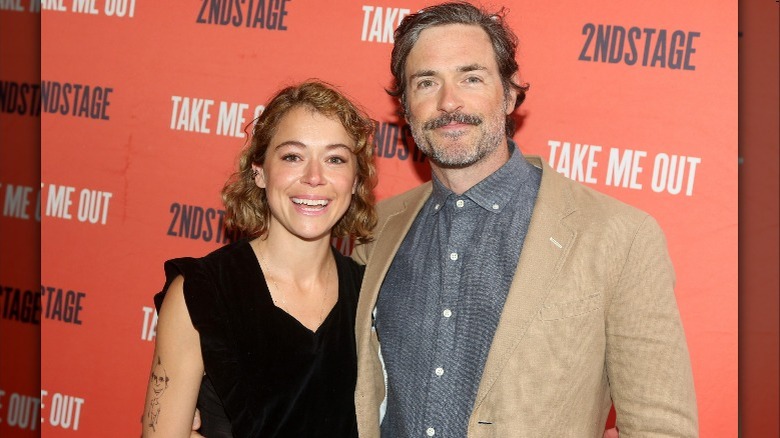 Bruce Glikas/Getty Images
When he's not busy acting, Brendan Hines writes and records folk music. In an interview with Medium, he revealed that the first musical genre he dabbled in was jazz. The trombone was his instrument of choice before he traded it for a guitar, which the troubadour can be seen strumming in the Hallmark holiday movie, "Our Christmas Love Song." Hines has released three albums, per his website, and the third doesn't exactly feature the type of music you would find on the Hallmark Channel.
"Most of the songs on my new album 'Qualms' are rebukes of the current president and his garbage administration," Hines told Medium in 2017. The album was written and recorded in the wake of Donald Trump's presidential election victory in 2016 and features tunes titled "President Roulette" and "Minus the Facts." Hines told B-Sides & Badlands, "The songs took on this recurring theme of a deeply malevolent force capable of rendering decent people powerless, which, of course, is what Trump and his supporters endeavor to be."
In addition to being passionate about politics and performing, Hines possesses some degree of artistic skill. In an interview with The New York Times, Tatiana Maslany identified Hines as the artist who designed a tattoo on her arm. "It's a little tough baby," she said. But no green ink was used to make the grinning infant match the skin of Maslany's strong and verdant superhero character in Disney+'s "She-Hulk."