Mila Kunis And Ashton Kutcher Had A Much Different Relationship Before Getting Married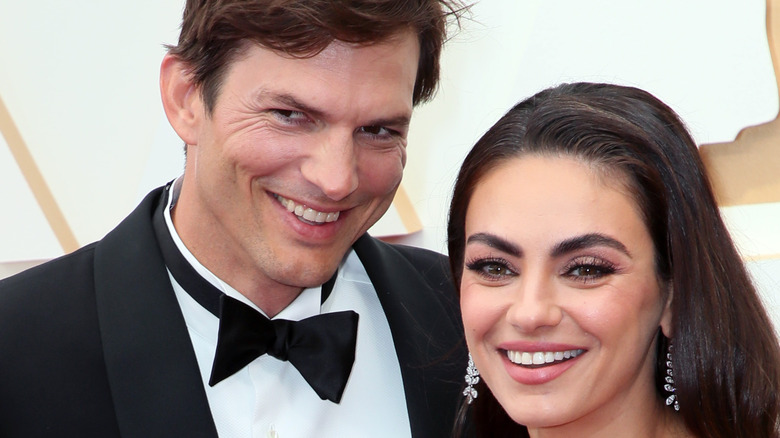 David Livingston/Getty Images
Not only are Mila Kunis and Ashton Kutcher pretty powerful Hollywood actors in their own right, but they are also well-known for being among Hollywood's most powerful supercouples. Although the pair wed in 2015, they had actually known each other for nearly two decades prior when they both starred in Fox's "That '70s Show" in the late 1990s and early 2000s, in which they actually played characters who dated. It wasn't until 2012, however, that they actually began dating in real life.
Now, Kunis and Kutcher are a tightly-knit family; with two children — daughter Wyatt Isabelle, born in 2014, and son Dimitri Portwood, born in 2016 — they are living happily as a family in a sustainable Beverly Hills farmhouse together. 
However, how was it that the famous couple's romantic relationship actually began? Well, given the stark age difference and lifestyles that Kunis and Kutcher led before officially becoming a couple, the two actors unsurprisingly once had a very different relationship than the one they share now. 
MIla Kunis did not heed the advice of one of her movies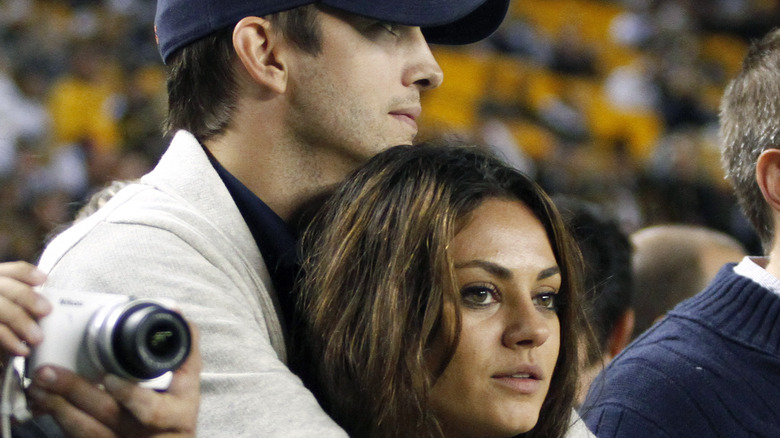 Justin K. Aller/Getty Images
In 2016, Mila Kunis revealed the backstory of her relationship with her husband Ashton Kutcher in an interview with James Corden. Kunis highlighted the ironic fact that their relationship began around the time she had finished filming "Friends With Benefits," while he had finished "No Strings Attached," both films which stressed that friends-with-benefits-style relationships are untenable, as developing feelings are largely inevitable. 
"If we would've just paid attention to how those movies played out, we would've known that we can't go into a relationship this way," Kunis said, "and yet we did exactly as both those movies foretold." Naturally, the two began a friends-with-benefits-style relationship in 2012, and, as Kunis recalls, "Three months later we're living together, six months later we're married and have a kid."
As fans of Kunis and Kutcher will recall, the two first met around 1998 when the first season of "That '70s Show" was in production. At the time, however, she was 14 and he was 20. Naturally, then, they were not dating, and Kunis claims that romance was the farthest thing from her mind. "Ashton did my chemistry homework for me," Kunis said. "He was so not the guy that I was like, 'Oh, he's so hot!'" Kutcher, however, disputed these claims in a 2017 interview with Howard Stern. "She has a journal," Kutcher said, "[Where] she wrote, 'Oh this guy's hot.' She thought I was cute."
Mila Kunis said her heart skipped a beat upon reunification with Ashton Kutcher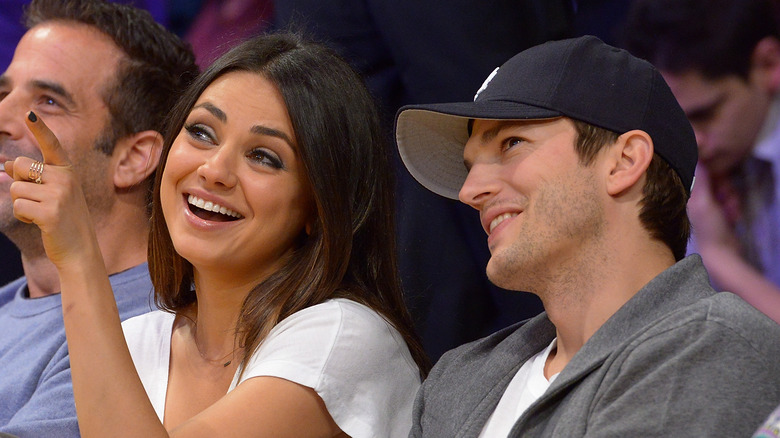 Noel Vasquez/Getty Images
In her James Corden interview, Mila Kunis recalled that after "That '70s Show" ended in 2006, she and her co-star Ashton Kutcher did not have much contact, but did stay in touch throughout their 20s via AOL Instant Messenger. However, they did not see each other in-person until 2012, in a moment which Kunis described as one which you "hear or see in movies where your heart skips a beat." Although she immediately tried to suppress her feelings, Kutcher proceeded to invite her to a housewarming party of his.
As it turned out, however, Kutcher had invited her to the party to set her up on a blind date with one of his friends. It would be Kunis and Kutcher, though, who would end up reconnecting that night on a much deeper level.
Kutcher recalled the details of that night in 2017 while chatting with Howard Stern. He explained that Kunis, who had recently quit smoking, kept gradually leaning into him to inhale the secondhand smoke from his cigarette. "She wanted me to, like, shotgun cigarette smoke so she could breathe it in," Kutcher said. "And I was like, 'Well, alright.' ... Gradually through the night, it got closer and closer." The two then ended up making out — their first off-screen kiss ever — and despite their best efforts to keep it casual, it turned out to be the beginning of their real-life love story.