Inside Bella Thorne's Messy Split With Mod Sun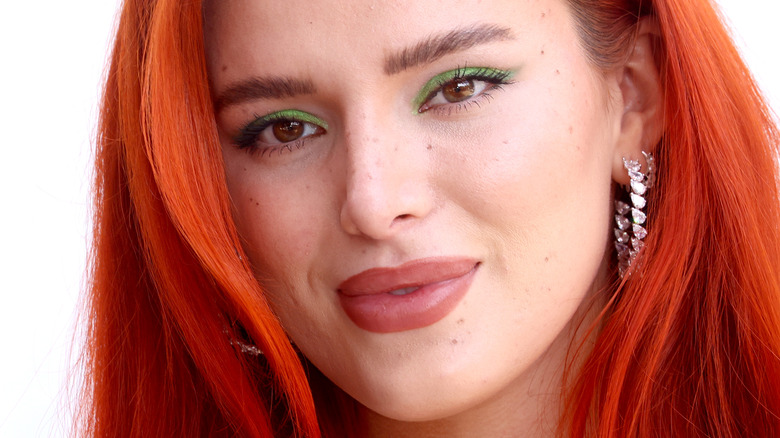 Franco Origlia/Getty Images
We may receive a commission on purchases made from links.
Former Disney Channel star Bella Thorne has come a long way since her wholesome days on the family-friendly network. Although Disney managed to keep Thorne's rebellious nature under wraps until "Shake It Up" ended in 2013, the actor wasted no time in stretching her wings. From candidly discussing her drug usage to directing an X-rated film and making headlines for her unconventional relationships, Thorne has proven she's a wild child at heart. But, of all her forward-thinking choices, it's the star's love life that continues to generate the most media attention.
In June, Thorne split from her Italian beau, Benjamin Mascolo, whom she met at Coachella in 2019, per Nylon. "I fell in love with an Italian pop star so I'm basically Lizzie McGuire," Thorne joked at the time. However, like McGuire's brief romance with Paolo, Thorne and Mascolo weren't meant to be. "I promised myself I will embrace the pain and discomfort that comes with such separation from the woman I most love and always will love," Mascolo wrote on Instagram (via Elite Daily) at the time of the split.
Though their breakup made headlines, Thorne's engagement to Mascolo was relatively tame news, coming as it did in the wake of her polyamorous throuple with singer Mod Sun and YouTuber Tana Mongeau. Since she began dating Sun in 2017, Thorne wasn't shy about documenting all the sweet aspects of their relationship, which made their 2019 breakup drama all the more surprising.
Bella Thorne and Mod Sun hashed out their breakup drama on Twitter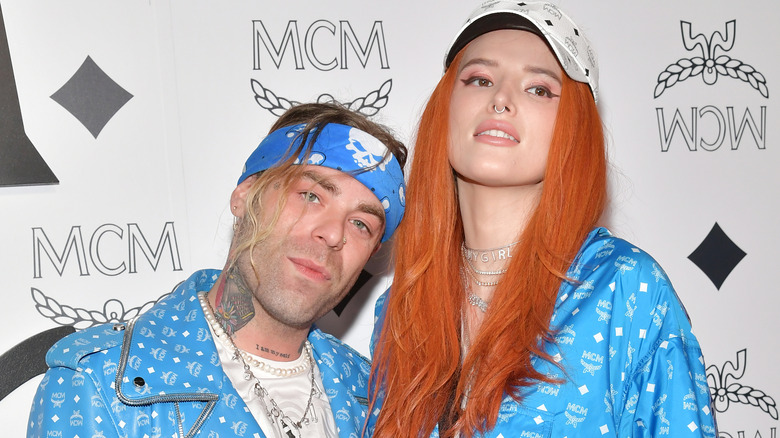 Amy Sussman/Getty Images
In 2019, Bella Thorne announced her breakup with Mod Sun via Instagram, writing, "I will always love you. All good things must come to an end." But that sentiment may have been the last of Thorne's amicable feelings towards her ex. The duo got in a fight on Twitter shortly thereafter, when Sun joked about selling Thorne's belongings on eBay (via TooFab). Though the musician later clarified that he was "joking," Thorne took to social media to slam Sun. "Awww looks like moddy really wants some press. #hungry also didn't u call the cops on me when I wanted my computer? U p***y," she wrote. In response, Sun lobbied claims that Thorne was "untrustworthy." "I've also told u 6 times since let's SWAP each other's stuff but which u refuse to gather mine," he added (via Twitter).
The whole thing felt a little more contentious than the typical aftermath of a breakup. And indeed, days after the tweets, Sun appeared on iHeartRadio's "Domenick Nati Show," where he accused Thorne of being unfaithful. "I sure as hell was [faithful]," the musician claimed. "I'm not going to speak for her. You already saw that she [was] with someone the next day, so you know how my head gonna be after I see that, right? ...But me? ...I didn't even look at another girl." Sun added that he split with Thorne due to a "public incident," which Page Six confirmed occurred at Coachella.
Mod Sun continued to criticize Bella Thorne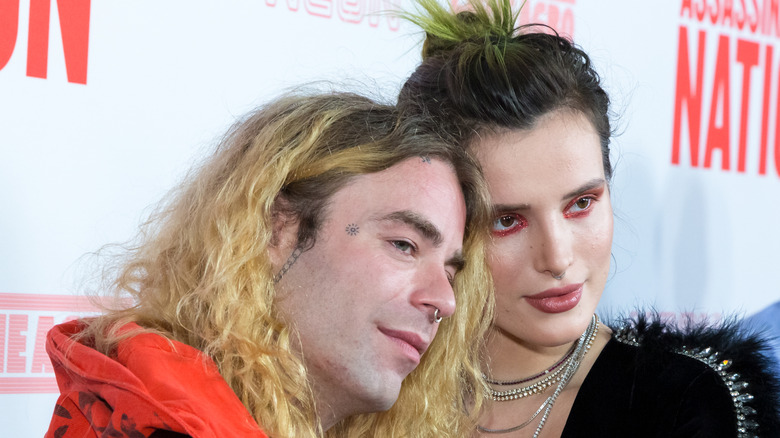 Greg Doherty/Getty Images
Things soured further between Bella Thorne and Mod Sun when Thorne released her book, "The Life of a Wannabe Mogul: Mental Disarray," in 2019. According to HollywoodLife, the Disney Channel alum drummed up publicity around the launch by revealing that she and Sun had a fake wedding while they'd been together. This did not sit well with her ex. "Don't use our wedding video to promote ur book," Sun blasted Thorne on Twitter (via HollywoodLife). "Don't disrespect my idea of what love is ... if u were faking it that day then u really are an amazing actress. Stop being intentionally hurtful to people [who are] healing." The twosome threw additional barbs at each other on social media, culminating with Thorne's accusation that Sun had broken up with her "on the anniversary of [her] father's death."
But that wasn't the end of their feud. In 2020, Sun slammed Thorne for her controversial foray into the NSFW website OnlyFans. Critics felt that the actor's presence on the site was unfairly taking away revenue from actual sex workers — and Sun seemed to agree. "It's insulting what she did to sex workers," he said in an interview with TooFab, calling out his ex for having "poor values." "Scamming people is trash, bro," he added. "It's time for the rich to have richer values. That scam life is not cool." Looks like these two aren't going to be friends anytime soon.