Here's What Jada Pinkett-Smith Really Looks Like Without Makeup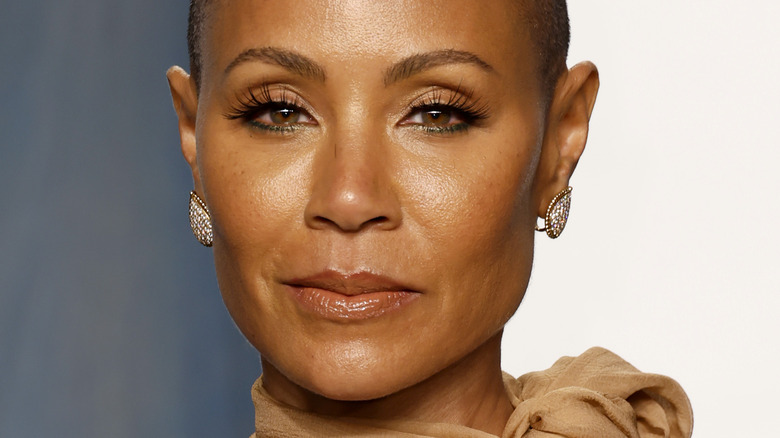 Frazer Harrison/Getty Images
Thanks to the Chris Rock bit that Will Smith reacted to with a slap at the 2022 Oscars, everyone was focused on the area above Jada Pinkett Smith's eyebrows rather than her beauty look, which included emerald eyeshadow underneath her bottom lash line, per Allure. The eye makeup was color-coordinated with her gown, but when Rock joked about Pinkett Smith starring in the "G.I. Jane" sequel, it had nothing to do with her wearing the Army's favorite color — it was in reference to her bald head.
Pinkett Smith has spoken candidly about her hair loss. "It was terrifying when it first started," she said on "Red Table Talk." But she was eventually able to joke about it on Instagram, writing, "Mama's gonna have to take it down to the scalp so nobody thinks she got brain surgery or something."
While Pinkett Smith is embracing a look that she was forced to adopt, she once willingly fell prey to a beauty trend that she now finds questionable. "My first headshot that I did, it was so ghetto. These long nails, with my name, and the guy's name that I was dating at the time, painted on my nails," she recalled to Elle. These days, she takes a different approach to beauty. "Even on makeup days, I try go to light. ... Less is more," she told Today — and the proof is in the makeup-free photos and videos she sometime shares with her fans.
How Jada Pinkett Smith refreshes her skin
For her role as Niobe in "The Matrix Resurrections," Jada Pinkett Smith had to spend about five hours having prosthetics and makeup applied to make her look far older than she really is. The actor shared a sped-up look at the entire process on Instagram. Afterward, she revealed that she used an intensive skincare ritual to replenish and rejuvenate her skin. "Here is one of my skin restarter routines that I use after wearing makeup everyday on shoots and so forth," Pinkett Smith wrote on YouTube, revealing that she goes through the entire process a few times a year.
In the video, viewers can admire Pinkett Smith's makeup-free face as she demonstrates how she maintains her youthful glow. She begins by filling a bowl with piping hot water, placing her face over it and covering her head with a towel to give her pores a deep steaming. Next, she washes her face with a gentle cleanser and a wash cloth. After a second steam sesh, she uses a microdermabrasion machine to slough away dead skin, gently washes her eye area with baby soap, and applies a pore cleanser/mask. After a third steam, she slathers on a homemade mask made from avocado and honey. A final steam is followed by the layering of her retinol serum, moisturizers, and face oil. "The beauty regimen is not a game," Pinkett Smith said in an Instagram video.
How her husband and food keep Jada Pinkett Smith looking good
According to Jada Pinkett Smith, a healthy love life can give a gal a healthy glow. In 2008, Extra asked the "Girls Trip" star to spill one of her best beauty tips, and she responded, "Lots of sex!" But sometimes, lovemaking can ruin all of a makeup artist's hard work. In a 2009 interview with Shape (via Parade), Pinkett Smith confessed to gettin' jiggy with Will Smith during their limousine ride to the Oscars that year. "Let's just say we missed the red carpet and I ended up with almost no makeup on," she said.
In a YouTube video, Pinkett Smith revealed that paying close attention to what goes into her body is another way that she keeps her skin so well-preserved. "You have to drink tons of water," she said. "I drink 12 bottles of water a day, and that's probably not even enough." On "Red Table Talk," she said she tries to avoid processed foods and eats plenty of vegetables. She credited her grandmother for instilling in her the belief that food isn't meant for pleasure. "I was raised to believe you eat because your body needs fuel for energy, so I eat superfoods," she told Shape. So don't ever expect to hear her comparing an exceptionally delicious meal to limo sex.