Inside Camila Mendes, Lili Reinhart, And Madelaine Petsch's Friendship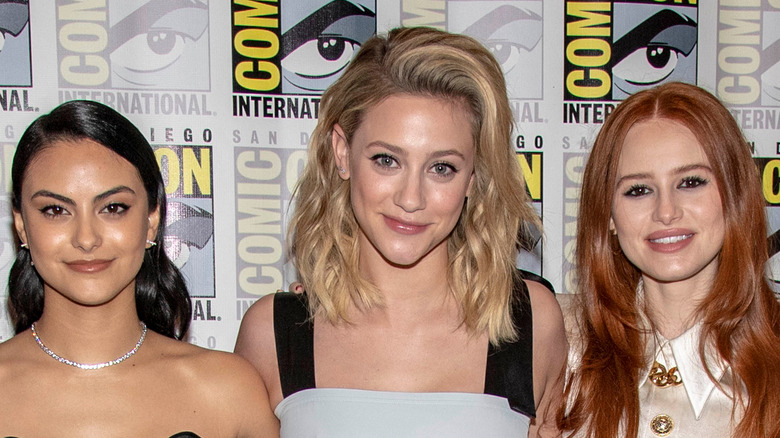 Eugene Powers/Shutterstock
Whether it's on or off the screen, best friends always come before boyfriends. And as "Riverdale" fans prepare for the final season to hit the screens, Camila Mendes, Lili Reinhart, and Madelaine Petsch are reminding fans that their friendship takes that rule especially to heart. 
Beginning in 2017, Mendes, Reinhart, and Petsch made their on-screen appearances in the CW hit series "Riverdale" as their character counterparts Veronica Lodge, Betty Cooper, and Cheryl Blossom, respectively. The show, which follows a group of high schoolers, has the students attempting to figure out a murder that happened in their small town all while discovering the other deep secrets that lay hidden. The show — which stars Cole Sprouse and KJ Apa, alongside Mendes, Reinhart, and Petsch — enraptured fans with its secrets and drama, something the cast also experienced in real life.
Whether it was from the pandemic's toll on the show, or dealing with on and off-screen relationship drama, the cast of Riverdale has been through it all – especially, everyone's favorite best friends "Lamila Petschart." And now the women of "Riverdale" are showing everyone just what made their friendship so strong in the first place. 
Breakups made Camila Mendes, Lili Reinhart, and Madelaine Petsch even closer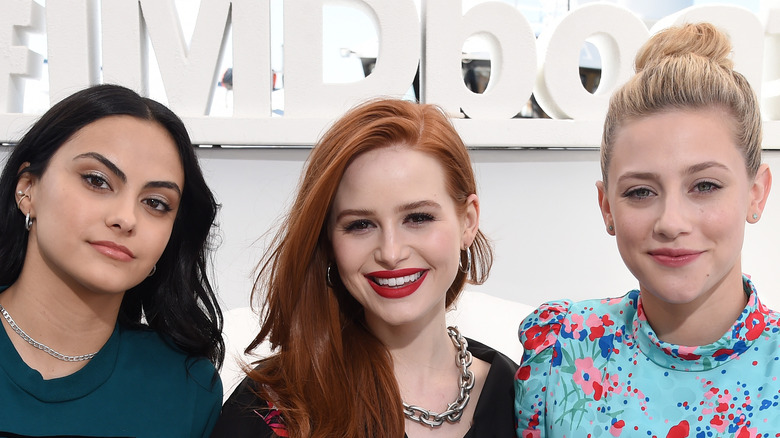 Michael Kovac/Getty Images
Going through a breakup is never easy. But what helps is not only having your best friends by your side, but in the case of Camila Mendes, Lili Reinhart and Madelaine Petsch, having them going through their own breakups can help, too.
During the pandemic, Mendes, Reinhart, and Petsch all called it quits with their significant others. Mendes had been dating Grayson Vaughan (and then co-star Charles Melton), Reinhart had been dating Cole Sprouse, and Petsch had been with Travis Mills. At the time, despite each of them grieving their relationships, Mendes said that experiencing that pain at the same time made the co-stars that much closer as they were able to relate to one another. "And now we've been bonded by how much change has happened. Me, Madelaine, and Lili, specifically, we've never been closer than we have this season," Mendes said, per Paper. "It's really nice to have them, to feel like I do have friendships here — meaningful ones."
In a separate interview, Petsch added that her mental health had never been worse following her breakup, saying that each day brought a new challenge for her to overcome. During that time, Petsch said that she also leaned on her friends and worked to find a way to stay positive — something the "Riverdale" women have found a way to do together. 
The girls have become so close they even joke about what made them best friends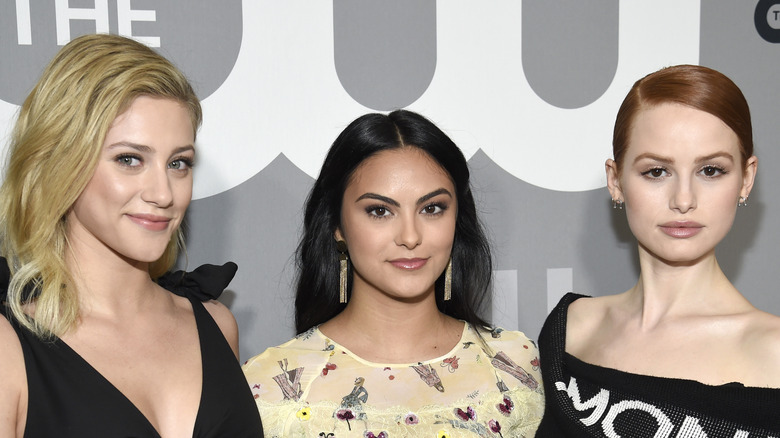 Kevin Mazur/Getty Images
While a relationship ending is never easy, time — and friends — certainly heal all wounds. After going through separate breakups, Camila Mendes, Lili Reinhart, and Madelaine Petsch were not only able to bond over the loss of certain relationships, but the three found themselves getting even closer as they were quarantined to film for "Riverdale."
Filming had paused months before due to COVID-19, but by September 2020, the cast was able to come back to Vancouver to finish the season and begin a new one with strict protocols in place. But while being quarantined with one cast would give some stars cabin fever, it seems to have only made the "Riverdale" girls even closer than they already were — as they started their viral TikTok channel "blondebrunetteredhead."
The channel focuses on the girls trying different challenges and showing off their dance moves, but it also provides comedic relief with the three looking back on what made them so close in the first place — their breakups. Taking on the viral trend of joking about something you should learn to do, Mendes and Reinhart put their own spin – and shade — on the trend saying, "Us trying to figure out how to date people we don't work with." And while fans thought the girls' take on the video was perfect, it also certifies that despite "Riverdale" coming to an end, it doesn't seem like this friendship is going anywhere.