The Truth About Frank Fritz And Danielle Colby's Relationship
Taylor Hill/Getty Images
Frank Fritz was a mainstay on television thanks to his starring role on the hit show "American Pickers." The reality series, which premiered in 2009, saw Fritz work alongside Mike Wolfe and Danielle Colby to collect rare antiques from across the country. However, Fritz mysteriously disappeared from the History Channel show during its 21st season. Wolfe later confirmed that Fritz had exited after over a decade with the team.
Fritz provided context for his seemingly sudden disappearance during an interview with The U.S. Sun. "I haven't talked to Mike in two years. He knew my back was messed up, but he didn't call me up and ask how I was doing," Fritz told the publication. The Iowa native went on to explain that while he originally hoped to return to the show after receiving back surgery, rising tensions with Wolfe made that impossible. Fritz also suggested that Wolfe was seeking to replace him with his brother, Robbie Wolfe.
Days after the collector slammed his former co-host, Wolfe took to Instagram to confirm Fritz' exit from the show, but did not directly respond to Fritz' claims. And while it appears Fritz and Wolfe's relationship has been fractured by the reported behind-the-scenes feud, some fans may be wondering where Colby falls in the messy drama.
Danielle Colby said Frank Fritz caused so much pain
Following Frank Fitz' sudden departure from "American Pickers," his co-star, Danielle Colby, slammed the TV personality for his alleged behavior on-set. "I have personally watched everything over the last decade," Colby wrote on Instagram, adding, "Frank caused so much pain for himself that it has been hard to watch. I truly hope Frank receives all the help he needs to become well after years of being unwell." In the same post, Colby gushed over her relationship with Mike Wolfe, who she called her "friend and big brother."
Colby remains a staple cast member on the History Channel series, which now features Wolfe's brother, Robbie Wolfe. However, Robbie's addition to the show was seemingly unwelcome by some fans. "Until they bring Frank Fritz back it will be referred to as 'American Stinkers' and is practically unwatchable with Mike's drunk brother," one person tweeted, while another wrote, "Bring back Frank Fritz. Your show is a major snoozer since he left!"
Frank Fritz had another major health scare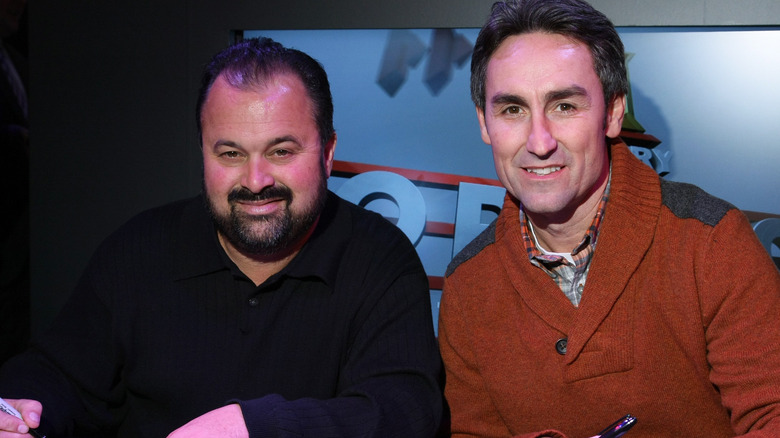 Neilson Barnard/Getty Images
Mike Wolfe shared the news that Frank Fritz suffered a major stroke. On July 22, Wolfe took to Instagram to reveal the saddening update and to ask fans to send their prayers to his former co-star. "There has been lots of opinions in regards to mine and Frank's friendship and the show, but now is not the time to set the record straight. Now is the time to pray for my friend," Wolfe wrote. "Frank has suffered a stroke and is in the hospital." Wolfe ended his post by making a big declaration about his former pal, writing, "I love you buddy."
And while Wolfe did not provide additional details about Fritz' medical condition, he did share a small update about Fritz a week after his stroke. "We asked that everyone keeps Frank and their thoughts and prayers," Wolfe's rep told People. "The most important thing is that we allow him time to heal and giving him the space to do so."
Fritz' camp has yet to comment on the collector's medical state; however, a friend of the Iowa resident confirmed to The Quad-City Times that Fritz was doing better. "He would like everyone to know he continues to get better every day and is very determined," the insider said on August 16. "He really is getting better every single day."