What Mariah Carey Said About The Rumors Of A Feud With Whitney Houston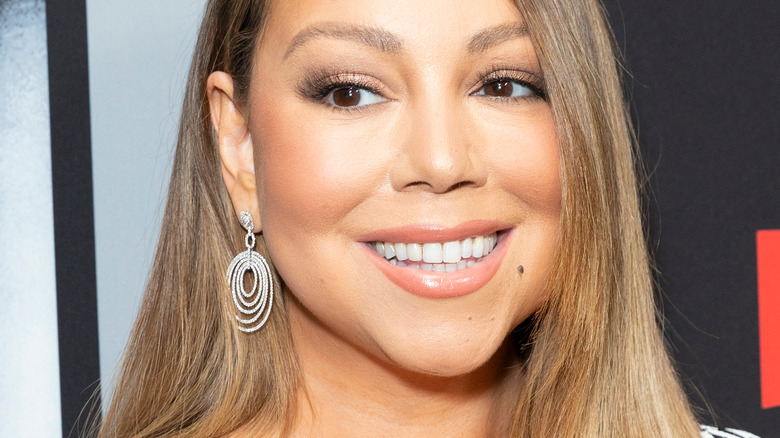 lev radin/Shutterstock
Whitney Houston and Mariah Carey had big voices and even bigger diva personas that left them wide open for rumors of a celebrity feud to circulate during the 90s. It didn't help that they were both R&B-influenced pop stars, with rich, bluesy voices, and extraordinary vocal ranges. "There was the situation where, when I started, everyone was like, 'Oh, her and Whitney, let's put them against each other and blah, blah, blah," Carey told Variety in 2012. "We didn't know each other! And she was one of the greatest of all time. And then we finally did a duet together that won an Oscar, we had the best time working together. It was female camaraderie. We both got it."
The song Carey is referring to is "When You Believe," their duet for "The Prince of Egypt" soundtrack, which garnered critical praise, chart success, and an Academy Award for "Best Original Song." Carey echoed these same sentiments when asked about collaborating with Houston during a 2020 interview with "No Filter With Naomi Campbell" (via That Grape Juice) saying, "[Whitney] and I had the best time. I love her spirit and her energy and it was like people didn't expect us to get along." The "Honey" vocalist added, "I really appreciate her giving of herself with me because she didn't have to be like that. I totally get who she was and what she meant to the world."
Mariah Carey pays tribute to Whitney Houston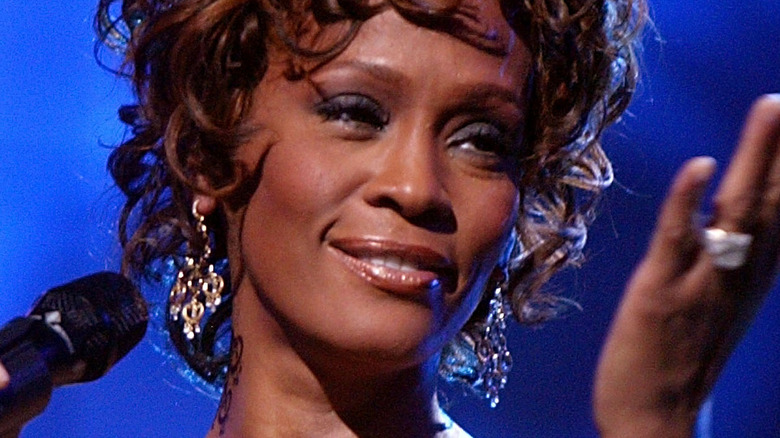 Kevin Winter/Getty Images
Whitney Houston's untimely passing shocked the world in February 2012 (via CNN). The talented and troubled singer's funeral service had many of her A-list friends and peers gather with her family to share emotional anecdotes about their time with the legend. While Mariah Carey didn't speak at the funeral, she did a tribute to Houston at the 2012 BET Awards (via Daily Mail UK). The "Hero" songstress spoke of her relationship with the late singer during her speech, saying, "The first time I heard Whitney's voice, I was mesmerized like the rest of the world. Just an unknown budding singer myself, I was captivated by the power in her range, the richness of her tone, and her unique ability to wrap a lyric in emotion."  
Carey mentioned the first time she "met" Houston, joking that they didn't actually meet; they "exchanged glances," adding that she was "a little nervous" because Houston was "not to be toyed with." 
Carey added that they spent a lot of time together while promoting their song, "When You Believe," and got to "know each other as people."  Later, the mother-of-two spoke of the last time she saw Houston, which was in London a year prior to the funeral. "Even then, folks were surprised to see us sitting right next to each other, clearly enjoying each others' company. But we did, and we were." Carey ended her heartfelt speech, proclaiming that she misses her "friend," but "we'll always have the music."
Did Mariah Carey snub Whitney Houston?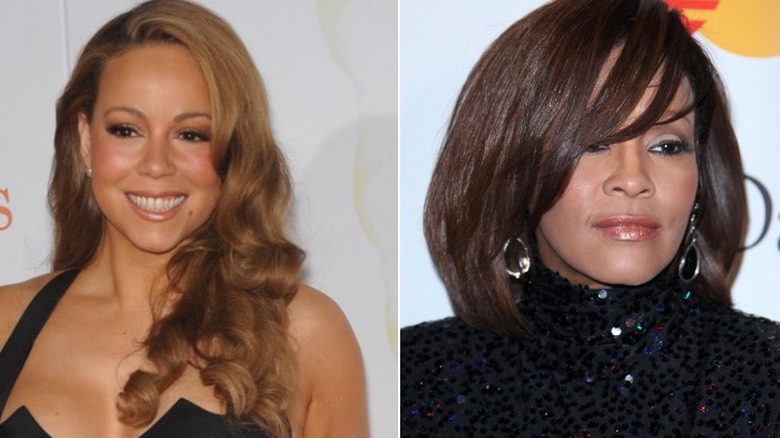 Kathy Hutchins & Jaguar PS/Shutterstock
Whitney Houston seemed to have nothing but kind words to say about Mariah Carey during her life. "I think Mariah is Mariah and that's what she should be known for. For her work. And not for being compared to or sounding like me. I don't really hear [the comparisons]." Houston said during an interview with David Letterman (via Smooth Radio). She added that despite their rare vocal ranges, they didn't sound alike: "I don't think that she sounds like me or I sound like her"
Not everyone close to the singers shared the same recollection of their early interactions. Gospel powerhouse Cece Winans, who was close friends with Houston and worked with her on their hit duet "Call On Me," claims that Carey ignored Houston the first time she tried to introduce herself. 
During Essence's "Yes, Girl" podcast, the gospel singer explained she'd encouraged Houston to introduce herself to Carey to put the feud rumors to bed. After displaying some reluctance, Houston agreed, only to be met with a cold shoulder "Boy! I ain't never saying or doing anything you say," Houston reportedly told Winans. When asked to elaborate, Houston continued, "I put my hand out and I said, 'Hi Mariah, I'm Whitney," to which Carey reportedly responded by turning her head away. "'And the Jersey inside of me said grab her hair!'" (via Cheatsheet) If that's true, these divas came a long way!