The Unexpected Hobby Will Smith Picked Up From Tom Cruise
DFree/Shutterstock
Will Smith and Tom Cruise have a fun relationship with one another. There's no doubt that the two bring plenty of star power to the table. According to Yahoo! Finance, Smith talked about Cruise's impact on his desire to succeed in his memoir. Arnold Schwarzenegger's advice about becoming a global superstar caused Smith to ​​"scan the field of my competition to see who else knew, who else held the secret," as he noted that Cruise "was the head of the pack."
Smith continued, "I started quietly monitoring all of Tom's global promotional activities. When I arrived in a country to promote my movie, I would ask the local movie executives to give me Tom's promotional schedule," he shared, "and I vowed to do two hours more than whatever he did in every country." So, Cruise served as Smith's motivation to succeed, and he chose to perform some of his music live during appearances — something Cruise couldn't do without musical background.
Judging from the excerpt in Smith's book, he and Cruise like to push themselves to the limit and be the best they can be at their jobs. But as with most other people inside or outside the entertainment industry, they still have hobbies that keep them busy during their off-hours. One of Cruise's hobbies actually rubbed off on Smith, and you won't believe what the two A-list actors used to do together.
Inside Will Smith and Tom Cruise's fun hobby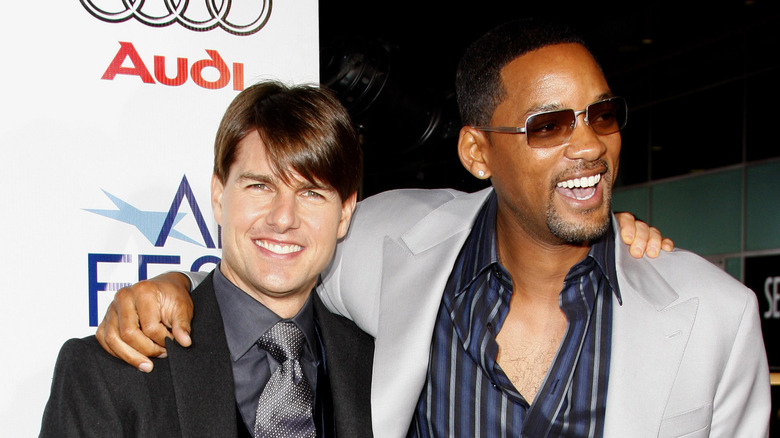 Tinseltown/Shutterstock
Celebs... they're just like the rest of us. Sometimes, celebrity friends can pick up hobbies from one another, and that's exactly what happened in the case of Tom Cruise and Will Smith. In an interview with the Mirror in 2008, Smith talked about a hobby he learned from Cruise — fencing. Yes, you read that right. Another fun tidbit of information? David Beckham also joined in on the fun.
In the interview, Smith explained that Cruise has a room in his home for fencing, because why wouldn't he? "We don't get enough time to hang out, just us three guys, so this is his way of getting together and bonding. David and I go to his home and just do fencing. It's a lot of fun," Smith shared. "We wanted an activity that was strenuous, but we're getting older — we have to think about slowing down." The actor also joked that the trio now needs to "watch" their "joints."
And if you thought that the duo's fun activities stopped at fencing, then you're sorely mistaken. According to Leah Remini (via Metro), the "Top Gun" actor also had another game that he liked to play with guests, including Will Smith and his wife, Jada Pinkett Smith. Once again, it isn't at all what you would expect. According to Remini, Cruise would invite friends over to his house to play hide and seek. We're guessing, in Cruise's giant abode, there are probably plenty of good hiding spots.
Will Smith has plenty of other hobbies and interests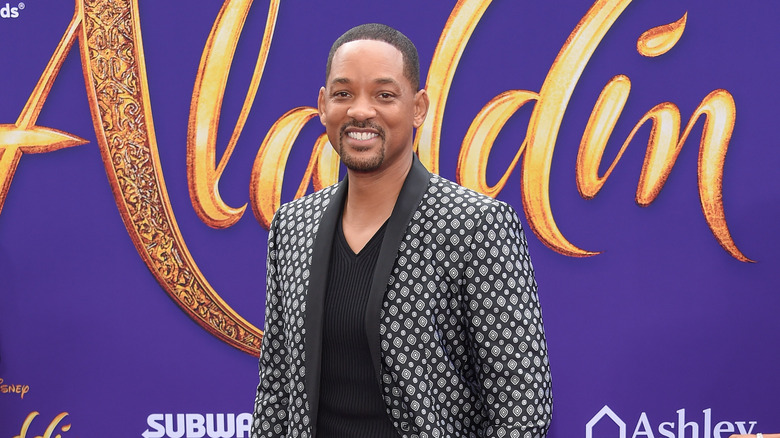 DFree/Shutterstock
When he's not fencing or playing hide and seek with Tom Cruise, Will Smith likes to keep busy in plenty of other ways. In a video shared on his YouTube page, the "Men in Black" star explained how he and his father used to play chess together when he was a kid. When he was 12 years old, Smith beat his father in the game and he shared how playing chess helped him train his mind, especially thanks to Grand Master Maurice Ashley.
"So he taught me this thing he said so listen he says 'when you look at a chessboard here's what I want you to do he said in your mind when you look at a position put the pieces wherever you want them pick them up in your mind and put them where you want them where do you wish they were," the actor explained. "All right and I was like, 'well yeah, but he can't go.' He's like, 'that's the trick of your mind.'" So, the chess game was a hobby that turned into a life lesson and something that Smith uses even outside the game.
Smith has also shown off his adventurous side from time to time, especially in his Disney+ series "Welcome to Earth." In the series, Smith travels worldwide, doing numerous activities, some of which he shared on his Instagram feed. From exploring the areas near volcanoes to zip-lining across waterfalls, Smith really does it all.