The Red Hot Chili Peppers' 2022 VMAs Performance Has Twitter Feeling Old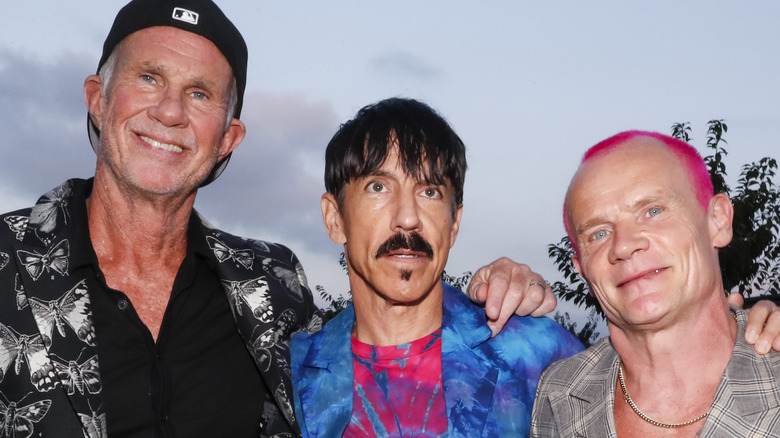 Johnny Nunez/Getty Images
The 2022 MTV Video Music Awards are trying to do it all! But when it comes to appealing to all age demographics, it seems the VMAs hit a bit of a bump in the road. 
This year, the winner of the Global Icon Award was the Red Hot Chili Peppers. For Gen Zs who don't know, the Red Hot Chili Peppers are a band made up of Anthony Kiedis, Chad Smith, Flea, and John Frusciante, which came to fame back in the 1980s. Known for their pop-punk and rap personas, the band became synonymous with rock music during the '80s and '90s. Over the course of their career, in addition to their newfound Global Icon Award — which comes 38 years after the debut of their first album — the band has won three Grammy Awards and eight VMAs. 
But despite the notoriety the Red Hot Chili Peppers have amassed since the beginning, at the 2022 VMAs, it seemed there was a bit of an awkward moment between fans — and their respective age groups — after the Red Hot Chili Peppers finished their performance and accepted their award. 
Celebrities had to encourage audience members to stand
During the 2022 MTV VMAs, the Red Hot Chili Peppers put on a performance to honor their latest achievement — the Global Icon Award they received. But after the band performed, fans on Twitter couldn't help but notice the age gap between the performers and the audience.
After the Red Hot Chili Peppers performed their set, Taylor Swift and fellow celebrities could be seen giving the band a standing ovation. As Swift clapped, she quickly turned around and motioned for the celebrities behind her (who were still sitting) to stand and honor the band. And after seeing Swift having to encourage the younger fans to pay their respects, many fans on social media couldn't help but feel the same way at home. Posting the clip to Twitter, one fan wrote that Swift's actions exemplified, "People over 30 watching this Red Hot Chili Peppers performance." Adding to that, another fan said, "I feel old watching Red Hot Chili Peppers and knowing who they are."
But, while fans took to Twitter to note that many in the audience — and watching at home — didn't know the Red Hot Chili Peppers while they did, that didn't stop them from honoring their favorite band and their latest award. "The Red Hot Chili Peppers truly are ageless," one fan wrote, while another said, "Red Hot Chili Peppers wow what a performance."