What Really Happened Between The Weeknd And Ariana Grande?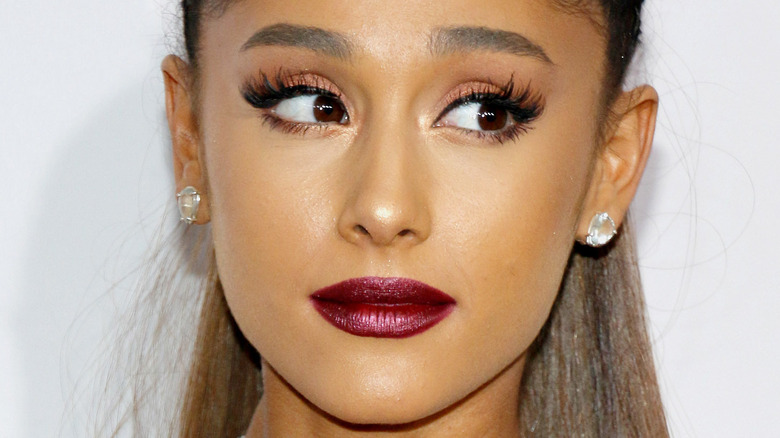 Tinseltown/Shutterstock
The Weeknd (aka Abel Tesfaye) and Ariana Grande's dating histories are like the ultimate who's who of Hollywood. Before tying the knot with Dalton Gomez in 2021, Grande dated some of the most prolific men in the spotlight, from "Saturday Night Live" comedian Pete Davidson (who she had a short-lived engagement with), rapper Big Sean, and the late Mac Miller. As for The Weeknd? He enjoyed an on/off romance for years with supermodel Bella Hadid and also flaunted his high-profile romance with Selena Gomez when the two dated for just short of a year around 2017 (hey, who wouldn't want to flaunt Selena Gomez around town?) Then, how could we forget all those rumors suggesting The Weeknd has been dating Angelina Jolie? See, we told you these two knew how to bag a fellow A-Lister.
But while there are plenty of famous faces in their dating histories, did The Weeknd and Grande ever actually get a little romantic with each other under the radar? Let's take a look back at what really went on with the "Love Me Harder," "Off The Table," and "Save Your Tears" remix collaborators.
How the Ariana Grande and The Weeknd dating speculation started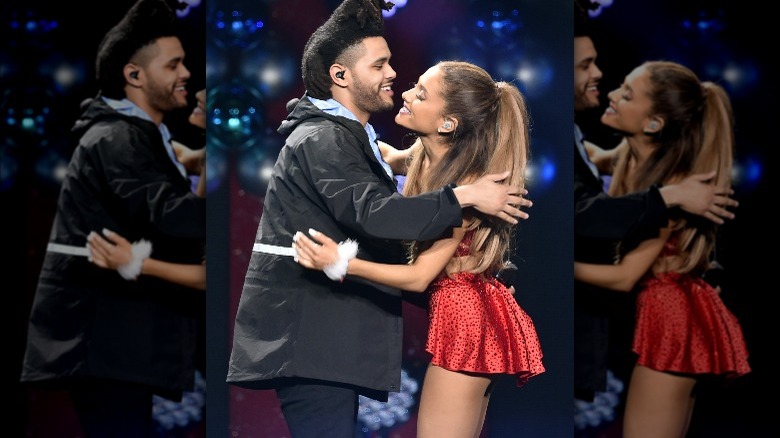 Kevin Winter/Getty Images
Okay, so let's kick things off by saying Ariana Grande and The Weeknd have never officially confirmed they dated and have always maintained they're nothing but good friends, but they have collaborated in the studio a whopping three times. It's with those constant musical team ups that dating rumors began to surface between the two, as fans have long speculated things may have gone beyond the platonic.
Fans of both stars have repeatedly analyzed song lyrics for clues, including @arianarailme who shared a thread in 2020 claiming The Weeknd's "The Hills" may have been about a possible secret romance while she was dating Big Sean. They also speculated that Grande is seemingly apologizing for messing up a romance in her big hit "One Last Time," which it's been suggested could be about The Weeknd. Another Twitter user, @loonaticgrande, shared a viral thread on Twitter decoding lyrics in 2017, doubling down on the speculation "The Hills" is about Grande while also pointing out a particularly poignant scene in the music video that may have hinted at a minor incident Grande had while dating Big Sean.
But that's not even the most cryptic lyric decoding fans have done.
Is 'I Heard You're Married' about Ariana Grande?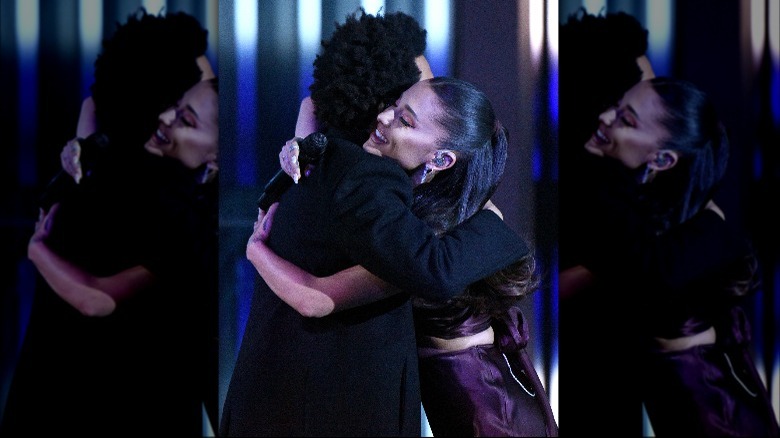 Kevin Mazur/Getty Images
One of the biggest claims fans have made about a possible romance between Ariana Grande and The Weeknd came when social media users speculated The Weeknd's 2021 track "I Heard You're Married" was about Grande and their possible past secret rendezvous. Many speculated, per Elite Daily, that the lyrics suggest The Weeknd could have been singing about Grande marrying Dalton Gomez, as he sings "It hurts to think I'm sharing you" and "If you don't love him (Oh no)/Then do yourself a favor and just leave him." Listeners have also pointed out that the song features shared lyrics with Grande's "Positions," as both feature the words "too good to be true," while The Weeknd also discusses manifestation, something that's been a heavy theme in many of Grande's hits. Notably, though The Weeknd has never officially revealed who the song is about, but neither of his most famous confirmed exes, Selena Gomez or Bella Hadid, are married. Even his rumored love Angelina Jolie is divorced.
As for what the twosome have said about one another? Of course, neither have confirmed anything romantic and have always lamented that they're just friends. Grande spoke about working together on "The Zach Sang Show" in 2020, explaining she started writing "Off The Table" and sent it over to him, which inspired him to write the rest. She then went on to call the whole experience "a very intimate moment and writing process between two friends."