How Harry Styles Handled Bizarre Disruption During His Show Like A Pro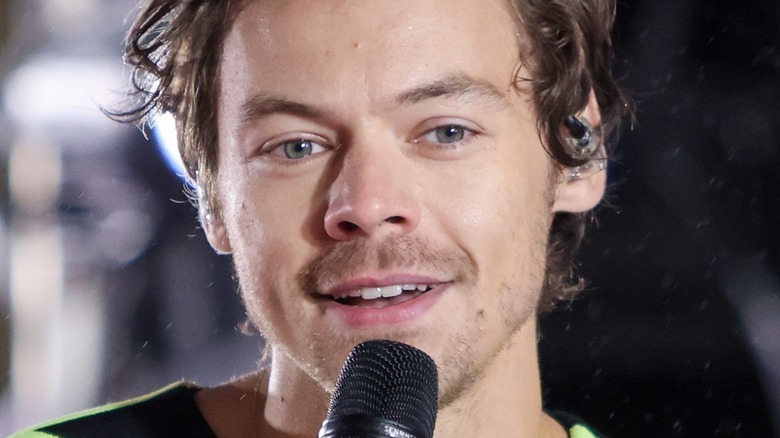 Debby Wong/Shutterstock
Of all the things Harry Styles may have expected a fan to throw on stage during his show — bras, hotel keys, maybe even a rotten tomato — we're guessing somebody's cold leftovers were not among them. But, pro that he is, Styles handled this bizarre disruption during a performance at Madison Square Garden on August 27 with aplomb. 
The former One Directioner is in the middle of a 15-night residency at MSG, as part of his 2022 tour: Love On Tour, running from August 20 to September 15. The show, which is promoting his new album "Harry's House," is already sold-out and earning rave reviews. Page Six called him "the greatest showman." Part of being a great showman is the ability to roll with unexpected interruptions from the crowd — like when he let one audience member sing a few bars of "Can't Help Falling In Love" to propose to his girlfriend during a show in Lisbon, Portugal, per Harper's Bazaar. 
But this New York City interruption was less sweet and more, well, savory. 
A fan threw a chicken nugget onto the stage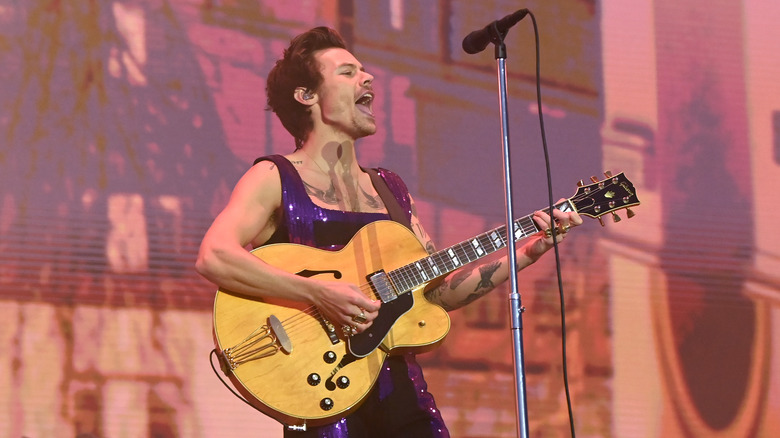 Dave J Hogan/Getty Images
We're not sure why a person would throw anything while an artist is performing, to be honest, but throwing cold chicken nuggets seems like an especially odd choice. And yet cold chicken nuggets is exactly what Harry Styles found tossed onstage in the middle of his performance. "Interesting, very interesting approach," Styles quipped, per a video posted to Twitter. "Who threw the chicken nugget?" The singer told the audience member he doesn't eat meat and tossed it back, joking, "First of all, this is cold, and I'm assuming very old. Would you like it back? Why? Alright, here you go. Don't eat it!" He kept up the bit, exclaiming, "Now it's on the floor! Don't go looking for it, we'll get you another nugget."
— ♡ k HEARD MEDICINE! ♡ (@kiwik94) August 28, 2022
Despite all the internet drama surrounding Styles' new movie "Don't Worry Darling," the former One Direction member has good reason to be cheerful, even when people are throwing chicken nuggets at him. His single "As It Was," is back at number one on the charts for the 11th week, according to Billboard. And his shows are doing so well, he's adding additional tour dates. Maybe there will be more chicken nuggets to come.