Why Brad Pitt And Angelina Jolie's Second Movie Together Didn't Go Well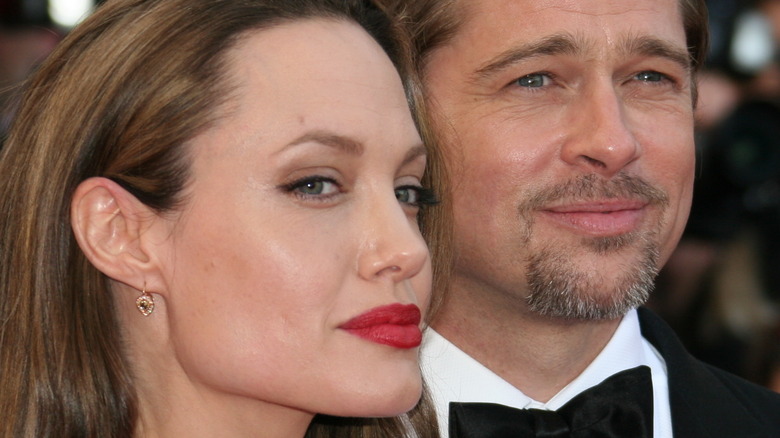 Denis Makarenko/Shutterstock
The following article contains allegations of child and domestic abuse.

The custody battle between Angelina Jolie and Brad Pitt has been dragging on since 2016 when they first announced their split after 12 years, per TMZ. August 2022 was particularly shocking, with disturbing details about Pitt's plane incident in 2016 — just days before Jolie filed for divorce made public — came to light. NBC News reports that the FBI investigation into that jet incident documented that Pitt was intoxicated with alcohol and increasingly belligerent when he purposefully poured beer on Jolie and their children. It purports that he violently shook her, causing injuries to her hand and elbow. When one of their children tried to intervene, the documents show that Jolie had to restrain Pitt from injuring them. The FBI documents include details such as, "husband allegedly physically and verbally assaulted plaintiff and the children, who have 'experienced lasting physical and mental trauma as a result of the assault.'" After the FBI investigation, the bureau declined to press charges against Pitt.
These revelations paint a toxic relationship between former husband and wife, but there was a time in their marriage when Jolie made every attempt to repair and resolve the differences between the two. And according to one interview, Jolie even wrote and directed one of her movies, casting them both in it as husband and wife, in a last-ditch effort to save their marriage.
If you or someone you know is dealing with domestic abuse, you can call the National Domestic Violence Hotline at 1−800−799−7233. You can also find more information, resources, and support at their website.
Angelina Jolie wrote a movie in an attempt to save her marriage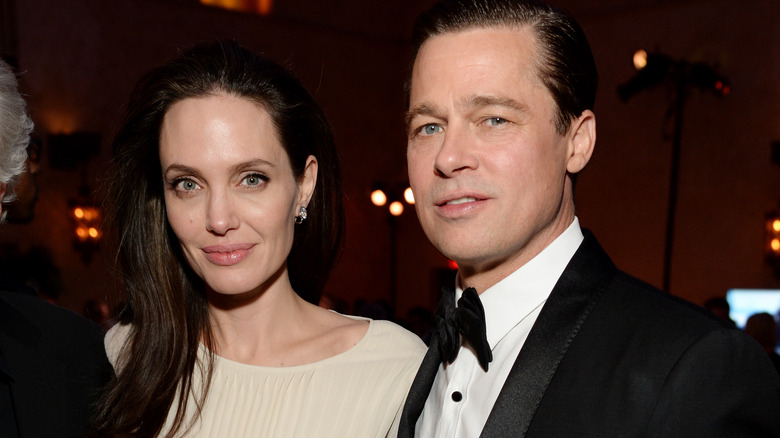 Michael Kovac/Getty Images
In 2015, the "Mr. & Mrs. Smith" co-stars reunited on-screen again for "By the Sea," a marriage-drama written and directed by Angelina Jolie. The duo play a married couple who attempt to repair their issues by vacationing in France — but they become obsessed with the sex lives of their young neighbors, resorting to spying on them, per The Guardian. In doing so, their own traumas come to light. It was less than a year after that film was released when Brad Pitt and Jolie called it quits. By 2017, Jolie revealed in an interview with The Hollywood Reporter's "Award Chatter" podcast (via W Magazine) that she made the film because she "thought it would be a good way for us to communicate. In some ways it was, and in some ways we learned some things."
Jolie went on to explain that "there was a heaviness" behind the scenes, though not because of the dark subject matter of the film. After trailing off, she noted they were "dealing" with "something," without getting into specifics. She did, however, talk about the transformative power of movie-making when going through a rough time. "Whatever it was maybe [making the film together] didn't solve certain things, but we did communicate something that needed to be communicated to each other," she said. 
Their experience filming Mr. & Mrs. Smith was quite different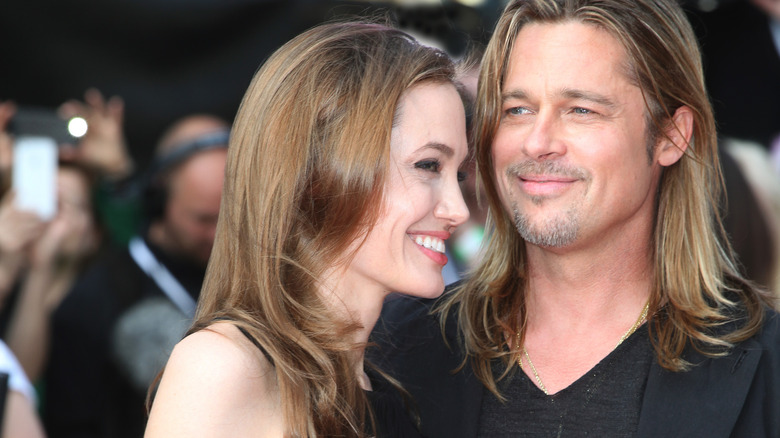 Featureflash Photo Agency/Shutterstock
When "By the Sea" was released in 2015, Angelina Jolie and Brad Pitt hinted at marital struggles but insisted they weren't using the movie as a substitute for couple's therapy. "Brad and I have our issues," Jolie told Vogue. "But if the characters were even remotely close to our problems we couldn't have made the film." Jolie noted that they filmed the movie almost right after the couple married in 2014. "It's an odd honeymoon," she told Entertainment Tonight. "A few weeks into it, we wondered if it was a good idea because it is ... heavy and it's a lot of fighting." She later noted that if the movie didn't land well with audiences, it would be "the worst honeymoon ever." In the same interview, Pitt gushed about working with his wife and mother to their six children, calling the "collaborative" experience "a real pleasure."
Interestingly, filming was a much different experience when Jolie and Pitt first co-starred as a couple in 2005's "Mr. & Mrs. Smith." Jolie characterized their working relationship in a 2007 Vogue interview. "A few months in, I realized, 'God, I can't wait to get to work,'" she told the publication. "... Anything we had to do with each other, we just found a lot of joy in it together and a lot of real teamwork. We just became kind of a pair." Those comments prompted Pitt's first wife, "Friends" star Jennifer Aniston, respond a year later in the same outlet, remarking that it was very "uncool," per The Daily Mail, considering Aniston and Pitt were still married at the time.
If you or anyone you know is struggling with addiction issues, help is available. Visit the Substance Abuse and Mental Health Services Administration website or contact SAMHSA's National Helpline at 1-800-662-HELP (4357).