Kylie Jenner Gets Raw About Postpartum Struggles In New Kardashians Trailer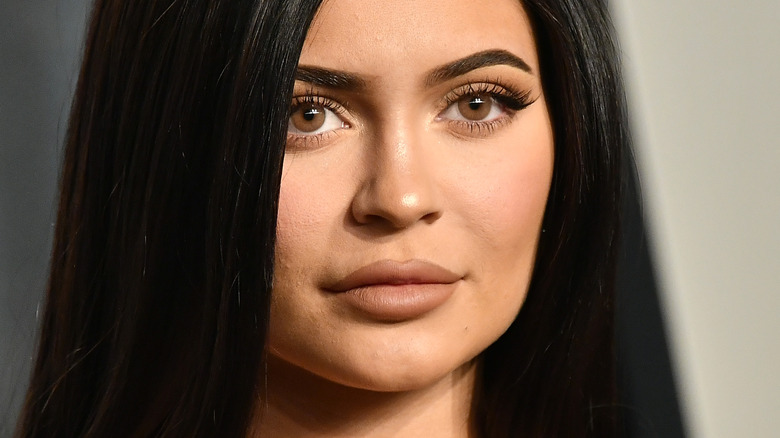 Frazer Harrison/Getty Images
On February 2, 2022, Kylie Jenner announced on Instagram that she gave birth to her second child with Travis Scott. The two initially named their new son Wolf, but decided to change it shortly after because they thought the name didn't fit (and the new name has yet to be revealed). The Kardashian-Jenner sister soon took a small break from social media, keeping her presence low-key following the birth. She then opened up to her followers about her struggle with postpartum depression.
"This experience for me personally has been a little harder than with my daughter [Stormi]," she shared on her Instagram Stories in March (via BuzzFeed News). "It's not easy mentally, physically, spiritually, it's just crazy." She mentioned that she's starting to lift the pressure off of herself, as she was determined to get back into shape after the birth. "It's okay not to be okay," she added.
While the beauty guru has been sharing her postpartum journey with the world, mothers are praising Jenner for her rawness and authenticity, per Independent. The mothers like the fact that the influencer has shown off "the postpartum tummy [and] the little extra weight" and also pointed out other features that "normalize" postpartum bodies. And now, it seems that Jenner is now getting real about her postpartum depression on television.
Kylie Jenner reveals she cried for 'three weeks'
Once Kylie Jenner opened up about her struggles with postpartum depression, she hasn't shied away from sharing her journey. In June, she shared a four-month update to her Instagram Stories (via People), saying, "I have been dealing [with] tons of back & knee pain this time." Now, it looks like people will get more of an idea of how the second birth has affected Kylie.
"I just had this new baby, but I cried nonstop for, like, three weeks," Kylie said in a new trailer for "The Kardashians" released by Hulu on Twitter. She was talking to her sister Kendall, who later in the trailer, is seemingly mad at her for canceling plans last-minute. Kylie also said that she knows she "should be happy" that she gave birth to a beautiful and healthy baby boy, but she just isn't.
Despite the makeup designer's personal struggles, a source told ET that both Kylie and Travis Scott are doing a great job with co-parenting their new baby boy, as well as their daughter Stormi. "They have really mastered being together and successfully co-parenting," the insider said. "They're doing fantastic as parents of two."
If you or someone you know needs help with mental health, please contact the Crisis Text Line by texting HOME to 741741, call the National Alliance on Mental Illness helpline at 1-800-950-NAMI (6264), or visit the National Institute of Mental Health website.