The Truth About Ryan Reynolds And Rob McElhenney's Friendship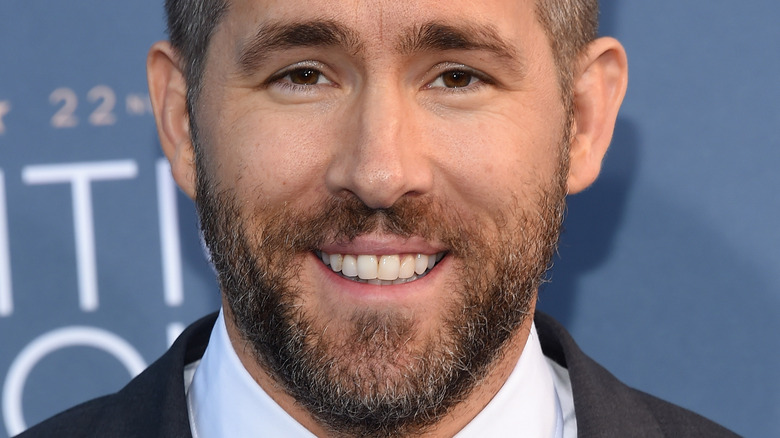 DFree/Shutterstock
Hollywood has quite the list of bromances: Andy Cohen and John Mayer, Channing Tatum and Jason Momoa, Tom Holland and Jake Gyllenhaal, Chris Rock and Adam Sadler, and now we can add Ryan Reynolds and Rob McElhenney. The two funny men have become friends, and now business partners all from sliding into each other's DMs.
Reynolds has had a career in Hollywood that spans over three decades. Per IMDb, he has an acting resume that goes back to the early '90s and he has had the world cracking up ever since. Between films such as "Red Notice," "Deadpool," and "Van Wilder," the Canadian kidder has had quite the trajectory when it comes to entertainment and has an estimated worth of $150 million per Celebrity Net Worth. McElhenney, on the other hand, rose to fame with as the creator, producer, and sometimes director of the fan-favorite comedy series, "It's Always Sunny in Philadelphia." McElhenny also stars in the pitch-dark sitcom about a South Philly bar with Glenn Howerton, Kaitlin Olson, Charlie Day, and the comedy legend Danny Devito.
They may have taken different roads to Hollywood, but now the two are close pals. How did these two exactly become friends?
They initially bonded over a drink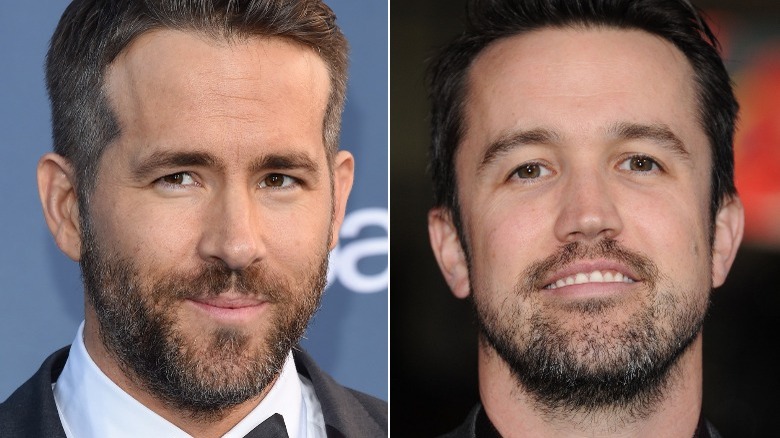 DFree & DFree/Shutterstock
Ryan Reynolds and Rob McElhenney have a lot in common and have been vocal regarding their admiration for each other. They're both Hollywood legends in the making, have supportive partners (McElhenny married his "Always Sunny" castmate Kaitlen Olsen and Reynolds has been married to former "Gossip Girl star Blake Lively since 2012), and they also both love a good drink. Besides film and television, Reynold also dabbles in other ventures such as spirits, which helped the two funny men bond.
The "Red Notice" actor revealed he actually DM'd the "Mythic Quest" actor and that's how they met. Reynolds admitted that he was a "fanboy" at heart and "couldn't not reach out," after seeing an episode of "It's Always Sunny In Philadelphia." In an interview with Men's Health in April 2021, McElhenney added that he and his wife, Kaitlin Olson, were in Mexico drinking tequila when he received the surprising text.
"I remember getting a DM from Ryan, and he was like, 'Stop drinking that s***. I'm going to send you a case of Aviation Gin.' And I was like, 'Oh, okay, that sounds good. I'll drink anything,'" McElhenney shared. " Then Ryan said, 'Oh, by the way, I'm a big fan of yours.' And I said, 'Obviously I'm a big fan of yours.' And we just became text buddies." Both comedians in their own right so we can just imagine what a hoot a friendship between these two is.
Now they co-own a British soccer team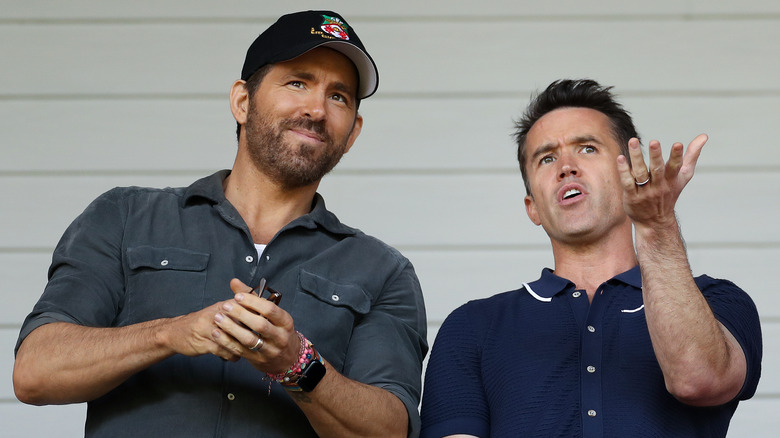 Lewis Storey/Getty Images
Just when you thought you couldn't adore Ryan Reynolds and Rob McElhenney anymore, just wait. The funny men also bond with their partners, who are also just as hilarious as they are. 
Reynolds and Blake Lively met on the set of the 2010 film "Green Lantern," while McElhenney met the leading lady in his life while filming "It's Always Sunny in Philadelphia." The comedic couples certainly know a thing or two when it comes to keeping their partners on their toes and having fun along the way. 
Speaking of surprises, Reynolds and McElhenney recently purchased a British soccer team and created a docu-series about the entire experience. Thank goodness for their partners being supportive of their creative endeavors. According to FX, "Welcome to Wrexham" highlights the ups and downs of the Welsh Association Football Club on the road to defying the odds as the underdog. It's a real-life "Ted Lasso" story! 
In an interview with Men's Health in April 2021, the "Free Guy" actor admitted to being "comfortable sharing power" and feeling as if the two have a nice partnership as they can be "vulnerable" with each other. Neither Reynolds nor McElhenney have experience in the field (literally) or working with each other, however, they have set their sights on the adventure and their wives are "supportive" of the journey.