Here's What Jenna Bush Hager Really Looks Like Without Makeup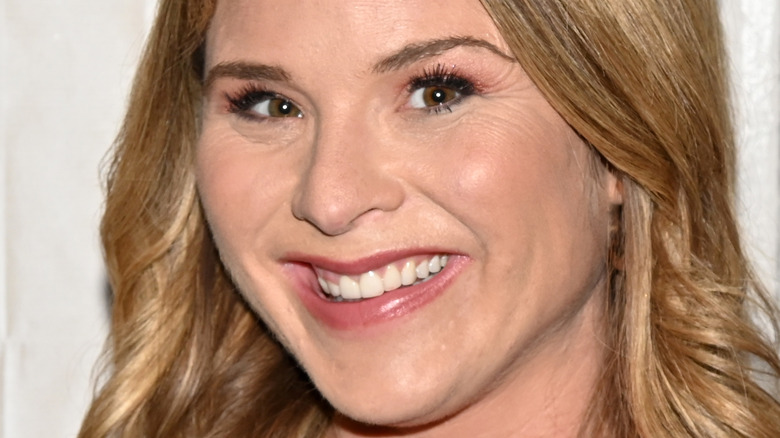 Theo Wargo/Getty Images
It's pretty obvious that Jenna Bush Hager is absolutely gorgeous with or without makeup. The former White House resident (she's the daughter of former President George W. Bush and Laura Bush, of course) turned "Today" regular is one of the most naturally stunning women on TV, but even she's been open about struggling with self-confidence over the years, revealing her body image struggles stretched all the way back to her childhood.
Speaking on "Today with Hoda & Jenna" in April 2019 when Meredith Viera filled in for Hoda Kotb, Jenna recalled finding an old journal of hers and realizing she'd been worried about her weight even as a child. "I opened my first grade journal, and I must have been seven or eight. I could barely write, and I certainly couldn't spell, and my new year's resolution was to lose four lbs and I actually scratched out seven and wrote four," Jenna shared, adding that she was hopeful her young daughters wouldn't lose the confidence they've developed. "I see my perfect little girls right now. And they look at themselves in the mirror — and they're so proud — and I'm like, 'How can I leave that? How can that stay?' I don't know the answer," she explained.
But while Jenna has had her own struggles over the years, it seems the star thankfully is on a better path today and isn't afraid to go barefaced in front of the world.
Jenna Bush Hager's makeup-free photos
Jenna Bush Hager has shown off her natural beauty without a stitch of makeup quite a few times, including in February 2019 when she shared a very natural snap with her sister, Barbara Bush. The Instagram upload showed the duo rocking matching gray tracksuits as they put their hair up in towels. The most stunning part, though? Their glowing complexions! The twosome proved gorgeousness clearly runs in the family as they ditched the cosmetics for their sibling time.
But that's not the only time Jenna has gone sans cosmetics on Instagram alongside her gorgeous family. In May 2021, she showed what her life at home is like when she celebrated the birthday of her husband, Henry Chase Hager, and Mother's Day on the same day. "Happy to share Mother's Day with this dude who makes being a mama so fun and joy-filled!" she wrote in the caption of the snaps, adding, "You'll never see this but we loved celebrating you with a family dinner, homemade sheet cake and a toddler burning man." The adorable photos included one stunning photo of Jenna and her man smiling as he snapped the selfie with a plate of yummy dessert with rainbow sprinkles in front of them.
Jenna Bush Hager's makeup favorites
But while it seems like Jenna Bush Hager is happy to ditch the cosmetics when she's hanging out with her family, we do know that she's a fan of the cosmetics when it comes time to work. In fact, we even know some of her favorite products that get her ready for a morning in front of the NBC cameras. Makeup artist Patricia Ambroise took to Facebook in 2016 to share some of the products she used in the makeup chair to enhance Jenna's glowing complexion, as she used Orlane's Teint Absolu Treatment Foundation in the shade 12, L.A. Girl's lip liner in the shade Natural, and Be Legendary lipstick from Smashbox in Mauve Matte.
But don't think you'll be able to snap a photo of Jenna sans cosmetics just anywhere. In August 2022, the star chatted to her co-star Hoda Kotb (who also has plenty of makeup-free moments of her own) on "Today with Hoda & Jenna" about wearing makeup to the gym, where both admitted that although they wouldn't necessarily do a full face for a workout, they'll often keep the makeup they're already wearing on to hit the treadmill. One thing's for sure though, makeup or not, Jenna Bush Hager is absolutely stunning.