Demi Lovato Has A Sweet Childhood Connection To Kelly Clarkson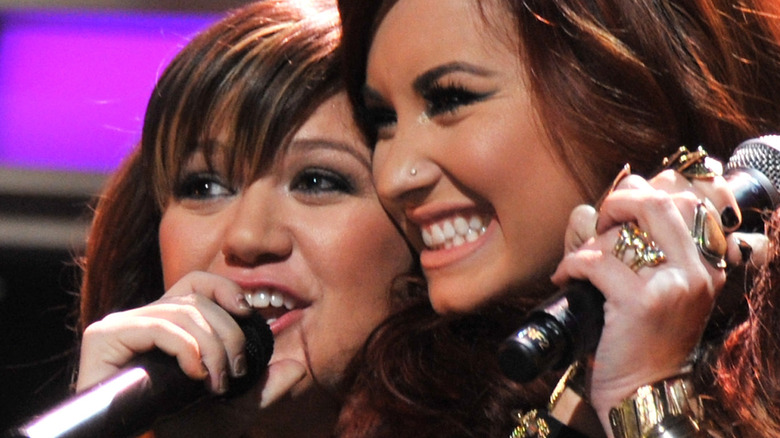 Stephen Lovekin/Getty Images
Don't you just love it when celebrities go way, way, way back? Like Britney Spears and Christina Aguilera who, of course, met on "The Mickey Mouse Club" back in the day, then there are super close A-List besties to this day like Matt Damon and Ben Affleck who the latter told People lived just blocks away from each other as kids. But there are a few you may not have heard of too. Like, did you know Adam Levine and Jonah Hill were childhood friends? Yep, the Maroon 5 hitmaker and the "21 Jump Street" star have known each other for years, with the latter admitting on "The Howard Stern Show" that they've been friends since childhood and even used to carpool to school together. Who knew!?
Then there are some stars who come full circle with their celebrity childhood connections, actually starting out as fans of the celeb they share a connection with. Step forward Demi Lovato and Kelly Clarkson. Though these two didn't know one another as children, they do share a super sweet connection with one another — plus a whole lot of admiration for one another to boot.
Demi Lovato has been a fan of Kelly Clarkson's for years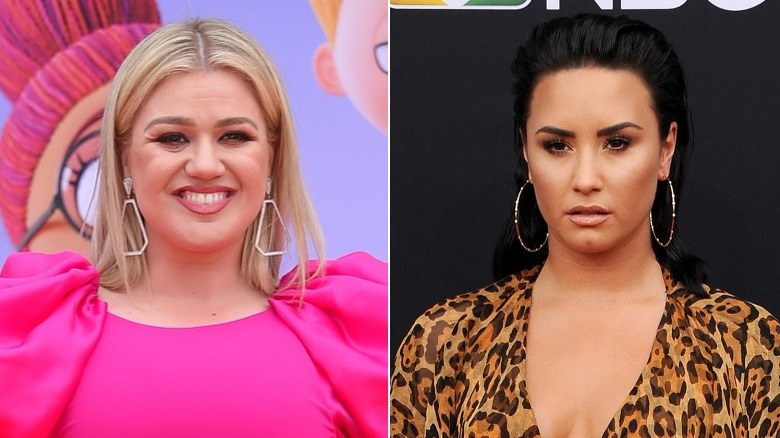 DFree & Tinseltown/Shutterstock
It turns out Demi Lovato, who uses she/they pronouns, was a massive fan of Kelly Clarkson's when they were younger — which made for a very sweet moment after finding fame. Lovato opened up about their love of the "Since U Been Gone" hitmaker in August, sharing on "The Tonight Show Starring Jimmy Fallon," "I remember watching her on 'American Idol' and just becoming so inspired by her that my email address when I was young was littlekelly@yahoo.com," Lovato recalled. See, we told you they were a superfan! But that's not the only time the ex-Disney Channel star has shared her admiration for Clarkson.
Lovato has tweeted their undying love for the mom of two on multiple occasions, including listing her as their dream duet partner back in 2010. Then, in 2016 Lovato had nothing but praise for Clarkson's iconic live version of "Piece by Piece" on "American Idol," writing, "@kelly_clarkson made me cry watching her AI performance... #Piecebypiece is incredible.. Thank you Idol for giving me mine." Clarkson actually replied to that message, writing, "@ddlovato wow, what a compliment?!"
And how could we forget about the time Lovato covered Clarkson's "The Trouble With Love Is" during a concert when they were still up and coming at just 13 years old? Now this is a connection that goes way back! And it's about to come full circle...
Kelly Clarkson and Demi Lovato's mutual admiration
We know Demi Lovato has been covering Kelly Clarkson's songs for years, so it was only a matter of time until the latter returned the favor, right? In June, the star sang Lovato's "Anyone" on "The Kelly Clarkson Show," and it's safe to say it made Lovato's day. "For her to cover my song years later was just a full-circle moment, because I also used to cover her songs when I was younger," Lovato admitted on "The Tonight Show Starring Jimmy Fallon," two months later. Lovato also spoke about it to Mix 104.1 radio, saying, "Kelly Clarkson was my idol growing up and she's so phenomenal, so hearing her cover my song was definitely a fulfilling moment and meant a lot to me."
These two are of course no strangers to each other's music. In 2011, they actually collaborated at Z100 Jingle Ball, and Clarkson teased there could be more to come. Clarkson told MTV News in 2015 they almost sang together again but personal circumstance got in the way, though she shared, "I love her; she's so sweet."
That gushing was most definitely returned by Lovato on "The Kelly Clarkson Show" in 2020 and called Clarkson her idol. "You are fearless and courageous and real... And I love that about you. When I was younger, I always just thought to myself, 'If I ever make it, I want to be like her because she's real and she's genuine,'" Lovato said.