What Tiger Woods' Time In Jail Was Really Like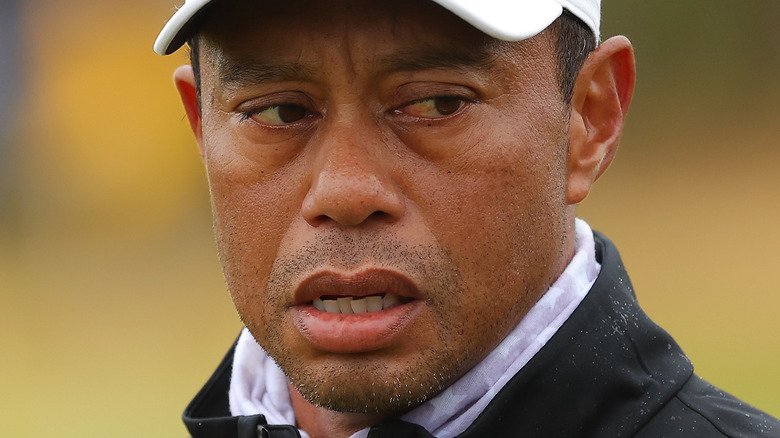 Kevin C. Cox/Getty Images
When Tiger Woods was arrested for suspicion of driving under the influence back in 2017, the legendary golfer found himself spending the night in jail ...but what was the experience like for him? 
Newsfeeds across the globe were abuzz in late May 2017 when, per a police report published by Golf, a police officer noticed that a Mercedes-Benz was pulled over, but "partially blocking the bicycle lane." The responding officer also noted that, "The vehicle's rear brake lights and right turn signal were still active." Upon approaching the vehicle, the officer realized the driver was none other than Woods — and after interacting with him, both he and his backup noted that Woods seemed unable to stay awake, and unaware of where he was. Woods also struggled with a field sobriety test. Shortly after that, he was placed under arrest and taken to the Palm Beach County Jail for observation and drug and alcohol testing. 
The next morning, he was released, and issued a statement saying, "I want the public to know that alcohol was not involved. What happened was an unexpected reaction to prescribed medications. I didn't realize the mix of medications had affected me so strongly" (via Golf Digest). It's worth noting that the prescription drugs had been administered after Woods underwent spinal fusion surgery the month prior, according to Golf Monthly. Regardless, the golfing champion apologized profusely to everyone he'd let down — and he also had something to say about the officials he dealt with during the ordeal. 
Tiger Woods thanked officials for their professionalism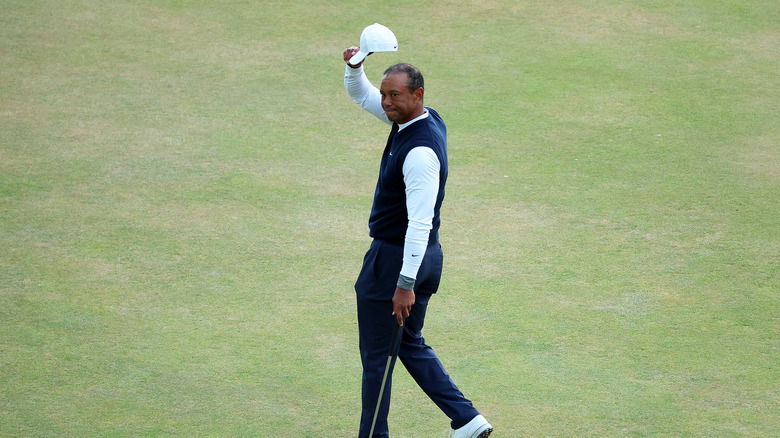 Kevin C. Cox/Getty Images
According to Tiger Woods himself, the officers he dealt with on the night of his arrest showed nothing but stellar conduct. In fact, he even gave them a shout-out in his statement. "I would like to personally thank the representatives of the Jupiter Police Department and the Palm Beach County Sheriff's office for their professionalism," he wrote (via Golf Digest). 
Sure enough, videos of Woods' arrest and time in custody were made public soon after his release, and it seems as though his experience was handled pretty gracefully. In the dash cam footage of his arrest published by Golf.com, one of the responding officers calmly walks Woods through the field sobriety test, even as the golfer stumbles through the motions. In another video of the arrest published by The Guardian, the officers are seen walking Woods over to the police car, once again being cordial. 
As for his experience inside the jail itself, Woods was once again met with pleasant officials. In fact, he even managed to get a chuckle out of one. As seen in video footage shared by WPLG Local 10, in response to being asked his hair color, he mumbled, "Mostly brown and fading." Later on, he earned another chuckle from the same officer when it took him a few seconds to get the breathalyzer right. And, throughout the experience, it seems as though the police officers were taking his comfort seriously, helping him into the chair to prevent his handcuffs from pushing into his back. 
Tiger Woods promised to 'ensure this never happens again'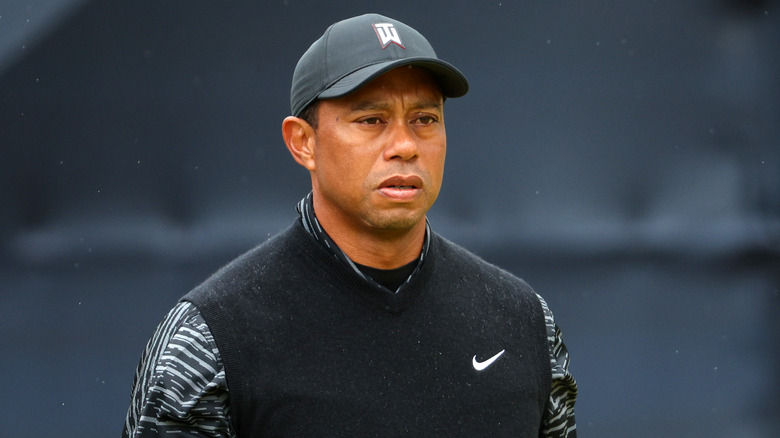 Andrew Redington/Getty Images
Tiger Woods may have been treated cordially by all the officials involved in his 2017 arrest, but that's not to say he has no regrets. Far from it, in fact. In his release statement, Woods vowed to "do everything in my power to ensure this never happens again" (via Golf Digest). And it was a promise he made good on. Nearly a month after his arrest, Woods took to Twitter to share that he was "receiving professional help to manage my medications and the ways I deal with back pain."
A few months after the incident took place, BBC News reported in October that a toxicology found traces of several substances — which had been disclosed by Woods on the night of his arrest — in his system. Instead of being charged for driving under the influence, Woods pleaded guilty to reckless driving. According to ABC News, that entailed entering a diversion program, as well as community service. Woods hasn't spoken publicly about his experience in the program, so we are not sure if he had as cordial an experience during that. 
As for whether Woods' treatment had anything to do with starstruck officials, prosecutors don't seem to think that was a factor. In fact, they did not believe any part of the situation was impacted by who he was. Per The Guardian, the prosecutor's view was that, "He is not being treated any different than anyone else." Either way, something tells us this is one experience Woods won't want to repeat!