John Oliver Calls Out Dustin Hoffman Over Sexual Harassment Allegations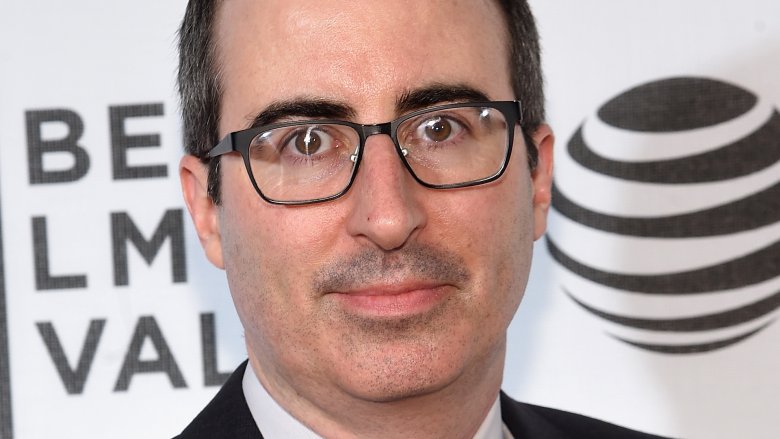 Getty Images
The Last Week Tonight host wasn't afraid to publicly challenge the Kramer vs. Kramer actor about recent allegations.
According to The Washington Post, John Oliver brought up sexual harassment claims made against Dustin Hoffman while moderating a panel discussion for the 20th anniversary screening of the film Wag the Dog at the 92Y in New York City on Monday, Dec. 4, 2017. What resulted was a sparring of words between the two.
"This is something we're going to have to talk about because...it's hanging in the air," the former Daily Show correspondent began, before quoting Hoffman's response to the claims. "It's 'not reflective of who I am' — it's that kind of response to this stuff that pisses me off. It is reflective of who you were. If you've given no evidence to show it didn't [happen] then there was a period of time for a while when you were a creeper around women. It feels like a cop-out to say 'it wasn't me.' Do you understand how that feels like a dismissal?"
"First of all, it didn't happen, the way she reported," Hoffman said, before accusing Oliver of "putting [him] on display" and asking, "Do you believe this stuff you read?"
"Yes," the comedian replied. "Because there's no point in [an accuser] lying."
"Well, there's a point in her not bringing it up for 40 years," Hoffman retorted, to which Oliver disapprovingly said, "Oh Dustin."
"This isn't fun for me," the satirist later admitted. 
"[But] there's an elephant in the room because, this particular incident, a conversation has not been had," he continued, adding, "I can't leave certain things unaddressed. The easy way is not to bring anything up. Unfortunately that leaves me at home later at night hating myself. 'Why the f**k didn't I say something? No one stands up to powerful men.'"
"You weren't there," Hoffman ultimately told the host, to which Oliver replied, "I'm glad [I wasn't]."
As Nicki Swift previously reported, writer Anna Graham Hunter accused Hoffman of sexually harassing her when she was 17 years old in an op-ed for The Hollywood Reporter in early November 2017. "He was openly flirtatious, he grabbed my a**, he talked about sex to me and in front of me," she alleged, adding that the incidents occurred in 1985 while she interned on the set of a movie in which Hoffman starred. A second woman, producer Wendy Riss Gatsiounis, later accused Hoffman of propositioning her in 1991.
Hoffman is, unfortunately, one of multiple men in the entertainment industry to be accused of sexual misconduct since the ongoing Harvey Weinstein scandal broke in October 2017.