JoJo Siwa Puts Another Huge Celebrity's Shady Behavior On Blast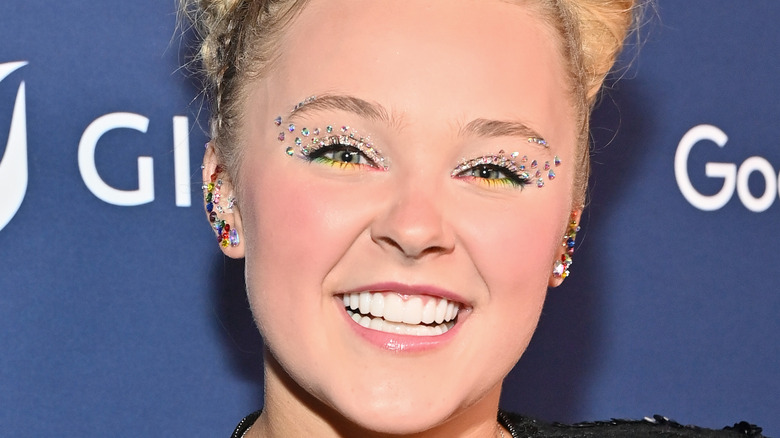 Stefanie Keenan/Getty Images
JoJo Siwa's TikTok account is taking no prisoners. While we're all still recovering from her recent call-out of Candace Cameron Bure, Siwa has continued to issue ruthless roasts of others who have wronged her, all set to trendy sounds. Honestly? We're here for it.
In one video, she danced to audio that chanted "emotional damage" as images popped up on the screen. The things she accused of hurting her included "Dance Moms," the Kids' Choice Awards, and articles with headlines like, "Why do some people hate JoJo Siwa so much?"
If targeting an entire awards ceremony isn't proof enough that Siwa has no fear, her latest victim should silence all questions. The dancer used the trending "Burn It" sound — which has over 250,000 videos — to perfectly remind us of some old beef with an A-lister you'd never expect. We'll give you a hint: Their 'ship name would be "JusJus Bieba."
JoJo Siwa called out a rude Instagram comment from Justin Bieber
In her latest shady TikTok, JoJo Siwa takes aim at Justin Bieber and a rude comment he left about her birthday present. "POV you're Justin Bieber when I got my first car ..." text on the video reads. Siwa then shares a screenshot of her custom-wrapped convertible, which was shown off on West Coast Customs' Instagram page. Bieber, who has also had his cars featured by the company, had strong feelings about Siwa's vehicle. His comment, which the dancer circled in red, reads, "Burn it." 
Siwa has clearly been waiting for the right moment to call out the rude response. Her caption reads, "this audio was made for me." Indeed, the accompanying sound, pulled from an episode of "The Vampire Diaries," goes: "Burn it. Did I say stand there and look stupid? No, I said burn it." The best part of the whole exchange is that Siwa's screenshot of the comment shows that the image was captured just 23 hours after West Coast Customs made the post. However, this whole incident took place in 2018 ... meaning that Siwa's been holding on to the receipts for years. 
For his part, Bieber did issue an apology after removing the comment. He took to Twitter to write, "I have nothing against you it was the car and the colors I didn't like I really hope you didn't think it was malicious or mean spirited." Siwa may forgive, but she never forgets.