Jason Aldean Faces Bad Career News Following His Wife's Controversy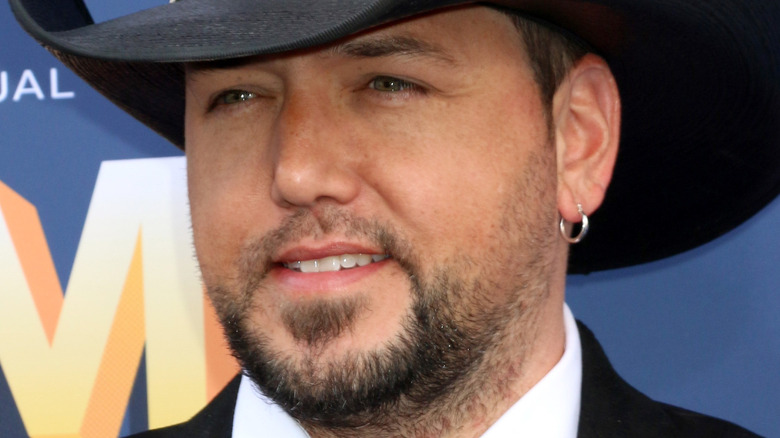 Kathy Hutchins/Shutterstock
Jason Aldean's wife, Brittany Aldean, has certainly been getting him a whole lot of attention, and now she may have got him into a big shakeup. Brittany was called out across social media and beyond on August 23 when she shared an Instagram video of herself putting on makeup alongside the caption, "I'd really like to thank my parents for not changing my gender when I went through my tomboy phase. I love this girly life."
The video, which is still available on her page, got plenty of attention, including from Jason's country colleague Maren Morris. Responding to a tweet from "The Voice" star Cassadee Pope condemning Brittany's message as being anti-LGBTQ+, Morris wrote, "It's so easy to, like, not be a scumbag human? Sell your clip-ins and zip it, Insurrection Barbie." Brittany then claimed that her words had been taken out of context as she advertised her merchandise line on Instagram a few days later, sharing that she was supporting Operation Light Shine through sales of a sweater that read, "Don't tread on our kids." In a second Instagram post showing off the items, she wrote in the caption, "Step out and stand up for what you believe...when you wear our newest Barbie inspired collection!"
It sounds like some members of Team Aldean may have taken that suggestion literally, though — and step out they did.
Jason Aldean lost his PR team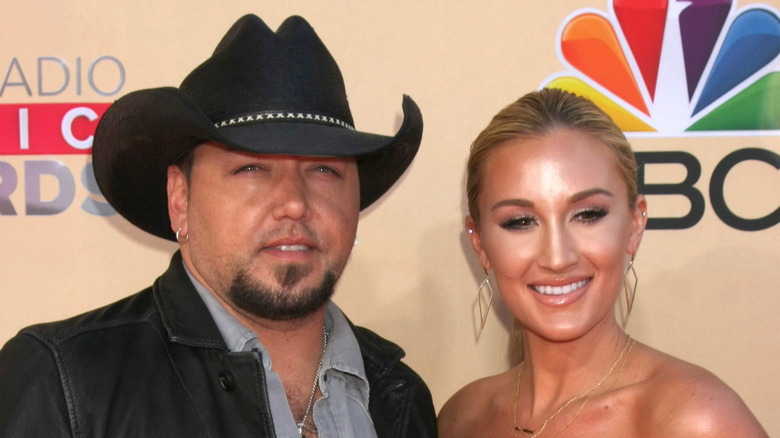 Kathy Hutchins/Shutterstock
It looks like Jason Aldean will have to find himself a new PR team, as The GreenRoom announced they'd parted ways with the "If I Didn't Love You" hitmaker in the wake of Brittany Aldean's controversy. "Music has always been and remains The GreenRoom's core focus, so we had to make the difficult decision after 17 years to step away from representing Jason," co-owner Tyne Parrish told Billboard, while her co-owner, Kristie Sloan, added, "We aren't the best people for the gig anymore, but will always be big fans of his music — he is one of the greatest live entertainers in country music."
The decision came after Brittany actually doubled down on her comments, taking to Instagram Stories amid the controversy to claim (via Entertainment Tonight), "Advocating for genital mutilation of children under the disguise of love and calling it 'gender affirming care,' is one of the worst evils," adding, "Thankful my parents allowed me to go through my tom boy phase without changing my gender. Until then, leave children alone!"
Brittany has been pretty outspoken about her views over the years. The former "American Idol" contestant is a proud Republican and notably hit the headlines in September 2021 when she shared Instagram photos of herself and her children wearing anti-President Joe Biden clothing. The upload included snaps of her daughters rocking black t-shirts that read "Hidin' from Biden" while she wore a top emblazoned the words "Anti Biden Social Club."