Who Is Logan On Claim To Fame?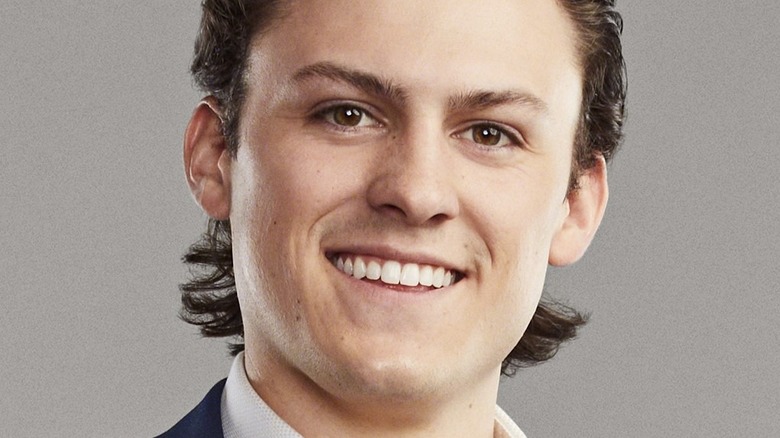 Maarten de Boer/ABC
Some celebrity relatives might find it somewhat irritating to be known for their famous family members, but to get cast on the ABC reality series "Claim to Fame," competitors had to embrace their familial connections to some of the entertainment industry's biggest stars.
The object of the game is for the contestants to guess who each other's famous relatives are. They compete for clues, mislead one another, and conspire together in hopes of avoiding the elimination that takes place at the end of each episode. The last competitor standing will walk away with $100,000. 
The competition is fittingly hosted by Jonas Brothers member Kevin Jonas and his brother Frankie Jonas, who knows all too well what it's like to live life on the edge of someone else's spotlight. In an interview with Bustle, Frankie revealed that he despised the nickname bestowed on him by Jo Bro fans: "the Bonus Jonas." But now he's helping other celeb-adjacent individuals get their 15 minutes. As of this writing, some of the eliminated "Claim to Fame" cast members include Tiffany Haddish's sister, Brett Favre's daughter, and Zendaya's cousin, per People. When Logan was chosen as guesser, he eliminated Simone Biles' sister, Adria Louise Biles. Throughout the competition, the contestants have struggled to puzzle out the identity of Logan's celebrity relative. But in Episode 8, L.C. scored some rather helpful clues.
Logan's famous relative has a connection to Kelly Clarkson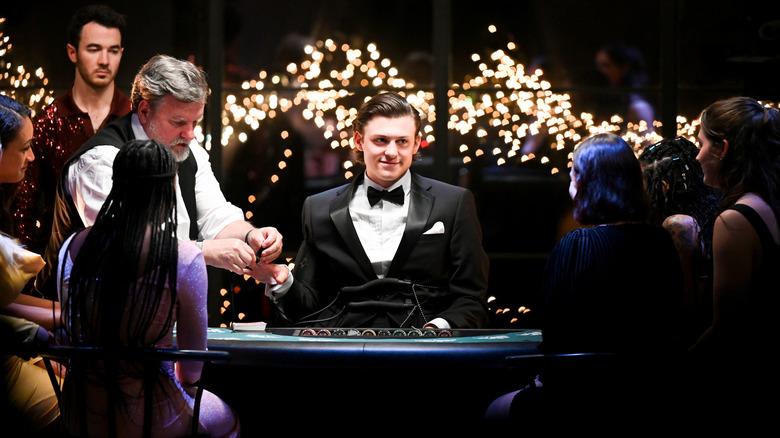 John Fleenor/ABC
In Episode 8 of "Claim to Fame," viewers learned that Logan has no clue that Justin Timberlake was once a member of NSYNC, and L.C. received some new clues about who Logan's famous family member might be. She won two big hints, thanks to her adeptness at the Sixth Degree game. The first was that Logan's relative recorded a song with Kelly Clarkson. Per Just Jared Jr., a previous clue revealed that the mystery musician is also an Academy of Country Music award-winner.
According to Billboard, Clarkson's list of duet partners is lengthy and includes a number of country musicians: Garth Brooks, Brett Eldredge, Blake Shelton, Jason Aldean, and Vince Gill. Brooks has taken home well over a dozen ACM awards, while Eldredge, Shelton, Aldean, and Gill's "Forever Country" collab won the Video of the Year award in 2016. In other words, combining these clues together isn't very fruitful. The second clue L.C. was given was a sheet of paper with a series of images printed on it: a pile of dirt, a road, figures saluting a flag, a map of the USA, and an artist. References to dirt roads and patriotic imagery aren't exactly uncommon in country songs, but a previous clue about the style of cowboy hat that Logan's relative is associated with was a dead giveaway, and a podcast interview totally solved the mystery.
Logan has performed some of his cousin's songs on TikTok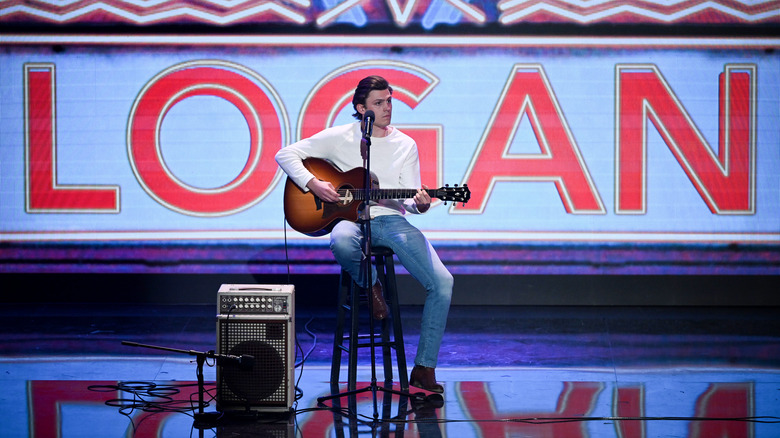 John Fleenor/ABC
Much like his cousin, Logan is a country musician. He goes by the name Real Logan Crosby on TikTok, where he entertains his 100,000-plus followers with covers of country songs and the occasional original tune. Per Just Jared Jr., one of Logan's "Claim to Fame" clues was that his cousin rocks a palm leaf cowboy hat — which is musician Jason Aldean's signature headwear. In an interview with Audacy, Aldean revealed that he began rocking the style before he got famous. "I needed a hat, so I went to a western store and I didn't have much money, so I bought the cheapest hat they had," he recalled.
As if this wasn't evidence enough, Logan name-dropped Aldean in a March appearance on the "Jameson on the Rocks" podcast. "So my second cousin is Jason Aldean," he said. "I remember being five years old and going to his show." Before watching Aldean perform sparked his own interest in country music, Logan recalled his grandmother pushing him to sing at church as a young child. When he got older, he learned to play guitar, and he considered pursuing a career as a Christian musician while attending Kennesaw State University in Georgia. However, he ended up following in his older cousin's footsteps instead.
Logan has covered Aldean's songs "The Truth" and "Why" on TikTok, and in July, he dropped his first single, "If Jesus Was a Cowboy."