Who Is Simone Biles' Sister Adria?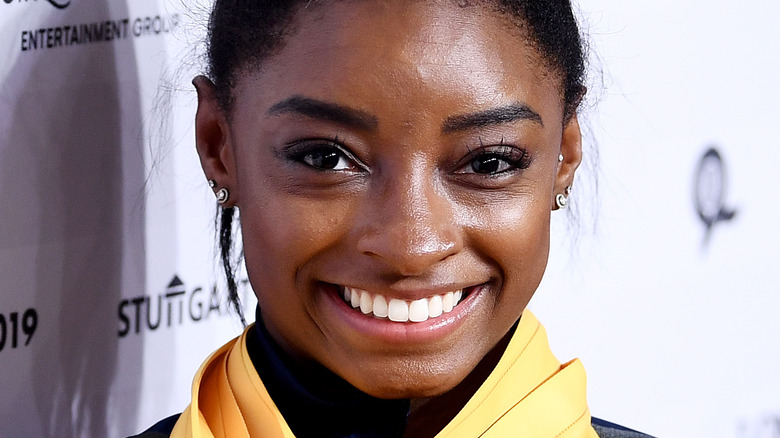 Laurence Griffiths/Getty Images
Olympic champion Simone Biles has a large support system, and her younger sister Adria Biles is probably her biggest cheerleader. The two sisters have been quite close all their lives, and plenty of people would love to learn more about Simone's younger sister.
As USA Today noted, Simone, Adria, and their two older siblings spent time in the foster care system when they were young. Their biological mother, Shanon, had alcohol and drug addictions that were the catalyst for her kids being removed from her care more than once. Simone wrote in her 2016 book "Courage to Soar" that when Adria was a baby and she was about two, "our life with Shanon had started to become difficult." Simone recalled often being hungry and the four siblings were put into foster care after a neighbor called social services. At the time, "the four of us were often alone, little kids playing out in the street with no supervision," she recalled. Simone wrote, "Most people might think that at age three I was too young to know what it meant to be placed into foster care, but the truth is I understood everything."
Thankfully, Simone has come a long way from those difficult days, and so has her sister. 
Adria and Simone found permanency with their maternal grandfather
Simone Biles and her three siblings were placed together in foster care, something that isn't always possible with sibling groups (per USA Today). "We had a good experience in foster care. So I can't knock that," she told USA Today. Adria Biles and Simone were just two years apart, but Simone was quite protective over the baby of the family. "Simone used to do the talking for her little sister until she learned that she had a mother who wasn't going anywhere and that she could relinquish that role," detailed The Undefeated.
After three years in and out of foster care, Adria and her big sister Simone were adopted by their maternal grandfather and his wife. Ron Biles had remained looped in as his four grandchildren were moved back and forth between foster care and their biological mother Shanon Biles' care. After several years of this, he asked that the siblings be moved to Houston, Texas to live with him, his wife Nellie, and their teenage sons Ron Jr. and Adam. "We're family," Ron said at the time, per USA Today.
18 months later, Shanon visited Houston, Texas and the kids returned to Ohio to be near her. However, they remained in foster care, and eventually, Shanon's parental rights were terminated. The two oldest siblings, Tevin and Ashley, were adopted by Ron's sister and stayed in Ohio. Ron and Nellie adopted Simone, then 6, and Adria, then 4.
Adria considers Simone her best friend
In "Simone vs Herself," Adria Biles described herself as a "fairly happy child" and "playful kid." She admitted she and big sister Simone Biles "fought all the time," and she'd pull Simone's hair. Despite those battles, Adria called Simone her "best friend." Adria was a gymnast too, and Meet My Scores showed she started competing when she was nine. She continued until the spring of 2016 and had been a Level 9 out of 10. She told ESPN the two sisters often trained together, and she was in the stands as Simone competed in the 2016 Olympics. "It's been funny to watch her go from normal Simone to famous Simone," she admitted. Fans sometimes mistake Adria for Simone, asking for pictures and autographs. "We do look alike, I'll give them that," Adria admitted, noting she'd decided it was "easier" to go with it.
Adria noted in a February 2020 Twitter post she was "in a program right now for dental assisting" and planned to do hygiene. In addition, she's remained one of Simone's biggest cheerleaders, recently thanking her sister "for being an inspiration to me and to everyone around you" and for "making people feel valid about their feelings" on Instagram. Adria thanked Simone for "being you" and "the best big sister in the world" as well as "the best human" she knew, showing sometimes there's nothing stronger than a sisterly bond.
If you or anyone you know is struggling with addiction issues, help is available. Visit the Substance Abuse and Mental Health Services Administration website or contact SAMHSA's National Helpline at 1-800-662-HELP (4357).