How Much Is Olympic Gymnast Simone Biles Really Worth?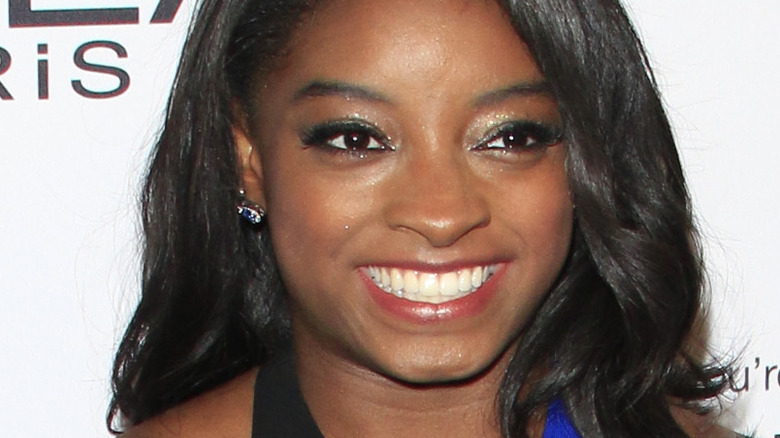 Shutterstock
Simone Biles is a champion gymnast, and she has built an impressive net worth. However, her success did not come easily, as she navigated major challenges throughout her childhood. As The Guardian detailed, Biles' biological mother, Shannon, was unable to care for Simone and her siblings when they were young. Shannon struggled with addiction issues, while Simone's biological father, Kelvin Clemons, wasn't around. When Simone competed on "Dancing with the Stars" in 2017, she talked about Shannon being in and out of jail (via In Touch Weekly). "I never had a mom to run to. I do remember always being hungry and afraid," she recalled. Simone and her siblings were placed in foster care when she was just 3 years old.
After discovering their grandchildren were in foster care, grandparents Ron and Nellie Biles adopted Simone and her younger sister Adria. Simone's two older siblings, Tevin and Ashley, were adopted by a great-aunt and grew up in Cleveland, Ohio, detailed The Washington Post. Although Simone was born in Columbus, Ohio, she and Adria grew up in Houston, Texas once they were adopted (per People). A gymnastics coach noticed Simone while she was on a daycare field trip and encouraged the family to enroll her in classes. While her early years were challenging, Simone said in her Facebook Watch show "Simone Vs. Herself" that her experience had "set me up for a better route at life."
Keep reading to learn how much Biles is worth today.
Big wins bring massive endorsement deals for Simone Biles
Simone Biles started having major wins as a young teenager, noted Ohio History Connection. By the time she completed the 2015 World Championships, she had earned more medals than any other American. She won five medals at the 2016 Olympics, and those brought in some financial rewards. As USA Today noted, the U.S. Olympic Committee pays athletes for winning medals, and other competitions provide monetary prizes too. In addition, as Players Bio shared, Biles receives a yearly base salary of $316,000, although ultimately, endorsements bring the big money.
Rolling Out detailed that Biles had a six-year deal with Nike, but she then signed with Athleta. "I think they stand for everything that I stand for," she explained. Biles has partnered with Visa, Beats by Dre, and Caboodles (per Sports Pro Media), and as noted by Forbes, she's worked with Hershey's, Kellogg's, and others too. According to Celebrity Net Worth, these opportunities allowed Biles to build a $6 million net worth.
As she said in "Simone Vs. Herself," "I feel like I wouldn't be where I am unless that turning point happened," of her grandparents adopting her. "I would still be Simone Biles, probably not Simone Biles that everybody else knows, the world knows. But I also believe everything happens for a reason, and I'm forever grateful for that because I definitely got a second shot at life," she added.
If you or anyone you know is struggling with addiction issues, help is available. Visit the Substance Abuse and Mental Health Services Administration website or contact SAMHSA's National Helpline at 1-800-662-HELP (4357).