What Does Pink Venom By Blackpink Really Mean? Here's What We Think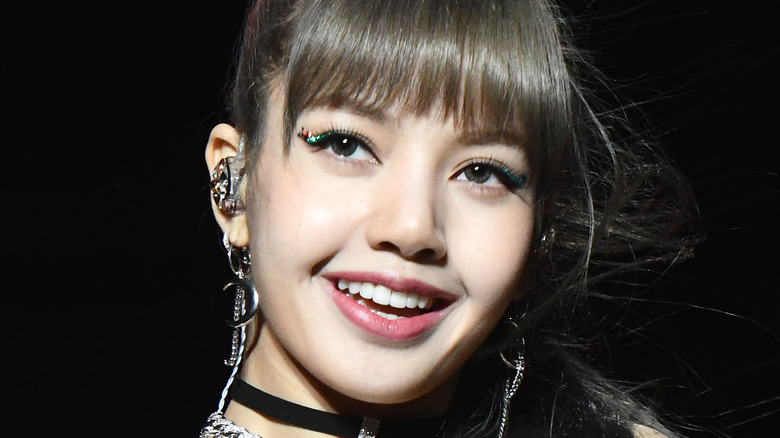 Scott Dudelson/Getty Images
It's been more than half a decade since Blackpink made their debut in the music scene, but the K-Pop sensation has only released one full-length album to date. So when their newest song, "Pink Venom," a track reported to be part of their upcoming sophomore album, was released, it garnered everyone's attention.
According to their label, YG Entertainment, they've been continuously working on new material for Blackpink fans to enjoy. "A lot of BLACKPINK-esque music has been prepared over a long period of time," they told Billboard, adding that they have a world tour in the works. "On top of new music and large-scale projects, BLACKPINK will also go on the largest world tour in the history of a K-pop girl group by the end of the year to expand their rapport with fans worldwide."
With a new album and a large-scale tour underway, fans are understandably excited about "Pink Venom." It's not at all surprising that it managed to become the biggest music video premiere on YouTube in 2022, having amassed 86.2 million views within 24 hours, per Variety. Fans also noted that it was indeed "Blackpink-esque," since the track fits the band's signature sound. But what does "Pink Venom" mean, really?
Pink Venom encapsulates Blackpink's identity
Just like many of Blackpink's previous releases, "Pink Venom" is just as catchy and total ear candy. In a press conference, member Jisoo described it as a track with a "hip-hop sound mixed with Korean traditional instruments."
But what really stands out about the song are the lyrics, which seem to describe Blackpink's status in the music industry — powerful and unstoppable. They sing about being on top of their game and pretty much being unstoppable. "Eat your popcorn, don't think about cutting in / I talk that talk, runways I walk, walk / Eyes closed pop pop no need to look / Everything collapses at the flick of my fingertip," the lyrics read, per Genius. They also sing about their "pink venom," which they use to fight anyone attempting to bring them down. "Provoke us if you'd like / You can't handle it and you know this / Already spread, shot that potion / Pink ocean right before your eyes."
Meanwhile, member Jennie said that the song best represents Blackpink's essence. "Since our album's title is Born Pink, we wanted to relay our identity in the song as much as we could," Jennie shared at the press conference (via Billboard). "Since 'pink' and 'venom' have contradicting images, we thought they were kind of reminiscent of us... we are named BLACKPINK and contradiction is our charm — we wanted to show that. It's pink venom, a lovely poison, it's words that most express us."
Pink Venom is just a taste of what's next for Blackpink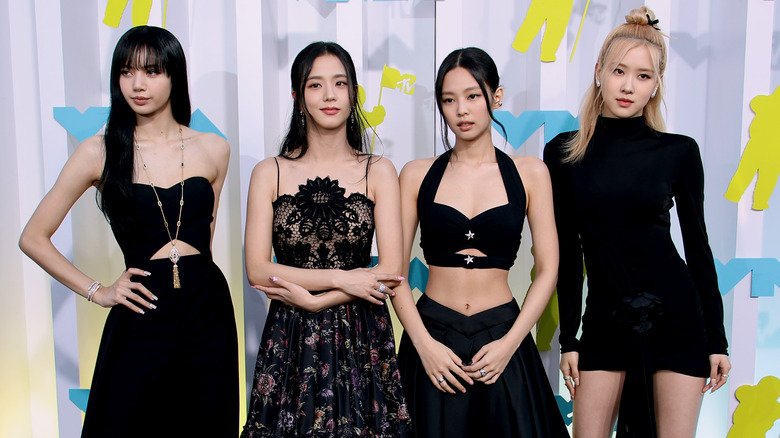 Dimitrios Kambouris/Getty Images
If you already loved "Pink Venom," just wait until you hear the rest of the songs. The members of Blackpink are confident that the rest of the material will delight fans everywhere. Lisa echoed the excitement for the future material, giving another tiny tease of 'Born Pink,' saying at the online press conference (via Billboard), "All our songs are really good." She added that she's excited for their fanbase to hear what they've prepared. "We wanted to show this [song] first to BLINKs," she explained.
Following the release of "Born Pink," the band is slated to go on their biggest tour yet, with stops in North America, Europe, Asia, and Australia. Jisoo said that they're "ready to give everything we have," with Jennie adding that since it's their first tour in a while, they've put an emphasis on their "originality." Rosé even said that they think less about the numbers and more about their work. "Rather than breaking records, we have really focused on our new songs," she dished.
Fans may also be excited about the fact that they were heavily involved in the making of the album. "We don't just receive a completed song," Jisoo told Rolling Stone. "We are involved from the beginning, building the blocks, adding this or that feeling, exchanging feedback — and this process of creating makes me feel proud of our music. If we just received pre-made songs, it would feel mechanical."