Who Is Lark On Claim To Fame?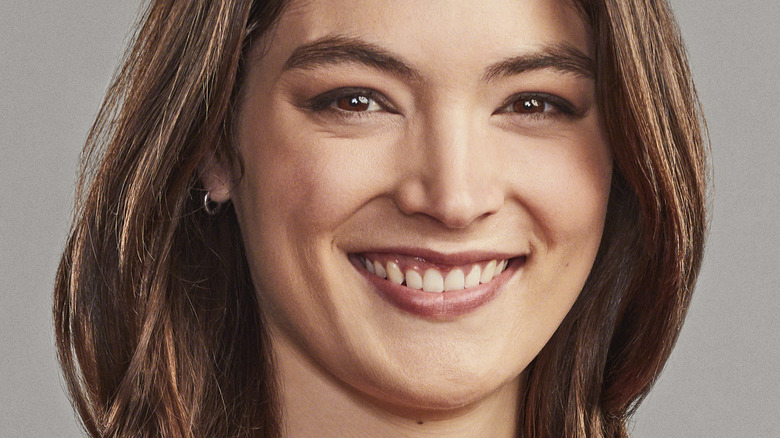 Maarten de Boer/ABC
"Claim to Fame" viewers have finally learned that Lark Skov is indeed the relative of supermodel Cindy Crawford ... but what more do we know about Skov herself?
As Newsweek reported in late August, the "Claim to Fame" audience have long suspected that Skov was related to Crawford. However, the hints regarding her identity — that she was the niece of an '80s supermodel and had links to one George Clooney – weren't the only pointers to give her away. While contestants might not have been able to access social media to guess their competitors' identities, fans at home have. One Twitter user claimed, "Lark is 100% related to Cindy Crawford!" The evidence? She pointed out that Skov was followed on Instagram by none other than Kaia Gerber, aka Cindy Crawford's fellow supermodel daughter (and lookalike, but we digress). Another giveaway clue? Crawford has also previously shared a picture to Instagram of herself with her mother and two sisters, Chris Bohnsak and Danielle Skov. Yup — Skov may have made it pretty far into the competition, but there's no denying her lineage! As for the George Clooney connection, Crawford's husband Rande Gerber is the actor's longtime bestie and co-founder of the now-sold Casamigos Tequila.
With that said, while we may finally know who Skov is related to, the "Claim to Fame" star has just stepped into the limelight, herself. So, what do we know about her? 
She's a talented athlete
Lark Skov might have links to some legendary stars in Cindy Crawford and Kaia Gerber, but when it comes to rowing, she can hold her own. In fact, we wouldn't be shocked if one day she made a name for herself as a professional in the sport. 
According to the University of Washington Athletics website, Skov is a member of the university's rowing team — and a talented one, at that. Her bio lists numerous wins with her teams, and even notes that she's previously competed internationally. In 2019, she scored a bronze medal at the World Rowing Under 23 Championships when she competed with the U.S. Women's eight. Skov was also acknowledged for being the "most inspirational" team member back in 2020. 
On top of all that, the "Claim to Fame" contestant has previously earned shout outs on the Washington Rowing Instagram page for her achievements. In one picture, she and a team member pose in their medals at the World Rowing Under 23 championships. In another, she and fellow seniors and graduates are lauded for being "Champions in Life" as well as champions in the water. No word on whether the rest of the team knew a budding TV show contestant was in their midst at the time. 
Lark leads a relatively private life ... for now
At the time of writing, Lark Skov's Instagram has been set to private, and it doesn't seem like she has much of a social media presence outside of the platform. The same goes for her mother, Danielle Skov, so we guess that means no unearthing the kind of awkward-but-cute pics moms are known for. That may have been a strategic move on her part — to avoid too many people from putting two and two together and cracking the code on her celebrity connection even sooner. Ah, if not for Kaia Gerber's Instagram follow ... 
That said, there's also a chance Skov is aiming for a more private life than those of her famous relatives. After all, according to her bio on the University of Washington Athletics website, she's a linguistics major and a recent graduate. That's not to say she wouldn't want to pursue a career in the limelight some time in the future ... but at least for now, we're in the dark about her plans. 
Until then, we guess we're resigned to catching glimpses of her on "Claim to Fame" — but we'll be keeping an eye on Kaia Gerber's Instagram as well, just in case.