The Truth About Missy Elliott's Relationship With Alyson Stoner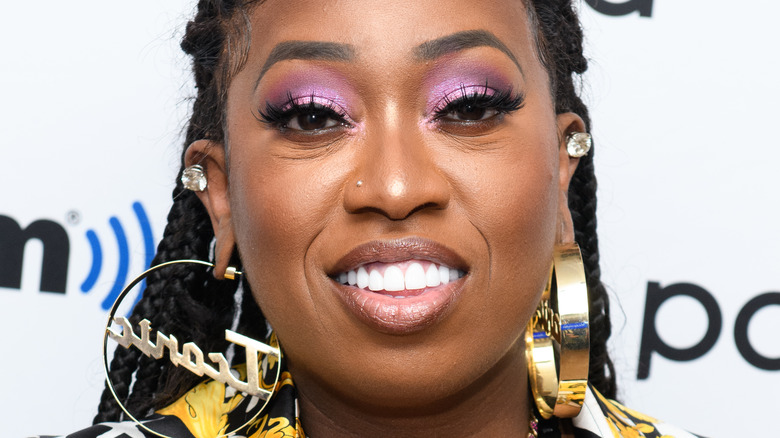 Noam Galai/Getty Images
Since breaking onto the scene as a "Supa Dupa Fly" rapper, Missy Elliott has taken the world by storm. Not only does she rap, but she also sings, dances, choreographs, acts, and produces.
Elliott has been considered a mentor for many people and has lent a helping hand to multiple other artists. Alongside her own material, she has written and produced for the likes of Aaliyah, Mel B, Tweet, and Whitney Houston, to name a few. In 2022, the "Pass That Dutch" hitmaker took to Twitter to share some advice for artists who may be working on their second album. "Sophomore Albums are a very PIVOTAL time for artist(s)! ... Your sophomore album be stressful but it's the BEST ALBUM to EXPERIMENT on! Don't be AFRAID! Becuz If u play safe you will be BOXED in & its hard to get out because your fans get used to that 1 sound," she wrote. In a follow-up tweet, Elliott shared more advice, "Listen CLOSELY! Go with the songs you feel you should drop not what everyone else suggest! ... Go with your GUT!"
Elliott's out-of-this-world music videos have featured many familiar faces. Her video for "The Rain" alone included the likes of Lil' Kim, Timbaland, Total, and Da Brat. While those stars had already made a name for themselves, some of her other videos have introduced us to new talent, including Alyson Stoner.
Alyson Stoner starred in multiple Missy Elliott videos
While many may have first become aware of Alyson Stoner for her acting roles in "Cheaper By The Dozen," "The Suite Life of Zack & Cody," and "Camp Rock," she, in fact, got one of her first major gigs by performing as a dancer in Missy Elliott's video for "Work It" back in 2002. The following year at the MTV Video Music Awards, the iconic video won Elliott the prestigious Video of the Year award, per Mic. On the night, Stoner was present and accepted the award with the rap star onstage. During an appearance on "The Ellen DeGeneres Show," Stoner said it was "very exciting" to be a part of that win.
Elliott was clearly impressed by Stoner's natural talent because she invited the emerging star to feature in two more of her videos: "Gossip Folks" and "I'm Really Hot." In 2015, Stoner paid tribute to Elliott by teaming up with a group of dancers to perform killer choreography set to the three aforementioned songs. At the end of the set, Stoner dedicated the video to Elliott and thanked the "Get Ur Freak On" hitmaker for the opportunities she gave her growing up. In response, Elliott tweeted, "I'm so humbled! Honestly I never knew How many appreciated my music but I am grateful. thank u @Alyson 4 a beautiful tribute."
Alyson Stoner's Missy Elliott tribute at the VMAs was epic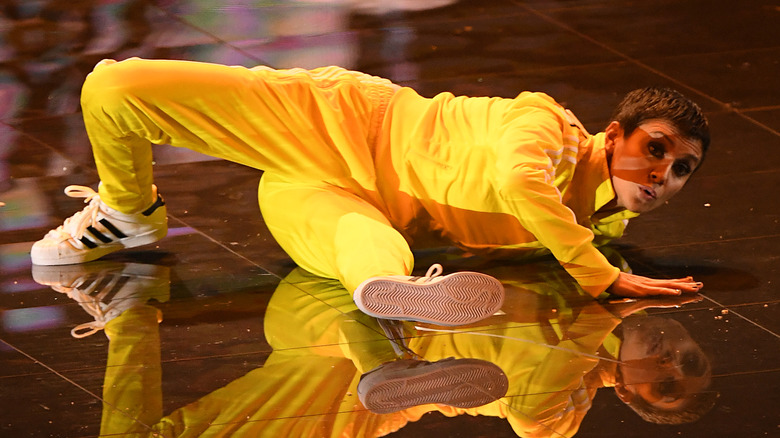 Mike Coppola/Getty Images
In 2019, Missy Elliott deservingly won the Vanguard Award at the MTV Video Music Awards. In addition to picking up her trophy, Elliott also performed a rare set that consisted of a medley of her biggest hits. When the time came to do "Work It," Alyson Stoner made a surprise appearance in a bright yellow tracksuit (pictured above) and had fans feeling nostalgic. It may have been a long time since some of the public might have seen her dance, but her moves were sicker than ever. Not only was the moment huge for viewers watching at home, but also for Halsey in the audience, who was captured by the Stan Cam and seen freaking out.
After making headlines, TMZ spoke to Stoner about her show-stopping performance, admitting that she was asked to perform for Elliott at the very last minute. When asked how much she credits Elliott for helping start her career, Stoner explained that the "moment will forever be bigger than anything I could have comprehended as a 9-year-old." She continued, "Still to this day, the warmth of her hugs and her sort of example as a human and an artist leaves me to believe there's not enough credit I can give her." 
During another appearance on "The Ellen DeGeneres Show," Stoner described her MTV VMAs tribute as "perfect" and thanked Elliott for allowing her to "honor her and recreate that timeless moment."