The Eyebrow-Raising Rumors Behind Miranda Kerr's Victoria's Secret Exit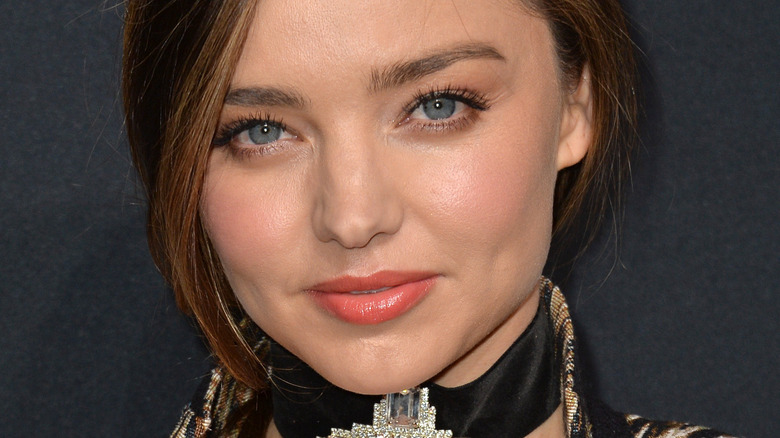 Featureflash Photo Agency/Shutterstock
As a Victoria's Secret Angel, Miranda Kerr became one of the most recognizable models in the world, but that illustrious career began almost by accident. She found success in modelling early on, and it happened somewhat serendipitously. "I never planned it or took it too seriously," the Australian told Vogue UK in 2012. "A friend entered me into a competition when I was 14 but I kept going with school in spite of getting modelling work," she added.
In 2006, Kerr signed with Victoria's Secret and appeared in five Victoria's Secret Fashion Shows. During her tenure, the model amassed a number of iconic looks, per Vogue Australia. Although the life of a runway model appeared glamorous, Kerr had her sights set on a more modest lifestyle. "My ideal situation would be to live on a farm in a solar-powered house with a hammock and a vegetable patch," she told Page Six Magazine (via People) in 2008, only a couple years into her time with the lingerie giant. "When this is all over, that's where I'll be," Kerr added.
After officially leaving Victoria's Secret in 2013, Kerr was still expected to participate in the Fashion Show, but she bowed out. "They asked me to walk in the show, and I really wanted to, but I have to be in Asia that week," she said in October 2013, per Fashionista. Earlier that year, Kerr made headlines as reports surfaced as to why she and the popular brand parted ways.
Was Miranda Kerr too big for Victoria's Secret?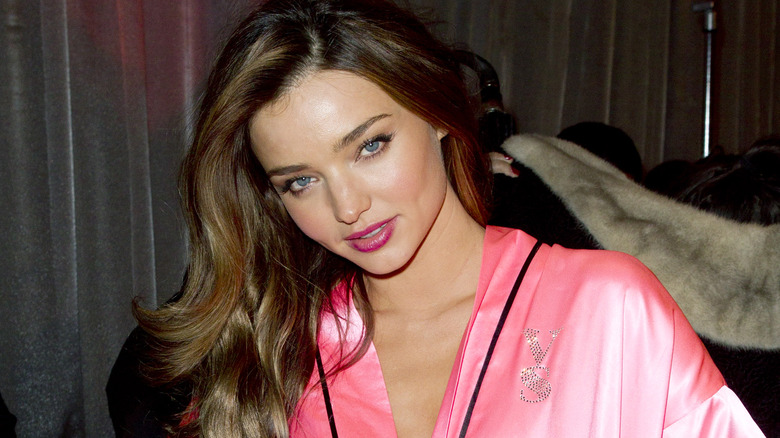 Antonio De Moraes Barros Filho/Getty Images
After news leaked that Victoria's Secret would not be renewing its $1 million contract with Miranda Kerr, rumors started circulating that it was due to the model's behavior. "She can be difficult at shoots and appearances," a source told People in April 2013. "She's not very timely. She's standoffish with the rest of the girls," the insider added. At the same time, another outlet had a similar report, as a source for Us Weekly claimed Kerr had "a difficult reputation." Plus, that insider claimed Kerr was not worth her price tag because she was "not a big seller for VS."
It was also speculated that Kerr had been a victim of her own success. Earlier that year, Richard Habberley at DNA Model Management discussed how a model's fame could work against them. "They're special because they never appear in men's magazines. Once you start to do that, they become threatening to potential female customers," Habberly told Women's Wear Daily in January 2013.
After rumors about the reason for Kerr's departure became widespread, the president of Victoria's Secret, Ed Razek, vehemently denied the claims. "She is also a consummate professional ... Any rumors to the contrary are simply untrue," Razek told People at the time. The VS honcho cited Kerr's "international commitments" as the reason for her contract not being renewed. Not long after those rumors made headlines, Kerr discussed why she was no longer an Angel.
What Miranda Kerr misses about Victoria's Secret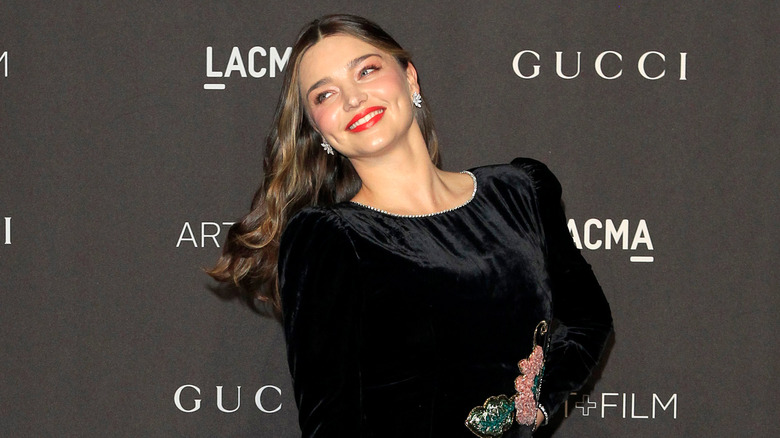 Kathy Hutchins/Shutterstock
Days after it was reported that Victoria's Secret had cut ties with Miranda Kerr because of her behavior, the "Empower Yourself" author decided to address the rumors. "I'm sure anyone that has worked with me would agree that it's not true," she said in April 2013 while speaking to Fairfax Media, via the Sydney Morning Herald. Kerr then clarified why she had decided to hang up her wings. "This is a natural evolution. I'm now entering a new phase in my life," she said. "I have felt this coming since my son was born and, after I became a mother," the model added.
Although Kerr had fully embraced motherhood and moving on with her career, there were parts of being with Victoria's Secret that she still yearned for. "We felt very much like a family, so I miss that. And I miss those trips — we used to go to St. Barts all the time ... beautiful destinations," the KORA Organics CEO told Elle in 2014.
A couple years after she left Victoria's Secret, more rumors surfaced. This time, the speculation was that she could rejoin the world-famous brand, but that was quickly quashed. "The recent reports regarding Victoria's Secret and Miranda Kerr signing a new contract are completely untrue," a spokesperson for Victoria's Secret told Glamour in 2015. Those hoping to see Kerr once again walk the runway for the brand would be disappointed. "[T]here are no plans, on the part of either party, to renew," the spokesperson added.