Harrison Ford And Calista Flockhart Had A Famous Third Wheel On Their First Date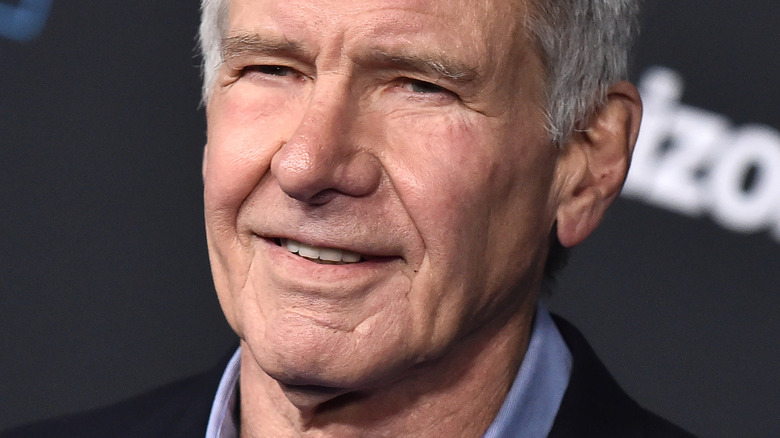 DFree/Shutterstock
The 2002 Golden Globes ceremony produced one of the most steady celebrity couples of the past decades. According to the story, Harrison Ford and Calista Flockhart met after she supposedly engineered a tricky way to get his attention. Flockhart "spilled her drink on him intentionally in order to meet him," a source told People that year. "It worked out." Well, that's not exactly how it went down, though stains did occur.
"She certainly did not purposely spill a glass of wine on me," the "Indiana Jones" star revealed in 2003, according to Hello! Besides, the "Ally McBeal" star refuses to take the blame for the mishap. "We were having a conversation for maybe 20 minutes before the wine spilled, and the truth is, Harrison spilled the wine!" she said. But neither person was too upset about it. The two continued to engage in conversation and remained close to each other for the rest of the night.
Ford was still legally married to his second wife, Melissa Mathison, at the time, but they'd been apart since 2000, ABC News reported. Ford and Flockhart tied the knot in June 2010 in New Mexico, where the "Star Wars" alum was shooting "Cowboys and Aliens," according to People. They haven't looked back since. Ford and Flockhart's happy marriage began that fateful night, which marked the day they first talked to each other — and also, their first official date. The evening could've gone a whole lot different, in fact, but Ford and Flockhart had an interesting third wheel.
James Marsden tagged along with Calista Flockhart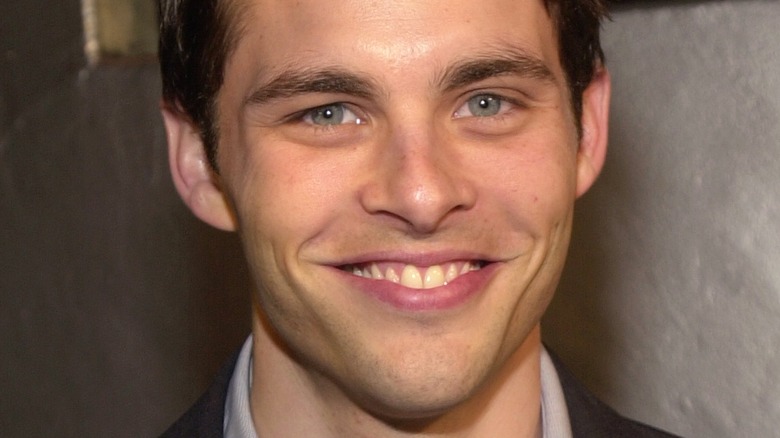 Chris Weeks/Getty Images
James Marsden had just joined "Ally McBeal" for its fifth and final season in 2001, which landed him at the Golden Globes ceremony the following January when both Calista Flockhart and the show were up for awards. Even though he was a new character and was nearly 10 years younger than the show's titular star, Marsden became pretty tight with Flockhart while working together. "We felt safe with each other," he shared on "The Late Late Show with James Corden" in 2019.
And that's why Flockhart wanted Marsden to tag along when she agreed to hang out with Harrison Ford after the award show. Flockhart ensured Marsden stayed with her throughout the night. "It turned out to be a small group of us, thankfully, but I ended up as her wingman," Marsden told Playboy in 2003 (via E! News). After dinner, he attempted to leave, but Flockhart asked him to accompany her to Ford's place for drinks. Marsden agreed because he wanted to ensure his friend felt comfortable. 
But he was also interested in spending time with the mythical Ford. "I was like, 'OK. Hey Harrison, can we do some scenes from 'Stars Wars' together?' ... As a fan, it was too good. I was like, 'I can't leave,'" he joked. Marsden admitted Ford seemed annoyed by the intrusion. "He was giggly and goofy around her but pretty aloof with the rest of us," Marsden told Playboy. But the third wheel seemingly didn't hurt the chemistry that much. 
Harrison Ford and Calista Flockhart keep their relationship down-to-earth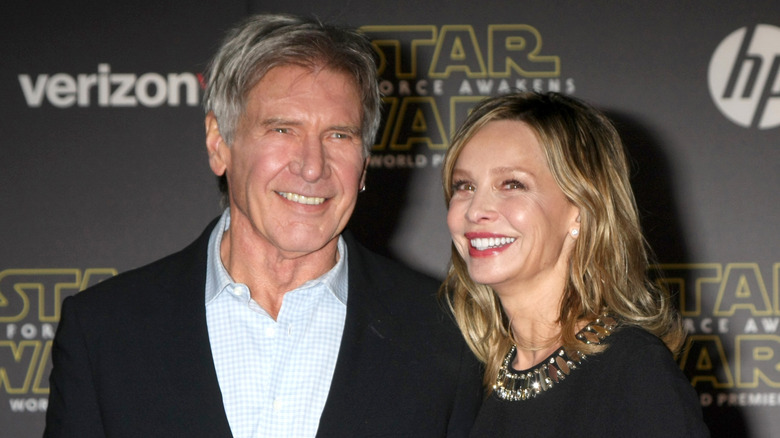 Kathy Hutchins/Shutterstock
Harrison Ford and Calista Flockhart prefer to keep their private lives away from the public eye and down-to-earth. The couple even found a way to conciliate their California-based careers with a life away from the glitz and glam of Hollywood. In the 1980s, Ford purchased land in Wyoming, transforming it into a nature reserve and a ranch, according to The Land Report. The Jackson Hole ranch is still where he'd rather spend most of his time and where Ford and Flockhart prefer to gather their family.
"If my chores are done and there's nothing more pressing and the weather's good, I'll go flying — I love to fly up there — or walk in the woods, do some work, ride my road bike or mountain bike," he told Parade in 2020. The open space provides Ford and Flockhart with ample opportunity to spend time together as a couple, helping to deepen their bond.  "Being normal is a kind of victory," he told Closer Weekly.
For Flockhart, the key to their long-lasting marriage lies in their ability to relate to each other. "Harrison and I laugh a lot, and humor is everything to me," she told Fox News in 2017. She also never felt the weight of their 22-year age gap. "It doesn't factor into our relationship at all. I like the way he looks first thing in the morning. It's not handsome, it's more cute. He looks like a little boy," she told Hello!