How Did Harrison Ford And Calista Flockhart Meet?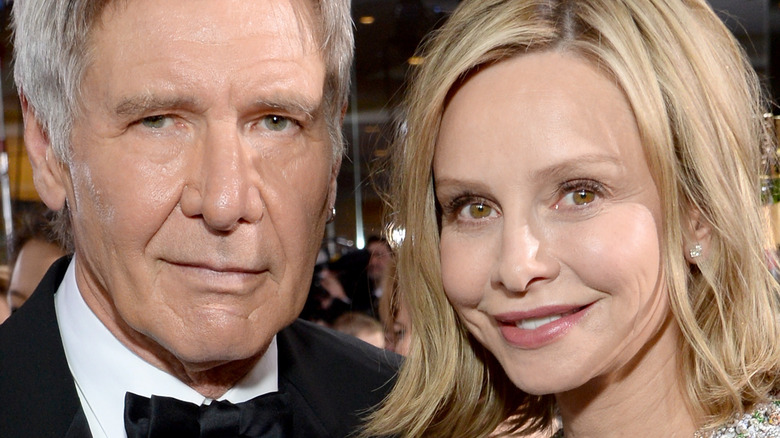 Michael Kovac/Getty Images
Harrison Ford and Calista Flockhart arguably form one of Hollywood's most famous and formidable super-couples. The two of them became an almost ideal version of a celebrity power pair: Despite both being among the most well-known actors of their day, their love has stood the test of time and they have now been together for upward of two decades.
Ford — whose relationship with George Lucas would turn out to have a profound effect on his career (and life) — first made it big in Lucas' 1973 film, "American Graffiti." Of course, only a few years later he would star in the iconic "Star Wars" as Han Solo, and subsequently the famous Indiana Jones in Lucas's "Raiders of the Lost Ark," two roles which would define his life forever. Flockhart, meanwhile, was a mere teenager at this point. She would only make headlines decades later, with her performance as the titular lead in Fox's late '90s legal dramedy "Ally McBeal," for which she was nominated for three Primetime Emmy Awards, and five Golden Globes, even winning one in 1998. 
Despite Ford's somewhat subpar track record with marriages up until the turn of the century (at that point he had been married and nearly divorced twice), that all changed when he met his future wife in 2002. However, how did Harrison Ford and Calista Flockhart first meet? Well, it seems like kismet that it all started at an awards show. 
Harrison Ford and Calista Flockhart first met at an awards ceremony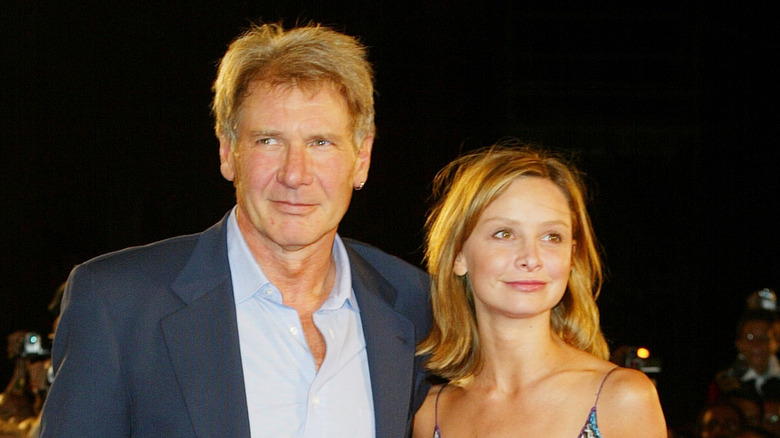 Pascal Le Segretain/Getty Images
In what will likely come as no surprise to fans of the two talented actors, it turns out Harrison Ford and Calista Flockhart first met at an awards ceremony in the early 2000s — the 2002 Golden Globes, to be precise. That year, Flockhart was nominated for her role as Ally McBeal, and Ford was being given the Cecil B. DeMille Award, an honorary Golden Globe awarded to those who have made "outstanding contributions to the world of entertainment," according to their website.
According to Wide Open Country, it was an "instantaneous connection" for the future couple, and only the following year, Ford declared his affection for her publicly. "I'm in love," Ford, then 60, told Hello! magazine in 2003. "Romantic love is one of the most exciting and fulfilling kinds of love and I think there is a potential for it at any stage of your life. I was not surprised that I was able to fall in love." 
At the time, Ford was married to Hollywood dignitary, screenwriter Melissa Mathison, with whom he had two children (he also had two children from a previous marriage to chef Mary Marquardt). However, he and Mathison had already separated by 2002, per ABC News, and got divorced in 2004. It turns out that Ford was right, and sometimes it really does just take time and patience to find that one perfect soulmate. 
Harrison Ford and Calista Flockhart raised a child together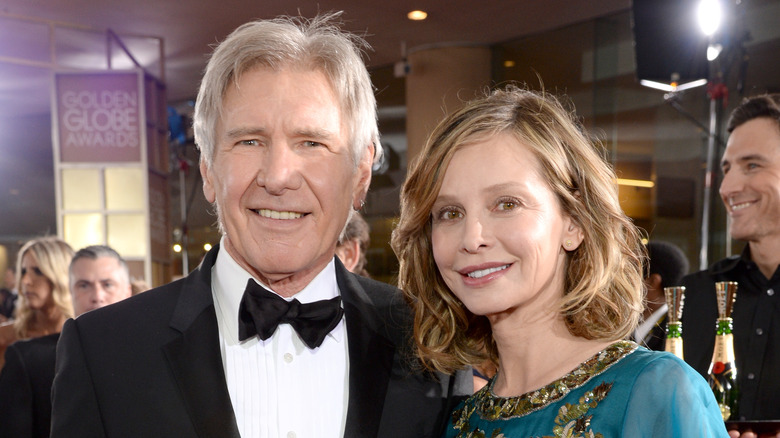 Michael Kovac/Getty Images
At the time Harrison Ford first met his future wife, Calista Flockhart was already a single mother to an adopted child named Liam, according to Wide Open Country. However, the boy, who was only born the previous year, per Biography Mask, was young enough that Ford took him under his wing as his son, later officially adopting him as his own. Today, Liam, Flockhart's only child, is 21 and attending college. 
Though Ford and Flockhart seemed to have been an instant match, it wasn't for nearly a decade until the famous power couple tied the knot. Ford proposed to Flockhart on Valentine's Day 2009, per People, and they got married on July 15 the following year. Although both are Illinois natives, the wedding took place at the New Mexico Governor's Mansion in Santa Fe, where Ford was shooting "Cowboys and Aliens," and was officiated by the then-Governor of the state, Bill Richardson. Of course, their son Liam, then 9, also attended the wedding. 
Now, per Parade, the happy couple splits their time between their large ranch in Wyoming, and Los Angeles. "I'm old news. I've been there for 35 years," Harrison said about Hollywood. "When I'm up in Wyoming, I just walk out the door and keep walking." Undoubtedly, the rural country in Wyoming serves as a beautiful refuge for Ford and Flockhart, who will likely be enjoying their time there for a long time.