What Really Happened Between Michelle Young And Joe Coleman?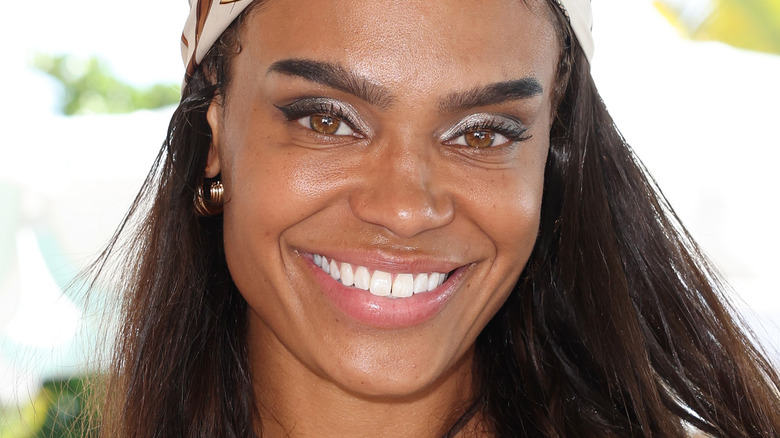 Alexander Tamargo/Getty Images
A ghost of a Bachelorette's past! Following the August news of Bachelorette Michelle Young and Nayte Olukoya calling it quits on their relationship, fans are looking back on the Bachelorette's former contestants to see if one man who slipped through the cracks during the season, could be the one that got away? During Young's season of "The Bachelorette," 30 men competed to steal her heart. While the successful one ended up being Olukoya, fans are now thinking that Young looked over her perfect match — who was right in her own backyard. 
Joe Coleman joined Young's season of "The Bachelorette" on less-than-stellar terms. After introducing himself on night one, it didn't take long before Young told Coleman that he looked familiar. Calling out to him as he walked into the mansion, Young asked if she had slid into his DMs before and whether his last name was Coleman. Admitting it was in fact him, Young wasn't too happy to see Coleman as a contestant as he had ghosted her in the past.
But despite starting out on the wrong foot, Young found out that there was potential with Coleman — though she wasn't going to let him off the hook for his past behavior. And now that Young is back on the market looking for love (as of this writing), many fans are convinced that Young should give the ghost of her "Bachelorette" past one more try.
Michelle Young and Joe Coleman had a connection despite their past dating hiccup
Despite finding out Joe Coleman had ghosted her in the past, Michelle Young gave him another chance — and it turns out, it was for a good reason! 
On the show, the two had an immediate connection which could stem from the fact that both Coleman and Young had very similar backgrounds. During the season, the two found out they both grew up in Minnesota and played basketball throughout their childhood — facts they would foster throughout the competition, like when Coleman and Young made their way back to Minnesota and played a game of basketball together as they continued to get to know one another. And as the competition progressed, Coleman not only made it to hometown dates, but he revealed to his family he was ready to commit and marry Young.
But despite Coleman being ready to settle down with Young, Young did not feel the same way. In fact, after making it to the final three, Young sent Coleman home — though there wasn't much of a reason why. At the rose ceremony, Young revealed it had been a difficult decision and left her uneasy — but she ultimately had to follow her heart, which wasn't with Coleman. After handing out her final roses, Young walked Coleman out explaining she fell hard for him, but he just wasn't the right person for her.
Was Joe Coleman the right person, the wrong time for Michelle Young?
After Joe Coleman wasn't the winner of Michelle Young's final rose, many fans are now wondering — if after Young's breakup with Nayte Olukoya — if the third time is the charm for these two?
Following Young's season on "The Bachelorette" both Young and Coleman were spotted out and about multiple times together — leaving fans wondering if these two rekindled their relationship after the season, though that didn't seem to be case. In fact, it just so happens the two ended up being in the same place at the same time. But that hasn't stopped fans from shipping these two together! Because despite not picking Coleman, since the end of the season, even Young has opened up about the undeniable connection she and Coleman shared.
"We both understood so many things about each other without having to necessarily talk about those things because of how we were raised, because of the basketball community, because we had similar passions," Young said, adding that Coleman "understood a piece of [her] that none of the other guys did." But right now, despite Coleman understanding her, it seems Young is completely focused on finding happiness following her breakup from Olukoya. Though it seems, when the time is right, Young knows there is someone in her own backyard that — given a third chance — could be her perfect match.