Inside Michelle Young's Messy Split From Nayte Olukoya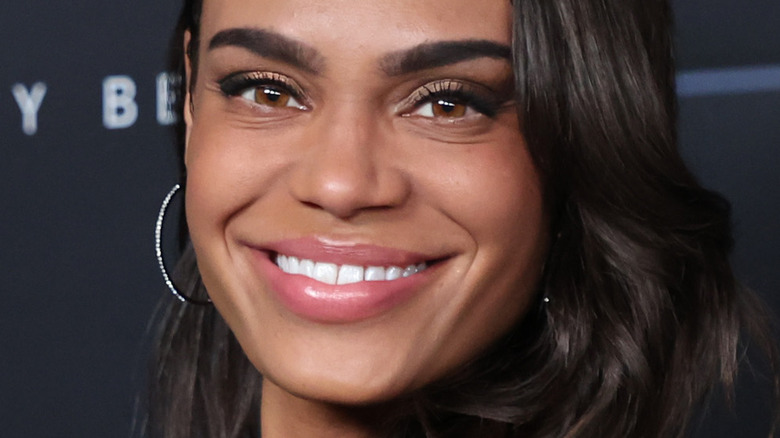 Mike Coppola/Getty Images
Bachelor Nation couples don't have great track records when it comes to lasting relationships. Women's Health reports that, out of 26 "Bachelor" and 18 "Bachelorette" pairings, only 15 are still together as of this writing. (Sean Lowe and Catherine Giudici, we see you!) In June, Michelle Young and Nayte Olukoya became the latest "Bachelorette" couple to fall prey to the odds when they announced their split.
Viewers may remember that Olukoya was an early frontrunner (along with Brandon Jones and Joe Coleman) on "The Bachelorette" Season 18, and that his chemistry with Young was off the charts. But despite announcing plans to move to Young's native Minnesota together after the show, the couple was fighting breakup rumors in the lead-up to their split. Per Page Six, Young defended her relationship with Olukaya as recently as May, making their breakup statements feel all the more abrupt just a few weeks later. 
"To those who have supported Nayte and I, including Bachelor Nation, I know I speak for both of us when saying having a relationship in the public eye has not been easy," Young posted on her Instagram Stories (via Us Weekly). The former Bachelorette went on to express support for Olukoya, and added, "I will never stop wanting to see you succeed." Likewise, Olukoya alluded to the fact that, while he and Young remained friends, they weren't meant to be. Of course, as soon as the news made headlines, all of Bachelor Nation wanted to know: what went wrong?
Fame played a role in Michelle Young and Nayte Olukoya's breakup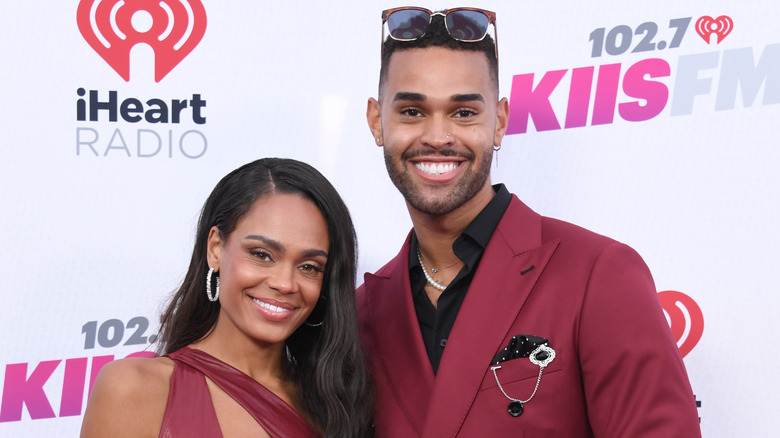 Jon Kopaloff/Getty Images
Fans speculated about Michelle Young and Nayte Olukoya's relationship when the twosome didn't immediately move to Minnesota as planned. "We're trying to be as smart as possible. We're looking at different options. We're definitely feeling it all out," Olukoya said in February, per Us Weekly. Young then chimed in: "We like to make sure that we're always making very calculated decisions, we're always looking at all of our options. Yeah, it'll happen." But when it didn't happen — and they broke up instead — Bachelor Nation wondered if there had been anything sketchy going on behind the scenes, per E! News.
In June, Olukoya took to his Instagram Stories (via Entertainment Tonight) to debunk allegations that he'd cheated on Young. "1. No, I didn't cheat. 2. Not every breakup needs to have someone to blame," Olukoya wrote. His Instagram Stories went on to answer other questions swirling around the relationship. For example, the external pressures of fame on the romance, and the reason he and Young abandoned their relocation plans. Calling the media scrutiny and pressures "insane of both of us," the "Bachelorette" star addressed the fact that they hadn't moved to Minnesota as expected. "Yes, the plan was to move to MN earlier this year. Plans changed as we decided there was no need to rush anything and get to know each other on a deeper level before taking the leap of living together," he wrote. According to Olukoya, the breakup was amicable, albeit painful.
Michelle Young and Nayte Olukoya's split came abruptly
Mike Coppola/Getty Images
Though Nayte Olukoya denied cheating on Michelle Young, their relationship did end abruptly. Young herself addressed this on a July 5 episode of Ben Higgins and Ashley Iaconetti's "Almost Famous" podcast, telling the hosts, "I will say this is not something I foresaw, and leave it there." Fellow "Bachelor" alum Kaitlyn Bristowe — who co-hosted Young's season of "The Bachelorette" with Tayshia Adams — was on-hand to back up Young. Calling her friend "blindsided" by Olukoya's decision to split up, Bristowe told Us Weekly, "[Michelle] was confused because I think it was, like, after her birthday, and she was like, 'Wait what?'" Like Young, Bristowe went on to say that she was confused about what went wrong. "I don't know this for a fact — it's just in my opinion. I'm like, 'Did [Nayte] just like the attention, or did he find someone else?' Because it did feel abrupt," she added.
As of this writing, Young is continuing to take the breakup in stride. In August, she relocated to Los Angeles to film the "Bachelor Happy Hour" podcast (with Becca Kufrin) in person. And unlike Olukaya, who has since been linked to "Bachelor" alum Deandra Kanu, per Life & Style, Young is single. Though she has both good days and bad days, the reality star is focused on healing and moving forward. Still, "Where I'm at right now emotionally, mentally, like, how my heart feels — this is not how my story ends," Young said.