Out Of All The The Bachelor Couples, This One Stands Above The Rest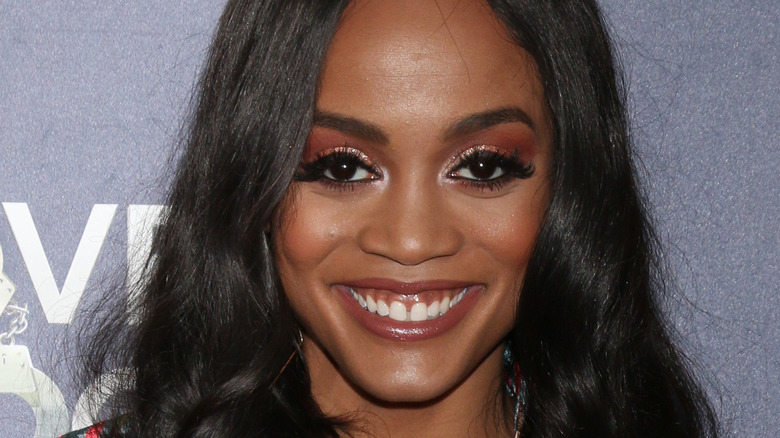 Shutterstock
Throughout the history of the long-running reality tv dating franchise "The Bachelor," most on-screen couples end the last episode of their seasons with an engagement and a final rose. Once the cameras stop rolling and the fairytale sheen of the series wears off, many of the engaged couples never actually make it to the altar.
"The Bachelor" and "The Bachelorette" have the final contestants choose engagement rings from Neil Lane to use for their proposal to the season lead, but if a couple breaks up in under two years, they supposedly have to return the ring to ABC, as former contestant Jesse Csincsak told Bustle. And there have been plenty of couples to do just that, as the franchise has a high rate of being unsuccessful.
However, there have been a few couples that have made their relationship work post-show. Some top duos include Sean Lowe and Catherine Giudici, Arie Luyendyk Jr. and Lauren Burnham, and Trista and Ryan Stutter. But there is one love story that has stood out from the rest — the beautiful relationship between "The Bachelorette" Season 13's Rachel Lindsay and Bryan Abasolo. Keep on reading to find out the reasons behind the sentiment.
Rachel Lindsay and Bryan Abasolo rose above the negativity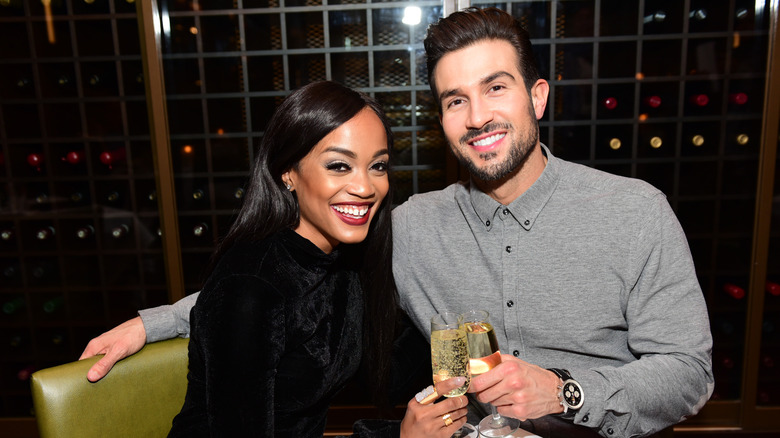 Lisa Lake/Getty Images
During Rachel Lindsay's season as "The Bachelorette," many fans were heartbroken when Rachel's runner-up Peter Kraus voluntarily left the show. Viewers became even more confused when Lindsay accepted Bryan Abasolo's proposal because there were questions about whether she potentially settled after Kraus, a fitness instructor from Wisconsin. 
As it turns out, that couldn't have been farther from the truth. "I met, and later married, the love of my life, Bryan Abasolo," she gushed about her time on the show in a June essay for New York Magazine. "When he started speaking Spanish to me on the first night, I was like, Okay. We've got some flavor here. We had an immediate banter." But this connection was rarely shown in a positive light, and Rachel noted how he was "portrayed as a playboy" from Miami, even though she found him "charming." 
So how does this translate to Rachel and Bryan's love story being a cut above the rest? Well, there's the whole true love conquers all thing, even though it's unfortunate the couple had to fight for their romance in the first place. "I went on the show in part because I wanted to depict a Black woman at the center of a love story. However, it's up to the producers to display your happy ending. I got mine in real life, but the viewers didn't." Speaking of that happy ending, Rachel and Bryan got married in 2019, and have been going strong ever since. 
Rachel Lindsay and and Bryan do marriage on their own terms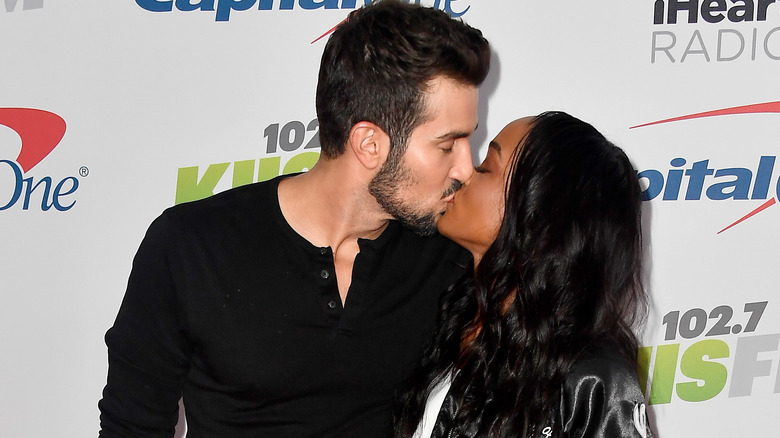 Frazer Harrison/Getty Images
In a June episode of the "Talking It Out" podcast, hosted by "The Bachelorette" alum Mike Johnson and Rachel Lindsay's husband Bryan Abasolo, he shared a telling glimpse inside their marriage. "[Lindsay] was a professional, she had a career, everything on paper was top notch, everything I could ever want in a woman, an engagement and a wife, everything. But the thing is, like, she keeps me on my toes, right? She challenges me to be a better man and I feel like guys need that," Bryan said about their dynamic, which bucks against the traditional gender stereotypes often portrayed on the franchise. Talk about refreshing!
Oh, and did we mention Bryan and Rachel didn't live together for a period of time? Here's what happened: Rachel wanted to grow her career as a broadcaster and host in Los Angeles, while Bryan was focused on building his chiropractor business in Miami. "I'm putting my family first," Rachel said during an October 2020 appearance on Bryan's "Dr. Abs Health" podcast. "Part of that is putting us in a position to succeed and put our family in the best position." The Miami native agreed, gushing, "I want you to be as successful as possible. You're killing it right now, and I love it."
Bryan eventually moved to Los Angeles as of April, with the two living their best lives. And whenever drama (*cough* Chris Harrison) pops up, you best believe they have one another's backs. Ah, true love.