Shiloh Jolie-Pitt Once Wanted To Go By A Totally Different Name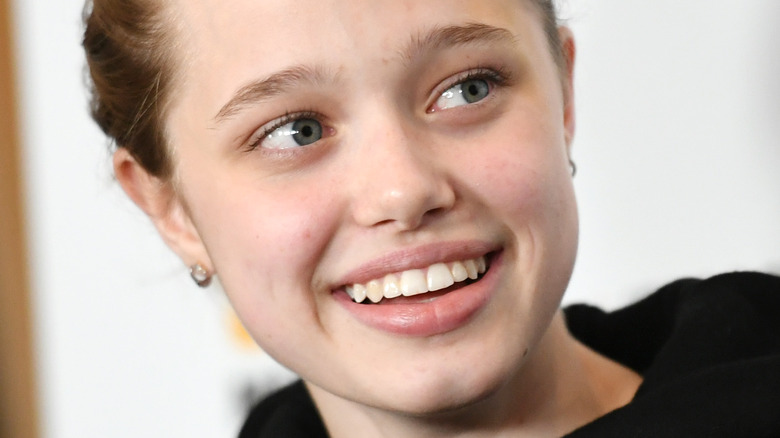 Jc Olivera/Getty Images
According to People, actors Angelina Jolie and Brad Pitt welcomed their first biological daughter, Shiloh Jolie-Pitt, on May 27, 2006. But given her parents' fame, Jolie-Pitt had the world's attention from the very beginning, so much so that, only one month after her birth, several magazines were bidding to be the first to publish her baby pictures, with the bid eventually going to People for a whooping $4.1 million, according to The Guardian. Jolie-Pitt made history as one of the highest paid baby covers of all time.
However, despite her initial popularity, Jolie-Pitt has led a relatively private life throughout the years, occasionally making red carpet appearances with her family and coming up in some of her parents' interviews. "Shi's so full of light and love, she's just a little honey, and very, very funny," Jolie gushed to MSN (via People) back in 2007. "I think I'm recognizing some of myself in that one — she's going to be a little bit of trouble!." Four years later, the "Maleficent" star doubled down on her daughter's sense of humor, describing her to Vanity Fair as "one of the goofiest, most playful people you'll ever meet." But there was also a period of time when Jolie-Pitt didn't want to go by Shiloh anymore.
Shiloh Jolie-Pitt wanted to be a boy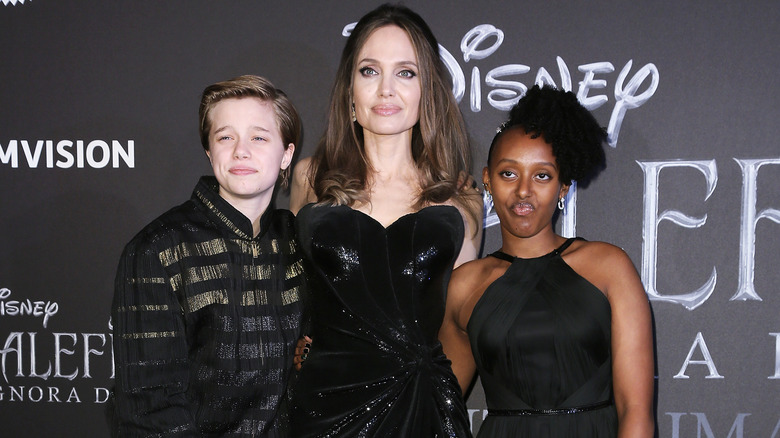 Ernesto Ruscio/Getty Images
During an appearance on "The Oprah Winfrey Show" back in 2008, Brad Pitt revealed that Shiloh Jolie-Pitt, who was only 2 at the time, requested to be called a different name. "She only wants to be called John. John or Peter. So it's a Peter Pan thing," Pitt explained, adding that Jolie-Pitt often corrected those who called her Shiloh. Angelina Jolie would also later tell Vanity Fair (via Glamour) in 2010 of the child's preference to dress like a boy. "She dresses like a little dude," she said. "She likes to dress like a boy. She wants to be a boy. So we had to cut her hair. She likes to wear boys' everything. She thinks she's one of the brothers." So in her earliest years, you would've most likely caught Jolie-Pitt sporting a blonde pixie cut and wearing a tuxedo.
Interestingly, through the years, not only have we watched Jolie-Pitt grow, we have also witnessed a style evolution. In 2021, Jolie-Pitt stunned fans when she showed up to the "Eternals" premiere wearing an upcyled dress of her mom's and sporting her dark tresses in a bun. 
And, while it has no doubt been interesting to witness Jolie-Pitt's evolution, it appears big sister Zahara has a lot more to do with it than we realize. A source close to the famous family told Life & Style that Jolie-Pitt loves to take fashion advice from her sister, who is seemingly very stylish. "Shiloh loves music, dance, acting and lately, thanks to her sister Zahara, fashion," the insider explained, adding that even though it was not always this way, the teenager "now she loves dressing up in her mom's clothes."
Shiloh Jolie-Pitt's parents support her choices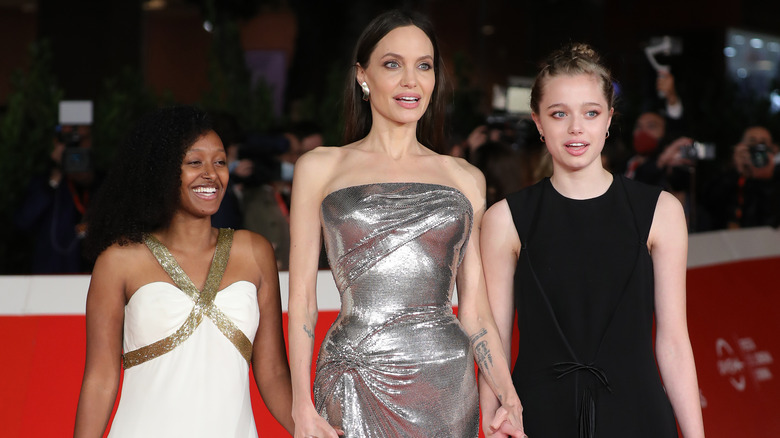 Stefania D'alessandro/Getty Images
In 2010, when speaking about Shiloh Jolie-Pitt's desire to dress like a boy, the "Mr. & Mrs. Smith" star confirmed that it, in fact, did not bother her. "I don't think it's for the world to interpret anything," Jolie explained to the Daily Mail. "Some kids wear capes and want to be Superman and she wants to be like her brothers. It's who she is." That same year, the proud mom described her child's fashion choices as "fascinating," adding that she would rather encourage her brood to embrace self-expression. "Society always has something to learn when it comes to the way we judge each other, label each other. We have far to go," she said in an interview with Reuters.
Brad Pitt apparently felt no different about his first-born's request to be called John as he admitted to Oprah Winfrey that while other people might consider it obnoxious, he thought it to be "just that kind of stuff that's cute to parents." And even now that the teenager has gone full circle, Pitt is just as proud. Following her memorable appearances on the red carpet in 2021, an insider revealed to InTouch that the "Bullet Train" actor is proud to see his daughter coming into her own. "Brad doesn't want her growing up so fast but he's proud to see her on red carpets. It's been a confidence boost for Shiloh," the source added. Whatever she wants to be, whatever she wants to wear, Shiloh Jolie-Pitt can always count on her parents' support. There's nothing better to have as a child than unconditional love and support!