Candace Parker's Daughter Is Her Twin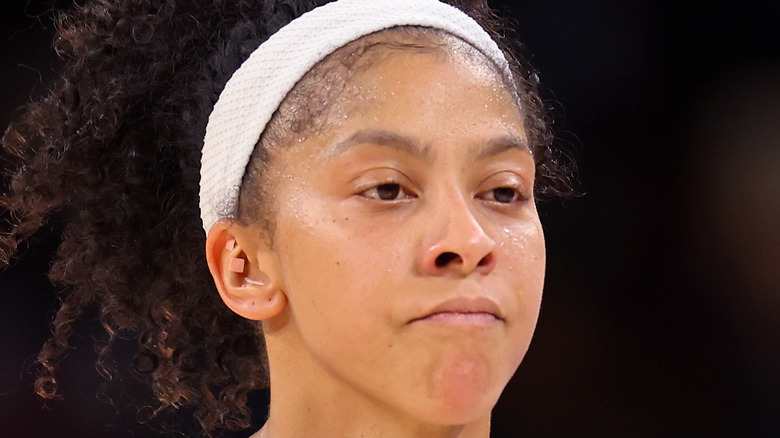 Michael Reaves/Getty Images
There are many celebrities who share an uncanny resemblance to one another (or even ordinary people) despite not being related at all, and there are even more celebrities who look like younger versions of their own famous parents. Then, there are the celebrity offspring who haven't yet made a name for themselves but could easily do so with their parents' genes, with actor Paul Rudd and his son, Jack Sullivan Rudd, as one such example. That's a lot of lookalikes!
It's time to add another celebrity to that list. This time, it's Women's National Basketball Association (WNBA) player Candace Parker, as reported on by Hollywood Life. Fans might not know that Parker, who plays for the Chicago Sky, has a lookalike of her own — her daughter, Lailaa Nicole Williams. ESPN previously reported that Parker described herself and Williams as a "package deal" when joining the WBNA bubble amid the COVID-19 pandemic in 2020, and it is easy to understand why.
Lailaa Nicole Williams looks just like mom Candace Parker
According to the website Hollywood Life, Lailaa Nicole Williams is Candace Parker's daughter from her relationship with the former NBA player Shelden Williams, to whom she was previously married. Parker is now married to Anna Petrakova, with whom she welcomed son Airr Larry Petrakov Parker in February 2022 (via NBC's "Today").
Even in Candace's Instagram post announcing her son's birth, it would be easy to do a double take in determining on which side of the photo Lailaa is sitting, her hair in a braided style similar to that of her mom's as the two sit on either side of Petrakova, who is pictured cradling Airr Larry in her arms.
Other photos of the mother-daughter duo, such as another Instagram snap from Candace of her smiling blended family, show how similar she and Lailaa really look. The two visibly share similar facial structures and smiles, and it looks like Lailaa might also share Candace's height (ESPN writes that Candace Parker is 6'4" tall).
Candace Parker is proud of her son too
In addition to her lookalike daughter Lailaa Nicole Williams, there's no doubt that Candace Parker is proud to be a mom of two. She has also taken to Instagram to brag about son Airr Larry Petrakov Parker, whom she shares with wife Anna Petrakova. Celebrating six months since Airr Larry's birth, Candace posted about her son and said in the caption, "I'm in love with being your Mommy," while also praising her wife's parenting skills as Airr Larry's "Mama."
Following Airr Larry's birth, Candace explained to Insider the various meanings behind his name. That includes that the spelling of her son's first name was inspired in part by her daughter's name, Lailaa. "The double letter at the end — R R — is [because] my daughter's name is A A at the end," she shared with the website. She also confirmed to Insider that her son is known by the nickname "Goose" with family and friends, and this is the name she used in her Instagram caption to address him.