The Sweet Connection Drake Has With The Backstreet Boys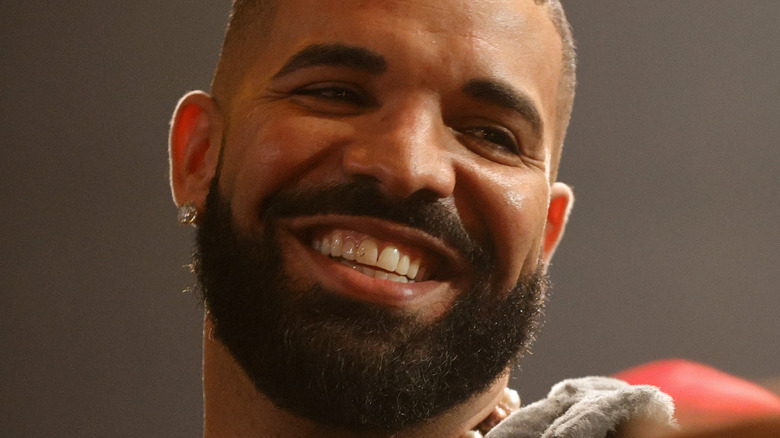 Amy Sussman/Getty Images
Back in 1999, when boyband legends Backstreet Boys, were at their all-time high, they released their iconic song, "I Want It That Way." It was a melodic love song that dominated the radio waves all that year in the U.S., peaking at No. 6 on the Billboard Hot 100 chart, but topped the charts in Canada, per Billboard. Their success in Canada, according to band members AJ McLean, Howie Dorough, Nick Carter, Kevin Richardson, and Brian Littrell, was due to their special connection with Canada and Canadian music fans. "Canada holds a really special place for us because it was a huge asset in infiltrating the Backstreet Boys into the U.S.," McLean told The Huffington Post in 2015.
In 1998, during an appearance on MuchMusic's "Intimate & Interactive" show, Richardson revealed that Canadians were the first in North America to discover the band, after their '95 single "We Got It Going On" made waves in Europe. "It got here, and it's just been going great ever since, so definitely the Canadian fans are very special to us. We're not going to forget them." 
It turns out one young Canadian fan didn't forget BSB either as he grew up and became a mega superstar: rapper and actor Drake. The former "Degrassi: The Next Generation" star was 13 years old when "I Want It That Way" topped the charts in Canada, so the "One Dance" rapper had a full-circle moment recently in Toronto when he got the chance to share the stage with BSB for one special song. 
Drake sang 'I Want It That Way' onstage with BSB in Toronto
On July 2, during their tour stop in Toronto, Backstreet Boys invited a very special guest up on stage to join them in a rendition of "I Want It That Way," per Rolling Stone, and it was none other than Toronto's very own, Drake. Drake is used to getting fans talking, but how did this epic collab come to be? AJ McLean told Variety that the last-minute addition was pure luck, as Drake spotted them out to dinner in Toronto at his favorite Italian joint, approached his table, and they started exchanging ideas.  "[He] asked if he could perform with us," McLean told the outlet. "Then that turned into him just announcing the song, but we told him to stay on stage."
In the video of the performance, we see Drake sing along to all the major verses and chorus of the song, and at one point, boy bander Howie Dorough sang a few verses of Drake's 2013 hit "Hold On We're Going Home." The Toronto crowd went bonkers over Drake's appearance, and screamed as he nailed the final line of the song with passion. All six on stage then threw their arms around each other for a group hug. Later, the "God's Plan" rapper posted a pic of himself with the boyband in his IG Stories, captioning it, "I really made it," per the Los Angeles Times. As a great band once sang, how this "love's affecting our reality!"
Drake's love of 'I Want It That Way' goes back years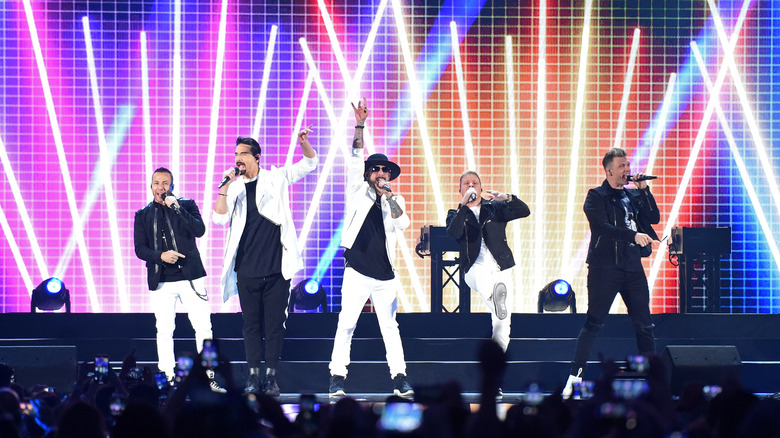 Ethan Miller/Getty Images
It turns out that Drake's love of Backstreet Boys, and especially the 1999 song "I Want It That Way," goes way deeper than anyone could have imagined. While he was up on stage with the boyband during their Toronto stop, Drake spoke about how the song shook him to his core when he was just 13. "At my bar mitzvah," he began, per The Algemeiner,  "for the first time in my life, this girl that I was in love with came up to me while one of the greatest songs in the world was playing ... and she asked me if I would dance with her. It was the first time I ever felt acknowledged. It was the first time I ever felt like I had a shot at being cool."
"If she could see me now," he rang out. "Like I said, this is one of the greatest songs in music history!" He ended up posting footage of his performance with the boyband to his hallowed Instagram page, with the tongue-in-cheek caption, "When she says she's over men in this generation and asks why I live alone..." BSB crooner Nick Carter in turn thanked Drake (aka "the KING of Canada") for "making tonight one for the books" on his official IG. While their collab might have been short-lived, AJ McLean has suggested to Variety there might be more collabs in the future. "Who knows, if for our 30th anniversary maybe we do something with Drake."