Does Kylie Jenner Have Veneers?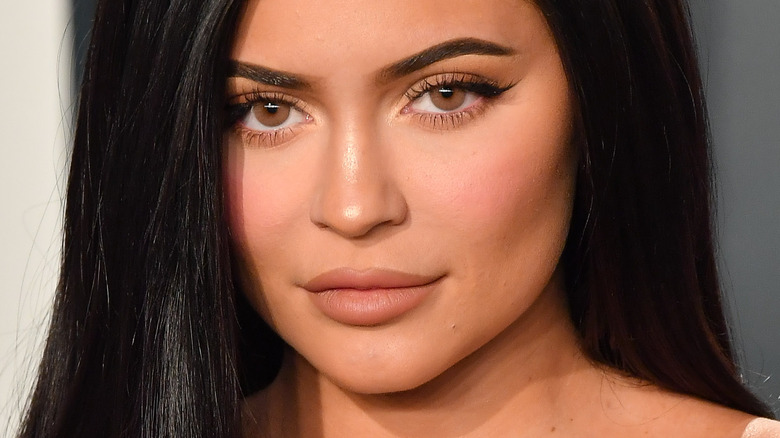 Allen Berezovsky/Getty Images
Celebrities: they experience the same dental distress as the rest of us. When Kylie Jenner got her wisdom teeth taken out in 2020, she naturally shared this news with her Instagram followers, per Entertainment Tonight. Her daughter, Stormi Webster, helped keep a smile on her face while she was recovering, but as HuffPost once pointed out, that smile is rarely seen on Jenner's Instagram page.
"Why does Kylie Jenner never show her teeth what's she hiding," tweeted one curious netizen in 2014. OK! spoke to an insider who offered one possible explanation: Jenner was insecure about the appearance of her teeth when she was younger. "It's a lifetime habit of hiding her teeth," the source revealed. Jenner purportedly believes that the pout is her best look, and the makeup mogul's successful business is pout-based — Jenner didn't build a lip kit empire by flashing her teeth all the time. Rather, she kept the focus on the outside of her mouth by getting lip fillers, as she confessed on "Keeping Up With the Kardashians" in 2015, per E!.
On the rare occasions when Jenner has parted her lips to smile, the incisor sightings have convinced some fans that her mouth modifications go beyond having her bonus molars removed — and at least one expert agrees with this assessment.
Kylie Jenner's smile has undergone quite the transformation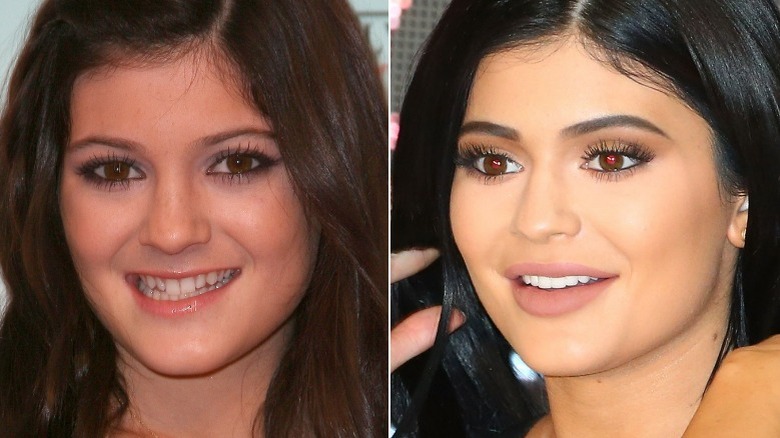 Scott Barbour & Valerie Macon/Getty
In 2022, a Redditor on the "KUWTK" subreddit posted a few rare  photos of Kylie Jenner getting caught with her mouth open. They were taken at different ages, and other Redditors noted that her teeth looked markedly different in the newer shots. The consensus was that the difference was the result of veneers or other extensive dental work. "They look great. Cosmetic dentistry is a game changer," wrote one fan. "Her smile looks undeniably better," another agreed. Dr. Sara Hahn, a dentist who shares her opinions of celeb smiles on TikTok, is also certain that Jenner transformed her smile with veneers.
In a video, Hahn similarly used older and more recent pictures of Jenner to make her case. With regard to a photo of Jenner when she was younger, she said, "You can tell that her lateral incisors are pretty small." Hahn also observed that Jenner had mamelons — small ridges on the teeth that give them a jagged appearance. After looking at more recent pictures of Jenner, Hahn stated, "These are veneers. I don't think it needs a whole lot of explanation, but they are very nice; they're very white; they're very pretty; and I think they fit her face well."
According to OK!, an insider claimed that Jenner spent around $160,000 on her enhanced smile. In addition to veneers, the source stated that she got dental implants, which require screws to be surgically inserted in the gums, per Cleveland Clinic.
Why Kylie Jenner was criticized for an oral care ad
It's so rare for Kylie Jenner to reveal her teeth that she didn't even show them off in a sponsored post for a toothbrush. A Redditor shared a screenshot of the ad, which Jenner had posted on her Instagram Story, and the influencer's lips were firmly shut. Instead of using the product she was supposed to be promoting, she was posing by leaning forward on her bathroom counter while arching her back and tilting her head back with her eyes closed. "Sad thing is, this company probably paid Kylie more than I get paid in one year of work! I can't even remember the last time i saw Kylies teeth," read one response to the Reddit post.
Jenner has also promoted teeth whitening kits for the brand HiSmile. However, there was no white inside her mouth to be seen in a 2016 Instagram ad, as she kept her mouth closed once again. She did, however, give fans a peek at her teeth in another paid post. "Lol you can't whiten veneers," wrote one Instagram user in the comments. According to the American Dental Association, this is true.
It's unclear whether Jenner had veneers at the time she was promoting the whitening product, but with Forbes reporting that she was earning over $200,000 per paid post in 2016, she could definitely afford the best porcelain pearly whites that money can buy.