Inside Justin Bieber's Complicated Relationship With Marilyn Manson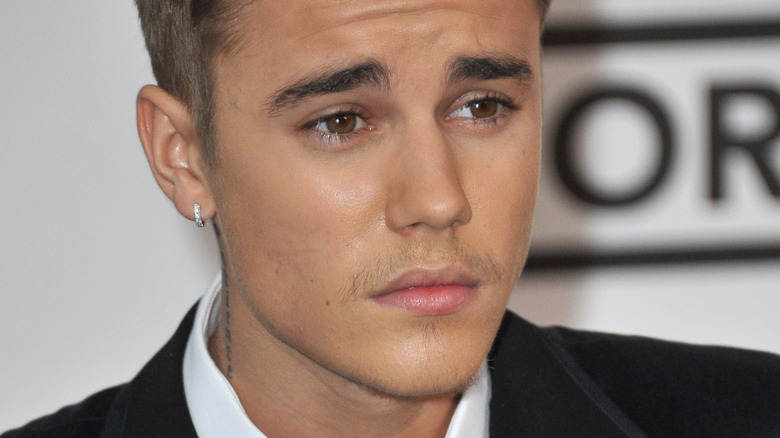 Featureflash Photo Agency/Shutterstock
This article includes discussion of sexual assault.
The combo of Justin Bieber and Marilyn Manson makes for an unlikely bromance — or any kind of relationship. Bieber's outspoken about his religious faith and beliefs. "I feel like my relationship with God is wonderful," he told GQ. Manson, on the other hand, encourages fans to "kill your god" and makes art rife with Satanic imagery — although he claims that was a ruse to help push people into questioning the norm. "There didn't seem like any other way to snap society out of its Christianity and media-induced coma," Manson said (via The Independent).
The two musicians are like chalk and cheese. But then, Bieber's a dark horse who's full of surprises. Like, who'd think Bieber is close friends with Will Smith? Or that an 18-year-old Biebs would pop up with Lil' Wayne and 50 Cent in Floyd Mayweather's entourage before his fight with Miguel Cotto. And, lest we forget, there's Bieber and Hailey Baldwin's secret marriage. 
Manson's equally as good at blindsiding and surprising as Bieber is. However, given Evan Rachel Wood's disturbing allegations, he's way more problematic. Woods has claimed Manson raped her while she was barely conscious, along with other accusations of abuse. His attorney denied all the allegations to The Guardian. Meanwhile, per CNN, Bieber visited a Brazilian brothel, peed in a janitor's bucket, egged a neighbor's house, and claimed Anne Frank would have been a Belieber. So yeah, the ex-YouTuber and Goth shock rocker make for a really odd couple to say the least.
Justin Bieber and Marilyn Manson's T-shirt scuffle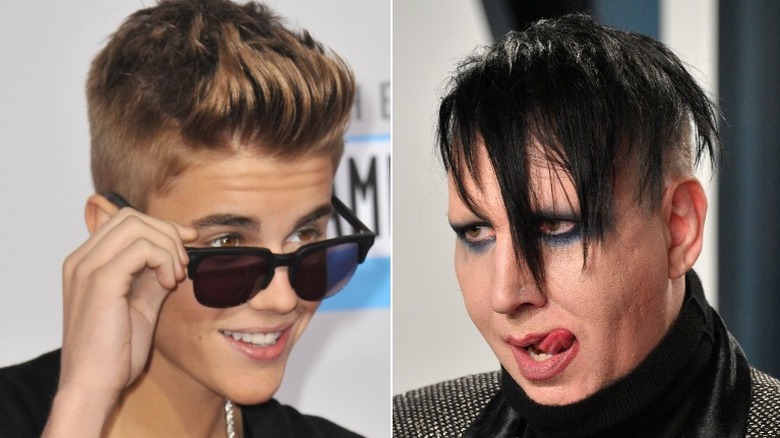 Jaguar PS/Shutterstock & George Pimentel/Getty Images
Justin Bieber's relationship with Marilyn Manson is as complicated as you'd imagine. It starts with a T-shirt and ends in a prayer circle. Everything kicked off after Bieber wore a vintage Manson T-shirt on stage that he sold via his clothing label for $195. It had the original Manson image on the front, but Fear of God designer Jerry Lorenzo emblazoned "Bigger Than Satan ... Bieber" on the back. "Thank you, Marilyn Manson, for signing off on the 'Bigger than Satan' x Justin Bieber tee," Lorenzo posted on Instagram (via People). 
But Manson hadn't, and he wanted his pound of Biebs flesh. "I saw a little girl in a pink hoodie with blond hair, and it turns out to be Bieber," Manson told Billboard. "I sit down, and I say, 'Hey, so you wore my shirt and everything onstage.'" Bieber claimed it'd been his idea to repurpose the T-shirt. "I made you relevant again," the "Baby" singer boasted. 
"He was a real piece of s**t in the way he had the arrogance to say that," Manson said. He told Bieber that he was really excited to perform with him the following night. "He believed that I'd show up," Manson said. "Because he was that stupid." Manson also "took all the proceeds from those shirts." He later told Howard Stern (via People) that Bieber apologized for being "an ass****." Buckle up; it's about to get more complicated and a lot weirder.
Justin Bieber, Marilyn Manson, and Ye make three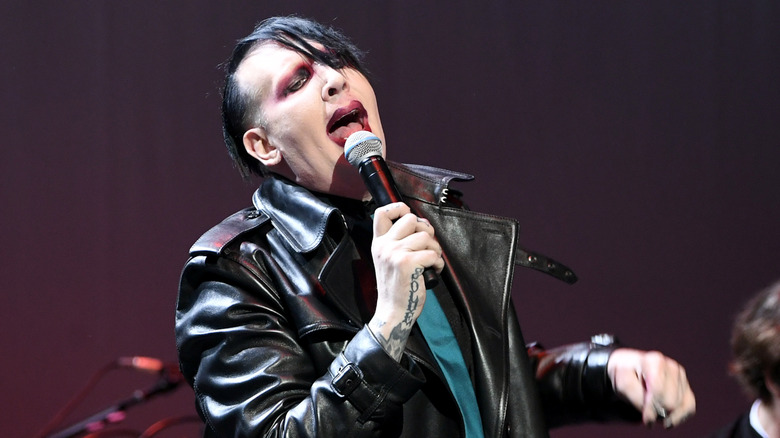 Kevin Winter/Getty Images
Justin Bieber messed up by selling Marilyn Manson's T-shirts, and he knew it. "Honestly, I totally thought we hit it off. Again, my bad. If I was an ass***," Bieber wrote in a text read by Howard Stern (via People). "I just wanted to make sure you and I were good 'cause I like you," he added.
Manson insisted there was "no beef." However, he couldn't resist one last dig. "I don't like to fight with girls, so I don't wanna fight Justin Bieber," Manson said in a 2017 interview (via Us Weekly). He also claimed Bieber has "the mind of a squirrel." Fast forward four years, add Kanye West into the mix, and suddenly Bieber and Manson's relationship takes a really bizarre turn.
Bieber has a strong faith and religious beliefs, Ye claims he's a God, and Manson has long proclaimed he's an "Antichrist Superstar.". Therefore, when the three of them attended a church service and prayer circle together, it was a tad strange, to say the least (although it was Halloween, so, well, you know). A video of the trio was posted on Twitter, and it looks like something directed by David Lynch. Bieber is flanked by Manson in a white headpiece and full-length gown and Ye in a white sweatsuit, both nodding their bowed heads."We could never be more loved than we are right now in this moment," Bieber proclaims as a choir chants, also clad in head-to-toe white. Yeah, it's complicated.
If you or anyone you know has been a victim of sexual assault, help is available. Visit the Rape, Abuse & Incest National Network website or contact RAINN's National Helpline at 1-800-656-HOPE (4673).