How Tall Is Kelly Clarkson?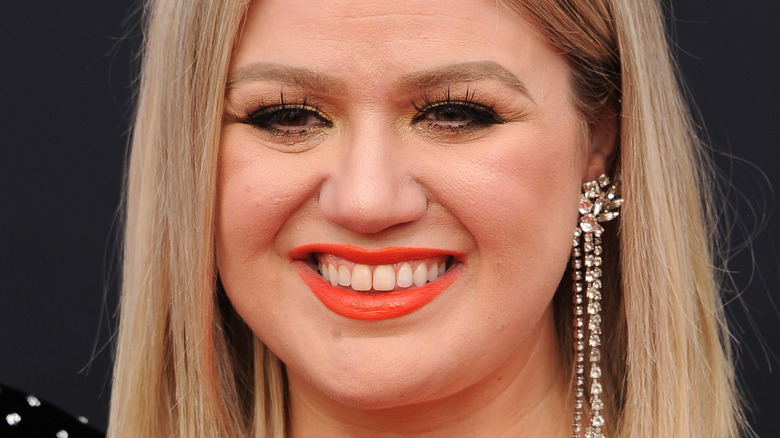 Tinseltown/Shutterstock
Kelly Clarkson may have reinvented herself while going through a divorce, however, she still has a firm grasp on who she is as an individual. Frankly, it seems like that's always been the case for this particular star. That's what she made clear when she talked to People in April 2018 about her personal outook on aesthetics, saying, "My beauty mantra is, 'Y'all, I just don't really care!' And I mean that in a positive way. I just don't care about things I feel like people put a lot of weight and gravity in."
That apparently includes Clarkson's weight, which is something she's been open about. It's also a subject that she's been dealing with ever since she first stepped into the spotlight. In 2015, she explained during an interview on "The Ellen DeGeneres Show" (via Us Weekly), "I was the biggest girl in the ['American Idol' cast] ... And I wasn't big, but people would call me big ... I've kind of always gotten that."
"It's like, you're just who you are. We are who we are — whatever size," Clarkson went on to say while discussing being comfortable in our own skin. For this certain celebrity, the matter of her size also includes her height, which might surprise you, as she's not as tall as she might come across on-stage or on-screen.
Kelly Clarkson's a big star who's around average height
DFree/Shutterstock
If you consider Kelly Clarkson's fame — as well as both the number and magnitude of her career-related accomplishments — then you'll surely agree that she's a big star. However, when it comes to her height, she's actually not big at all. In fact, she's just shy of being perfectly average. For context, you need to know that the average height of women in the United States is 5-foot-4, according to the Cleveland Clinic. Clarkson is half an inch shorter than that, at 5-foot-3 and 1/2, per Celeb Heights. Apparently, she once told S1.com (via Celeb Heights), "I'm 5-foot-3 1/2. I was proud of that half."
That half an inch also makes Clarkson slightly taller than other stars who are exactly 5-foot-3, including Natalie Portman, Isla Fisher, and Amanda Seyfried, according to Marie Claire Australia. It also makes the "Stronger" singer just a bit shorter than celebs who measure 5-foot-4, including Jessica Chastain, Rashida Jones, and Victoria Beckham. 
Of course, it's totally understandable if you thought Clarkson was taller than she happens to be. That's because she tends to use her fashionable ways to bump up her height despite the fact that it's a choice that can sometimes lead to painful results.
Kelly Clarkson's heels offer a potentially dangerous boost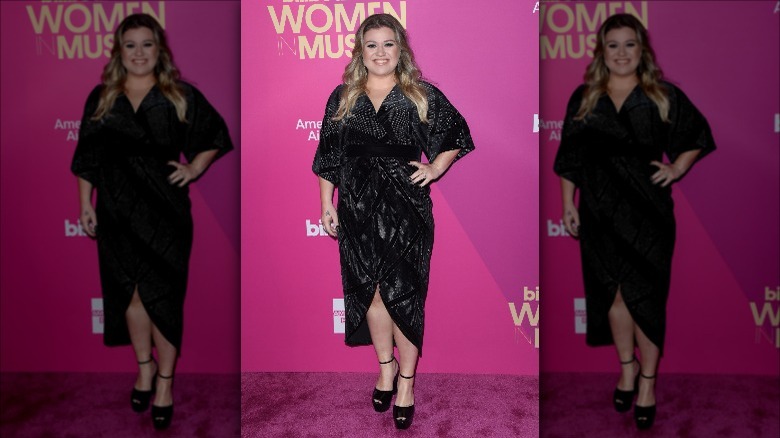 DFree/Shutterstock
If you've seen Kelly Clarkson perform her hit songs on-stage or flex her skills as a talk show host on-screen, then you might have noticed her outfits. Along with chic dresses and on-point accessories, the star tends to wear high heels. Whether she's wearing sleek black platform boots while singing or black and white shoes while posing, she always seems to be wearing shoes with heels that bump her up a few inches. In fact, she even wore high-heeled red boots while standing with the Sesame Street sign.
Of course, there's one thing that you also might notice about Clarkson's heels. She used to prefer to stay away from a certain style. In May 2021, she told People, "I don't want to wear no stiletto. I am not a model and I am not Beyoncé. It is not going to happen."
While Clarkson may have changed her mind about that these days, as she seems to be comfortable in thin heels, there is a reason why she may want to stick to more stable shoes. It turns out the high-heeled footwear that she wears can be dangerous. She found that out the hard way in December 2020 when she suffered an injury while running in heels before she took the stage for "The Kelly Clarkson Show." Admitting that she hurt her knee while taking a corner, she was keeping her feet elevated and off heels, which was probably a good idea.